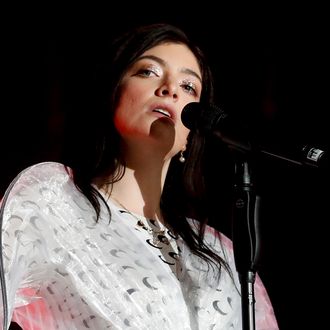 Suddenly, we're energized.
Photo: Eduardo Verdugo/AP/Shutterstock
Maybe she heard Olivia Rodrigo's Sour, maybe someone told her she's booked for Primavera Sound 2022, or maybe she's gotten tired of Antarctica and onion rings, but one thing is now for certain: new Lorde is imminent. The New Zealand pop star updated her website on June 7, seeming to confirm her long-rumored new single "Solar Power" with cover art of herself walking on a beach (and, uh, showing off her peach). "ARRIVING IN 2021 … PATIENCE IS A VIRTUE," the website simply says, prompting fans to sign up for the singer-songwriter's email list.
It's been 1,452 days, or just shy of four years, since Lorde released her second album, Melodrama, an intimate coming-of-age record that found her linking with pop mastermind Jack Antonoff to wildly acclaimed results. Back in May 2020, Lorde told fans in an email that she'd begun recording new music and working with Antonoff in December 2019, shortly after the death of her dog, Pearl. At the time, Lorde addressed her fans' hunger for new music, writing, "As I get older I realise there's something to be said for the pleasant feeling of waiting for something of quality to become available to you" — a sentiment the message on her website seems to echo. Malay, a producer who prominently worked on Frank Ocean's Channel Orange and Blonde and has credits on Melodrama tracks "Sober," "The Louvre," "Supercut," told Reverb magazine in July 2020 that he'd also been working on a new Lorde album. Comparing Lorde to Ocean, Malay said, "She has an insane vision, and she is not going to compromise whatsoever."