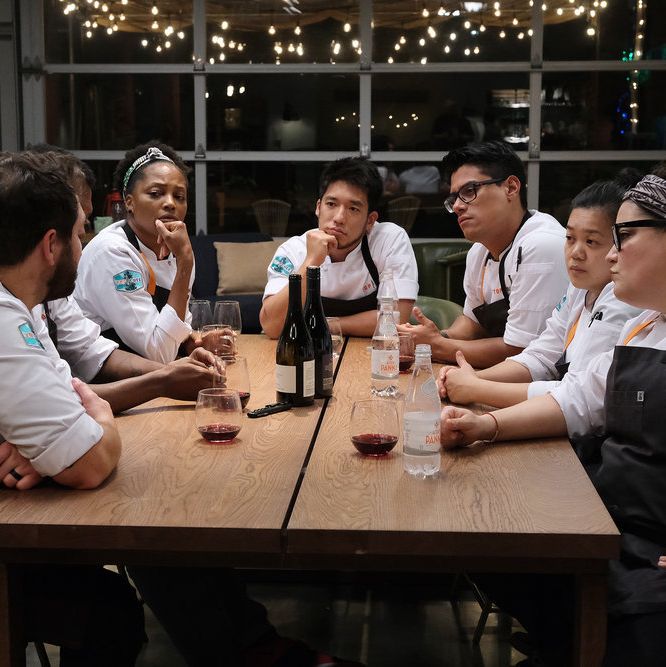 We're in the final stretch, folks! The eighteenth season of Top Chef is nearing its end, with only a handful of episodes to go before the new winner is crowned. This season has been based in Portland, Oregon, for the first time, and was filmed in the midst of a pandemic that heavily impacted the restaurant industry, as well as during months of protests for racial justice in the city and nationwide. There are only seven chefs left at this point — Dawn Burrell, Gabe Erales, Byron Gomez, Maria Mazon, Shota Nakajima, Jamie Tran, and Chris Viaud — and one of them will win the title of Top Chef in just a few short weeks. Read on for everything you missed in episodes nine and ten, and catch up on earlier episodes here.
Episode 9: "Portland-ia"
At the start of this week's Quickfire Challenge, the chefs walk into the Top Chef kitchen to find that their usual appliances have been replaced with old, vintage cooking equipment. "It's been said that Portland is a city where young people go to retire. And in a place like that, everything old is new again," host Padma Lakshmi says. She then introduces the guest judges for this challenge: Fred Armisen and Carrie Brownstein of Portlandia. Padma explains that this Portlandia-themed challenge will poke fun at the stereotype of Portland as a "hipster city" — the chefs must create a dish that features "hipster" ingredients, like kombucha, almond flour, and oat milk, and they're also only allowed to use the vintage equipment. The winner is Dawn, who makes a twist on cornbread.
After the Quickfire Challenge, Padma explains this week's Elimination Challenge: The contestants must create, develop, and write a recipe suitable for a non-professional home cook. The recipe must take only 90 minutes to prepare, and the chefs must make sure to write all of the relevant details, including exact measurements and specific instructions. Some of the chefs (like Dawn) have more experience with writing recipes than others, but they're all nervous about this challenge. ("Typically it can take days, if not weeks, to develop a dish," Byron says at one point.) They have a day to develop and write the recipe, and another day to cook it.
However, when they show up to the cooking site on day two, they find out that a group of Top Chef alums from this season's judging panel will be testing the recipes alongside the contestants. The dishes are then served side-by-side so the judges can compare how well the alums were able to follow the recipes. Some — like Gabe and Dawn's dishes — look almost identical, and Gabe actually ends up winning the whole challenge with his steamed black cod dish. However, some of the other contestants' recipes were difficult for the alums to follow. Chris, Byron, and Jamie are all on the bottom, and Chris ends up being eliminated. His recipe was for homemade gnocchi with a green romesco sauce, but the judges determined that it was too complex for an average home chef. "This whole experience is life-changing," he says in his exit interview. "I've learned more and more about myself, about who I am as a cook, and I want to continue to learn and grow from that."
Episode 10: "Tournament of Tofu"
For this week's Quickfire Challenge, the remaining six chefs are each assigned to one of the judges — Padma, Tom Colicchio, or Gail Simmons — and tasked with making a custom dish using fresh ingredients provided by Chipotle. Padma, Tom, and Gail each specify the flavor profile that they'd like to be served: Byron and Dawn go head-to-head making tangy and crunchy dishes for Tom, Gabe and Jamie craft smoky and charred dishes for Gail, and Shota competes against Maria to cook a spicy and tart dish for Padma. The judges' favorite overall dish, and the winner of the challenge, is Dawn, who made pork loin with crispy onions and a poblano avocado purée.
Padma then brings in Chef Edward Lee as a guest judge for this week's Elimination Challenge, which is tofu-based. "Dating back over 2,000 years, this delicacy traveled throughout many Asian cultures over the centuries and eventually made its way into American kitchens," Padma explains, while Edward adds that the oldest tofu maker in America has been operating in Portland for more than 100 years. This week's Elimination Challenge is a tournament-style challenge where the chefs will go head-to-head in three brackets, with one winner chosen from each bracket. The three losers from the first round will then go head-to-head in the next round, and the final two chefs left will compete in a third round to decide who will be eliminated this week.
To prepare, the chefs go on a tour of Portland's Ota Tofu before arriving at the Portland Japanese Garden to cook and serve their tofu dishes. After the first round of the tournament, half of the contestants (Shota, Gabe, and Jamie) are safe, and half (Dawn, Maria, and Byron) must move on to the second round, where they compete to make dishes using fried tofu. Disaster strikes for Dawn in this round when she cuts herself on a knife and gets blood into some of the food that she's already plated. She has to scramble to make up for those lost dishes, and she ends up one dish short. Per Top Chef rules, this means she's ineligible to win this round, and will have to move on to the final elimination round. Maria ends up beating Byron, so Byron and Dawn make up the final round. They have 30 minutes to create a dessert using tofu, and Byron, who made a soft tofu mousse with dried mango granola, is ultimately eliminated. "To go out before a panel like this is an honor," he says to the judges. "To have somebody from Costa Rica come here and have that opportunity, to me, I feel like a Top Chef."
Ed. note: After publication of this article, reports of misconduct regarding contestant Gabe Erales surfaced. You can find more information about the allegations here.
Welcome back to normal? Not quite. Portland has never really been normal. It's a city that's perfectly imperfect. A place where possible is still possible. It's James Beard's hometown and America's culinary epicenter, filled with food carts, farmers' markets and award-winning restaurants. Portland may not be for everyone, but it's definitely for you. Welcome to the new not-normal. Welcome to Portland. Plan your visit today.
This advertising content was produced in collaboration between Vox Creative and our sponsor, without involvement from Vox Media editorial staff.