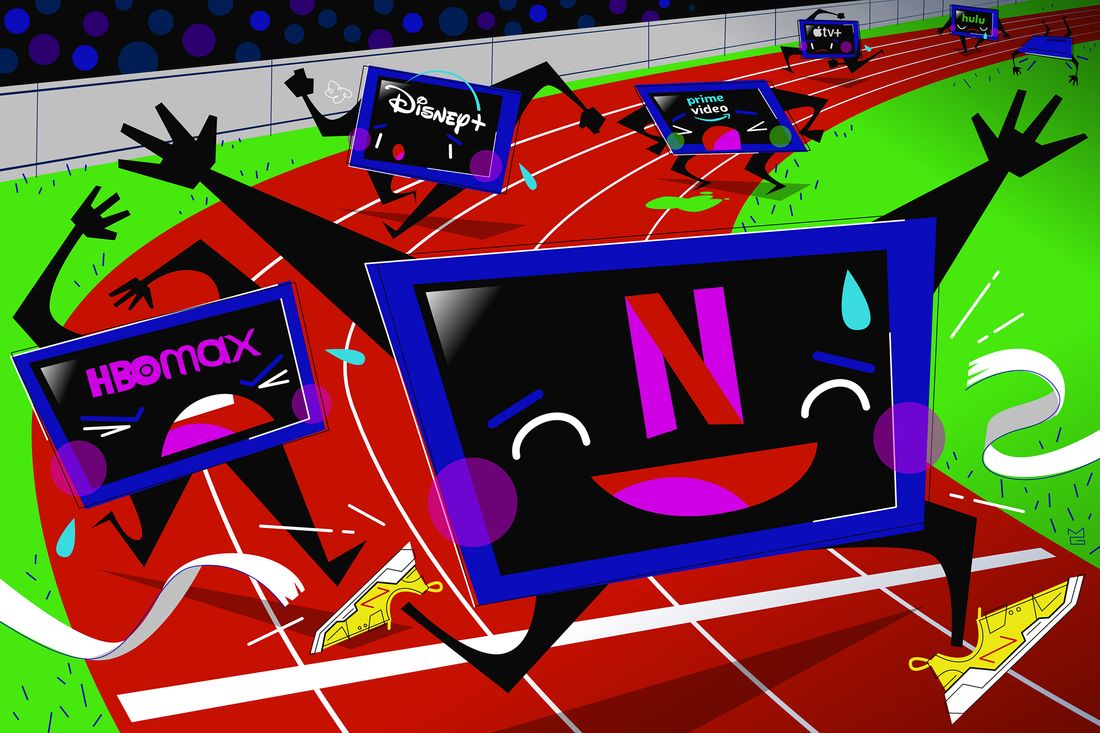 Illustration: by Martin Gee
Netflix's streaming supremacy is being challenged as never before. The digital TV universe has dramatically expanded over the past 18 months with the launch of well-funded platforms from conglomerates old (Disney, WarnerMedia, Comcast) and new (Apple). These upstarts are attracting subscribers and competing for buzz, but do they pose a legitimate threat to Netflix's crown? To figure out where things stand in the battle for dominance, we evaluated seven major streamers (that have been operating for at least one year) according to five different metrics, from overall heft to what folks in Hollywood and on Wall Street are saying. We ranked them all within each category — assigning seven points for first, six for second, and so on — then tallied all those scores to come up with a final overall standing. There may never be a definitive winner in the streaming wars. Our goal is to figure out which platform is packing the most heat right now.
42 million users; 2020 debut
Overall Size: 1
Originals Output: 1; "Maybe the Olympics will be the breakthrough," says one top agent. (It will exclusively stream 12 hours of coverage daily via sister network NBC.)
Critical Buzz: 1
Industry Ranking: 1
Momentum: 1; "Someone lend these people some money so at least they can pretend to be contenders," says one PR chief. "It's a joke that they think they're going to contend in a real way when they don't spend — in content or marketing."
Total Score: 5
42 million subscribers; 2010 debut
Overall Size: 3; Biggest asset: next-day network reruns.
Originals Output: 3; "With the Kardashians and the D'Amelios moving to Hulu, it could be the one to beat in the future," says a veteran unscripted executive and producer.
Critical Buzz: 4; "Totally uninteresting," says a Wall Street analyst. "Time will remember it as a near first mover that spent a decade without sufficient funding and was eclipsed by a better product: the Star tab within Disney+."
Industry Ranking: 2
Momentum: 2
Total Score: 14
34 million+ users*; 2019 debut
Overall Size: 2; The smallest library of original content. You're lucky to get more than four or five new titles a month.
Originals Output: 2
Critical Buzz: 5; "Dollar for dollar, the most impressive content slate since launch," one Wall Street analyst says, referring to the platform's buzzy originals, including Ted Lasso and For All Mankind. "They're trying to become the HBO of SVOD."
Industry Ranking: 3
Momentum: 5
Total Score: 17
200 million users; 2011 debut
Overall Size: 6
Originals Output: 5
Critical Buzz: 3
Industry Ranking: 4; "Oscar winner effing Barry Jenkins just did a show for them, and it was like a tree falling in the forest," says one veteran PR chief.
Momentum: 4; Could soon be a franchise beast with the release of The Lord of the Rings and titles from the newly acquired MGM library.
Total Score: 22
104 million subscribers; 2019 debut
Overall Size: 5
Originals Output: 4; The most powerful franchiser: Marvel, Star Wars, Nat Geo, the Disney Channel, The Muppets, and endless movie sequels and spinoffs.
Critical Buzz: 2
Industry Ranking: 6
Momentum: 7; Getting to over 100 million global subscribers in under 18 months was a massive accomplishment. [Most Momentum]
Total Score: 24
64 million subscribers; 2020 debut;
Overall Size: 4; Most likely to close the gap owing to its increasingly sizable originals output, a pending merger with Discovery Networks, and a strong bench of corporate IP on which to build new programming (Game of Thrones, DC Comics, Sex and the City).
Originals Output: 6
Critical Buzz: 7; Netflix had more Emmy nominations last year than any other platform. But HBO won more Emmys. [Top Critical Buzz]
Industry Ranking: 5
Momentum: 6; The decision to put Warner Bros. feature films on the service the same day they hit theaters got longtime HBO cable subscribers to finally activate the app.
Total Score: 28
208 million subscribers; 2007
Overall Size: 7 [Largest Overall Size]
Originals Output: 7; This past January, Netflix's Cobra Kai was the most in-demand show in the States, generating 106.3 times more consumer interest than the average series. [Biggest Originals Output]
Critical Buzz: 6; "They've done such a good job of becoming the Kleenex of TV," one suit says. "But it's not as niche or cool as it was."
Industry Ranking: 7 [Highest Industry Ranking]
Momentum: 3; "It's more a question of whether they'll have a 300, 400, or 500 million subscriber ceiling now," says one Wall Street analyst.
Total Score: 30
.

Analysis
Overall Size
Netflix execs were the first to realize that scale would define success in streaming, and it has paid off: The platform has more subscribers in more parts of the world than any of its rivals. It produces movies and TV shows in over 20 different countries, making it the first global TV network. Its planned $17 billion in content spending this year is the most of any streamer. "They account for 25 percent of all time spent on connected TV," says one Wall Street analyst, "dominating everyone else in the field globally."
Originals Output
Having so many subscribers and so much cash allows Netflix to be a force in just about every major form of filmed entertainment, from high-budget feature films to low-budget reality shows to comedy specials. It might not always have the best programming, but no other streamer comes close to checking all the boxes. This explains why Parrot Analytics, which measures audience demand via Google searches and torrent downloads, says its originals commanded a nearly 50 percent share of U.S. audience interest in the past year.
Critical Buzz
Disney+ produced some of the most-talked-about TV of the past year (WandaVision), but critical acclaim isn't central to its game plan. HBO Max is the "It" streamer. Its first year included Mare of Easttown, I May Destroy You, The Undoing, Hacks, The Flight Attendant, plus a slew of buzzy movies. That's a damn good slate, particularly given the pandemic robbed its inaugural year of two big draws (Succession and Barry) and delayed the new Gossip Girl.
Industry Rankings
Netflix is still considered the industry's leader, but the hunger for change is palpable. Five people put another platform ahead of the streamer in their rankings, and some of those who ranked it first did so reluctantly. Other streamers are closing the gap: Disney+ and Prime Video were rated the hottest streamer by two of our power players; another listed HBO Max first. Several said they're keeping an eye on Apple, which is spending massive sums to build up its original-content library.
Momentum
Disney+ shattered theatrical windows early during the pandemic, shifting titles such as Soul to streaming and introducing its "premiere access" program tying premium VOD access to having a Disney+ subscription. "Disney+ is the largest-scale pivot from business-to-business to business-to-consumer in history," says a Wall Street analyst. "If it hits its 300 million target, it would prove that companies that say 'it's too hard to change' are just making excuses."
Winner: Netflix
However much its rivals want the narrative to shift, Netflix still packs the biggest overall punch in the streaming space. But it's now a real competition: A shift of just three points would have put HBO Max at the top of our survey, and Disney+ was close behind. Netflix clearly isn't in danger of losing its overall dominance anytime soon, but how long it can hold onto the title of the hottest streamer is much less clear. As one top Hollywood agent told us, "One year from now, this list may feel very different."
Sources: Parrot Analytics, ReelGood, Ampere Analysis, Statista.