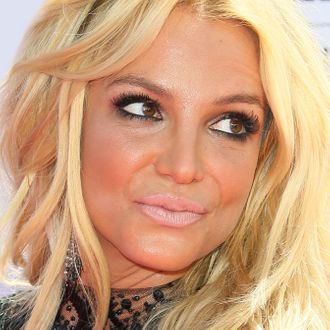 Spears.
Photo: Getty Images
After 13 years of Britney Spears not having representation of her own choosing, Judge Brenda Penny officially granted the singer's request to pick and hire her own attorney. Former federal prosecutor Mathew Rosengart, known for being a tough litigator, was appointed to serve as Spears's attorney at her request at a hearing on Wednesday, July 14, replacing her former court-appointed attorney, Samuel Ingham III, who went into today's hearing asking the judge to approve his resignation from the case. Ingham had been appointed as Britney's advocate at the conservatorship's inception; he did not immediately respond to a request for comment. Judge Brenda Penny also approved Bessemer Trust's resignation; the court had formally appointed the financial institution to serve as the co-conservator of Britney's estate, along with her father Jamie, only just last month. Rosengart told reporters outside the courthouse following the hearing, "My firm and I are going to be taking a top to bottom look over what has happened over the past decade."
He continued, "One thing that everybody has lost sight of in all the controversy and all the litigation and all of the drama is what is in the best interest of Britney Spears. It doesn't take an expert to understand the fundamental tenet of probate law, of conservatorship [law], and what is in the best interest of the conservatee. Can anyone disagree that it is not in the best interest for James Spears to be a co-conservator? The question remains why is he involved. He should step down voluntarily as that is in the best interests of Britney Spears consistent with the law of conservatorships. So, yes, pursuant to Britney Spears's instructions, we will be moving promptly and aggressively for his removal."
Spears herself testified at the hearing, often through tears. Despite Judge Penny having sealed the courtroom, preventing audio of Spears's testimony from coming out, snippets of her words in the courtroom made their way onto Twitter while the hearing was ongoing. In her latest statement, Spears, 39, requested that her father, Jamie Spears, be formally charged with abuse. She reportedly told Judge Penny, "I want to get rid of my dad and charge him for conservatorship abuse. I want an investigation on my dad. I'm here to press charges … I'm angry, and I will go there."
Rosengart weighed in at the hearing, saying, " I don't know why Jamie Spears doesn't resign today. He purports to love his daughter and his daughter has repeatedly asked him to step down. So I'm going to give him the opportunity right now to voluntarily resign."
Jamie's lawyer said "in no uncertain terms that they had no intentions of resigning."
According to those in the room, Spears then brought up the 2019 physical altercation that Jamie had been involved in with her one of her sons and said, "How did it not end after I got a restraining order? Because my dad broke down the door on my son."
Jude Penny did not address Britney's comments directly but instead pleaded with all of the attorneys involved in the case to get along and work together.
Tess Barker, host of Toxic: The Britney Spears Story and who was in the courtroom today, said that prior to Rosengart's appointment, an attorney for the ACLU made an appearance to ensure that Britney had the opportunity to interview multiple attorneys before choosing Rosengart. Britney, who called in by phone to the packed courtroom, said she had made the decision willfully. Barker said that no one knew in advance that Britney planned to address the courtroom until Ingham announced that he got a text from Britney, and that she wanted to speak. She was "crying talking about how anxious and abandoned she felt at the facility they [previously] had her in," Barker said.
"I was always extremely scared of my dad. I thought he was going to show up drunk and embarrass me," Britney said. "It was fucking cruelty." She reaffirmed: "I want to press charges on my dad and remove him from the conservatorship."
Barker said there was no real opposition to Rosengart coming on board, but that the animosity and finger pointing occurred between Jodi Montgomery's legal team and attorneys for Jamie Spears. The two, she said, argued over Jamie's request for an investigation into Spears's statements at the last hearing and over Montgomery's request for 24/7 security. Judge Penny ultimately decided to table that discussion until a follow up hearing scheduled for Monday, July 19, to give Rosengart time to consult with his new client on her wishes.
Outside the hearing, the atmosphere was circuslike. Legally embattled representative Matt Gaetz even showed up beforehand to pose for photographs and talk to the media in support of Spears and against her father. He said, "We need Nancy Pelosi to make [this] a priority. They don't want to work with Congress."
A large crowd gathered outside the downtown L.A. courthouse, and for the duration of the hearing, supporters chanted, "What do we want? Free Britney now!" Protesters held up signs reading, "Justice 4 Britney," "Jamie Spears Must Die," and "I Want My Life Back." Some wore Britney-emblazoned T-shirts, pink shirts, and pink wigs. One man wore a ringmaster costume and marched around the courthouse during the hearing. #FreeBritney protests also took place worldwide, including in London and Washington, D.C.
Tamar Arminak, a probate attorney not affiliated with Spears's case, told Vulture that Rosengart's appointment will mean swift transitions in its handling. "We will see the change Britney was pleading for in her testimony in June," said Arminak, who represented Amanda Bynes's parents in their daughter's conservatorship.
"We can expect to see her new attorney and his team very quickly bringing a motion to remove Jamie Spears as a conservator and, soon after, ask the court to remove the conservatorship over Britney altogether."
Barker, who has been following Britney's conservatorship case very closely for years both on her Instagram Britney's Gram and on her new podcast Toxic, when asked if she was relieved with today's outcome and Britney finally being able to hire her own attorney said, "I think everyone in the Free Britney movement wishes that there had never been any need for a free for movement."
This post contains breaking news and will be updated accordingly.