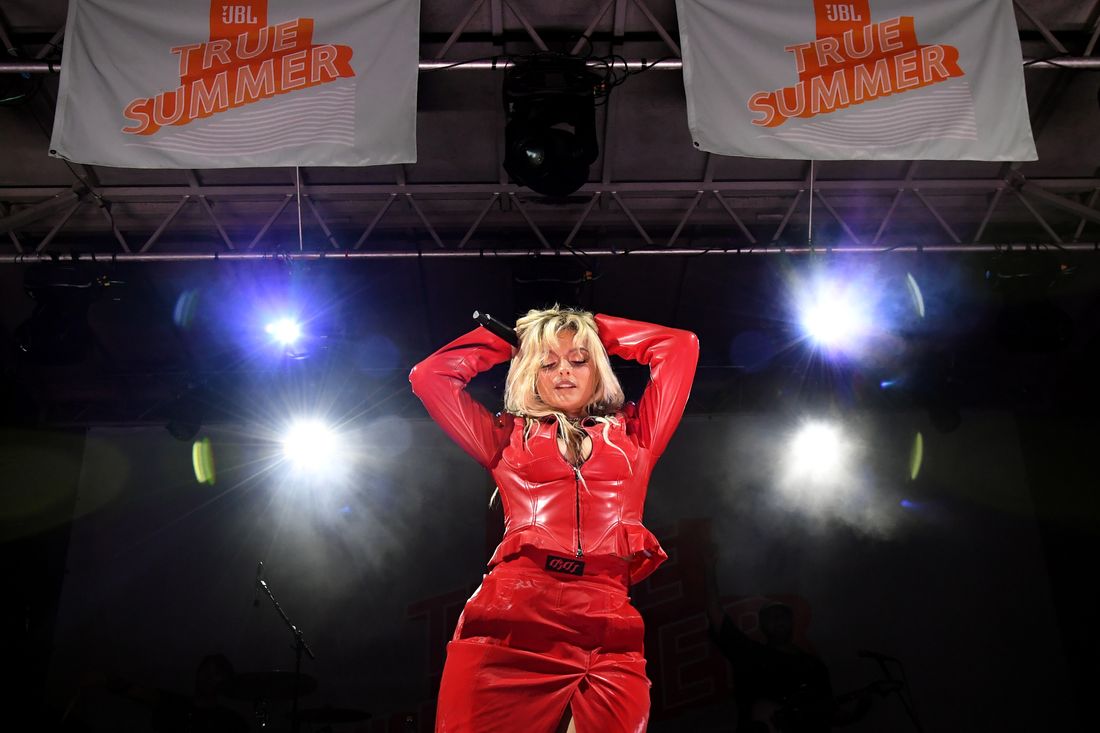 Photo: Kevin Mazur/Getty Images for JBL
When Lizzo arrives in a cropped pink wig, wearing a t-shirt with her face plastered on it, the evening is pretty much made – especially if she heads over to the DJ booth along with her crew, grabs ahold of the side and leans back to show off her twerking skills. The "Good As Hell" songstress was one of many notable names that headed to the Santa Monica Pier on Thursday night in Los Angeles to celebrate the launch of JBL True Summer series of live shows.
Models Delilah and Amelia Hamlin, Flip or Flop's Tarek El Moussa and his Selling Sunset fiancé Heather Rae Young, Los Angeles Lakers center Andre Drummond and All American co-stars Samantha Logan and Michael Evans Behling sipped custom margaritas and ended their pandemic-induced live music drought as Jason Derulo and Bebe Rexha took the stage for back-to-back sets. The crowd included 400 privately invited guests, and some Rexha fans that had won tickets to the show. Everyone chatted about the latest trends on TikTok and people's upcoming concert plans, a sign that live music is roaring back to life.
Photo: Kevin Mazur/Getty Images for JBL
The evening kicked off with Lizzo's official DJ, Sophia Eris, spinning everything from Estelle to Madonna — and a little Lizzo sprinkled in, of course. Attendees took photos in a lifeguard tower and posed in a photo booth with a JBL speaker wall backdrop. And everyone was invited to support the National Independent Venue Association (NIVA's) #SaveOurStages campaign, which JBL has pledged to donate a portion of its summer sales to in support of workers and musicians impacted by the pandemic. Guests posted pictures and memories of their favorite venues to their socials in honor of the initiative. A line wrapped around the premises as people waited to play arcade-style basketball for a chance to win some swag: everything from JBL Tour Pro+TWS True Wireless Noise-Cancelling Earbuds to fanny packs and speakers, which winners had the chance to have customized with everything from palm trees to monograms to pet portraits.
The unofficial theme of the night, of course, was that live music was officially back — and everyone, from the guests to the performers, was buzzing with excitement. Amelia Hamlin took to Instagram to post "First concert in 18 months down! Thank you so much for having me, JBL Audio," while others in the crowd jumped up and down proclaiming, "I can't believe I'm at a concert!"
Finally, the main event and the moment everyone was waiting for: Derulo took the stage at 8 p.m. sharp, opening with "Wiggle." The artist and his backup dancers broke into a sweat as they continued on with "Let Me Take You Dancing," "Swallow" and "Savage Love," to which he challenged the crowd to show off their dance moves from his viral TikTok compilation video. After ditching his jean jacket, which elicited squeals from some female admirers, Derulo flashed a grin and said, "I could not be more excited because we are out here, y'all. It's been a very, very long time since I've had this kind of interaction!" He proceeded to address the pandemic: "Everything happens for a reason. I just hope that we all come out of this [differently] than when we got into it." He said going forward, he will treasure every human interaction he has – "Every handshake is a little more sacred. Every hug is more sacred. Everything hello seems like something totally different."
By the time "Talk Dirty" came around, the audience found its stride and everyone had some degree of wiggle in their step. Derulo ended the show by thanking his band and JBL, while his DJ called him the "the new king of pop" and signed off with Derulo's notorious, name-proclaiming calling card ("Jason Deruuuuuuulo").
Then Bebe Rexha, who walked the red carpet in a black leather ensemble, appeared on stage now clad in a red leather dress. She launched into "Break My Heart Myself" before continuing on with "Me Myself and I," which had everyone on their feet. During "Sacrifice," she hopped into the crowd and got up close and personal with fans. Rexha continued to parade through the audience during "Hey Mama" where she enlisted some attendees as backup singers and directed a twerking contest. At one point in the show, Rexha's hair extensions came loose and she tossed them to the side of the stage, playfully joking "Sorry. This is my first show back in two years!" She declared that her false lashes were likely to be next and that her dress was creating a boob sweat situation.
Rexha commanded the stage with a sense of enthusiasm that made it hard to believe she'd taken any time off from playing live. She wrapped up the night with her country hit "Meant to Be," eager to fulfill another promise she made during her performance: "I don't drink before my show but after this, I'm having not one, not two, I'm having like five drinks. I don't care," she declared, consumed with the excitement of being back to performing live.
This advertising content was produced in collaboration between Vox Creative and our sponsor, without involvement from Vox Media editorial staff.