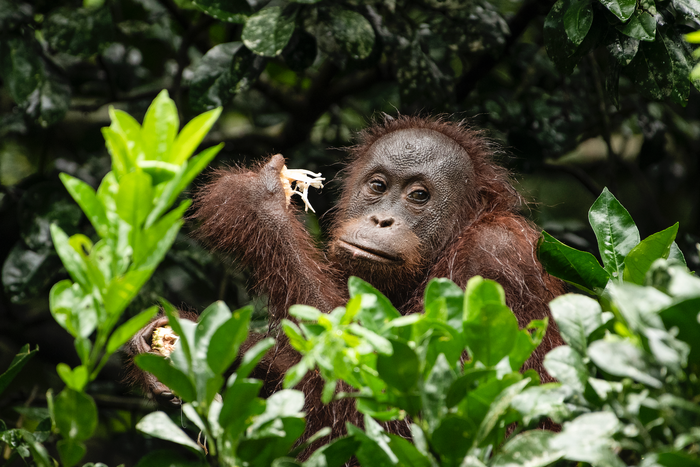 Photo: Courtesy of BBC America
The concept of "eden" means something different to all of us. In general, it signifies paradise — a place where you can find peace and natural beauty, where you can feel undisturbed by the rumblings of the rest of the world. But in practice, this can manifest differently for different people. For some, eden could be a quiet, grassy field, while others prefer a rocky oceanside overlook. It could even mean a bustling city street or a backyard filled with loved ones.
BBC America's new series Eden: Untamed Planet (also airing on AMC and streaming on AMC+) sets out to chronicle different types of edens across the world — in this case, places where the land remains mostly untouched by humans, still flowering with biodiversity and unique ecosystems. The series is narrated by Helena Bonham Carter and explores undisturbed corners of the Earth including the Namib Desert in southern Africa, the Luangwa Valley in Zambia, the Galápagos Islands, the rainforests of Borneo, and more. In addition to engrossing us in these natural wonders, Eden also encourages us all to do our part in helping environments like these survive for the future.
To go more in-depth on Eden and ways of protecting our planet, we talked to Leah Thomas, a writer and the founder of the Intersectional Environmentalist, a resource hub dedicated to exploring the intersections of social and environmental justice. Last year, Thomas began the Intersectional Environmentalist after realizing more could be done to educate her followers on the links between the two. Today, the platform has more than 350,000 followers, and Thomas (who's also working on a book on the same topic!) has big plans for expanding the community through free lectures, workshops, and more. Here, we asked her about Eden and edens: Read on for what she had to say about finding peace in nature while stepping up as an activist and advocate.
How did you get started with the Intersectional Environmentalist? 
I started it during the summer of 2020, during the height of the Black Lives Matter movement. This was shortly after I'd gone viral on Instagram after coining the term "intersectional environmentalism" and encouraging the environmental community to support marginalized Black and brown communities across the globe. I just felt like there was a lack of conversation about environmental justice and racism within the mainstream sustainability movement at a time when it was so urgent! So, with the help of some incredible eco-activists and advocates, we created a free resource online with educational tools for people to learn about the intersections between climate and identity and social justice, to help everyone become better advocates for both people and planet.
What do you wish more people knew about how social justice and environmentalism intersect?
It is intertwined and almost inseparable. Social justice is not an optional "add on" to environmentalism and should not be siloed. Unfortunately, who experiences environmental injustice (from lack of clean air and water to being most threatened by rising temperatures and sea level) is closely linked to wealth and race. Therefore, we should consider how to lessen the impact on already-vulnerable communities who are largely not responsible for these conditions. If environmentalists care about endangered species, we should care about endangered humans.
What do you find meaningful about your work?
Focusing on climate optimism gives me a lot of hope. There are so many incredible innovations and rising students who are proposing solutions to create a greener, more equitable world, and that gives me so much hope! I'm also so motivated by being able to connect with people of color in this space and let them know that I see them, and see them begin to realize that they should boldly take up space and that their cultural values are just as valid within environmental spaces.
How do you think series like Eden: Untamed Planet can help inspire us to protect our planet?
Nature shows can demonstrate the beauty of the world around us and zoom in on all the existing ecosystems that are functioning at the same time. It helps put things in perspective, that humans are just one part of the equation and that we can make decisions that respect the other organisms on Earth. Nature shows can also demonstrate environmental changes that are happening due to the climate crisis that might seem abstract without having a visual to reference. I do think that seeing real life environments can inspire people to take action and understand their responsibility to protect our home.
In what environments do you feel most at peace?
I love living in "sleepy beach towns," places that are right off the coast — like my home in Santa Barbara. I don't like being in super-large cities, but I find so much peace in really laid-back environments.
What does "eden" mean to you?
Eden makes me think of lush lands, fertilized soil, clean air, and a new chance of possibility. It makes me think of a fresh start, uncharted waters, and the potential to cultivate a beautiful relationship with people and planet. It also brings about the idea of caution and being extremely careful about being mindful of caring for the land and not taking it for granted.
That "new chance of possibility" is what BBC America's Eden is all about. By showcasing some of the last places on Earth mostly free of human interference, the series reminds us of the importance of caring for our planet, and inspires us to explore the edens in our own lives — the places where we find peace and comfort. And hey, even on those days when tapping into your own personal "eden" feels difficult, you can always turn on Eden to help you preserve your energy and transport you to greener pastures. From the makers of Planet Earth and Blue Planet II, Eden: Untamed Planet premieres on BBC America and AMC Saturday, July 24, at 8 p.m. ET. (Episodes will also be available streaming on AMC+ the same day they air.)
This interview has been edited and condensed for clarity. 
This advertising content was produced in collaboration between Vox Creative and our sponsor, without involvement from Vox Media editorial staff.