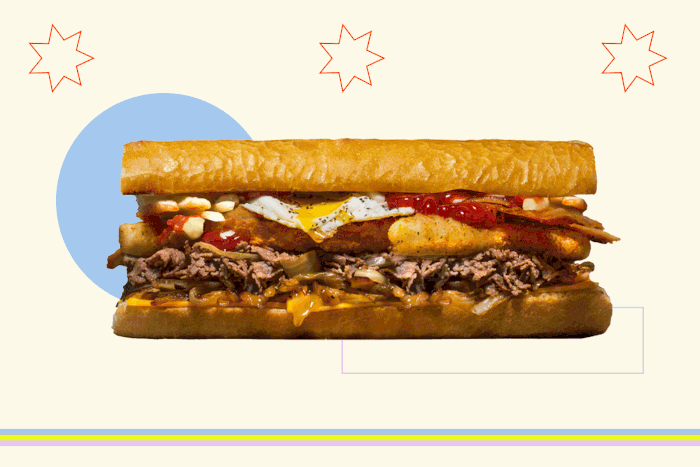 Los Angeles is the movie-making capital of the world. People flock to the city for the Hollywood Walk of Fame, and to get a glimpse inside Universal Studios. But L.A. also serves as a backdrop — and sometimes even a character — in many iconic films, each of which tells a different story about the vibrant yet violent city.
Aside from film enthusiasts, L.A. also attracts foodies like bees to honey, and the city is home to countless buzzy restaurants like Fat Sal's Deli. In feats of both artistry and engineering, Fat Sal's has mastered the over-the-top sandwich, serving its substantial subs to Californians for over 10 years. Fat Sal's piles the ingredients of your wildest dreams between two pieces of bread, lathers on decadent sauces and seasonings, and tops it off with the perfect amount of cheesy meltage. With three bustling locations in Encino, Hollywood, and Westwood — and ready to reach more neighborhoods with DoorDash — Fat Sal's is a bona fide Los Angeles institution.
To see L.A. in a new light from the comfort of your couch, here are seven incredible films set in the City of Angels, and the perfect Fat Sal's sandwich to indulge in during your viewing.
Speed & The Fat Breakfast
Speed nails many quintessential '90s blockbuster tropes, including "villain explains premise of film via sinister call at conveniently placed payphone." Terrorist Howard Payne (Dennis Hopper) sets it up for rookie LAPD officer Jack Traven (Keanu Reeves): "Pop quiz, hot shot. There's a bomb on a bus. Once the bus goes 50 miles an hour, the bomb is armed. If it drops below 50, it blows up. What do you do?" It's a high-concept idea, but Speed could not have taken place in any city other than Los Angeles, where staying above 50 miles per hour in freeway traffic is only possible with the help of movie magic. The city's size and sprawl give the film its momentum, and setpieces are designed around distinctive L.A. landmarks — including a tense opening sequence at the Gas Company Tower and a crowd-pleasing grand finale on Hollywood Boulevard. Speed is a two-hour adrenaline rush, full of twists and turns like Jack's attempt to detonate the bomb by cruising underneath the bus on a mechanic's dolly, and a physics-defying "bus jump" across a gap in a freeway. Fuel up for Speed with Fat Sal's Fat Breakfast sandwich. A cheesy concoction with breakfast staples like fried eggs, bacon, and tots — plus a drizzle of Tapatio — the Fat Breakfast will start your day right.
Her & The Irresistible Italiano
Set in a near-future Los Angeles, Her follows Theodore Twombly (Joaquin Phoenix), a professional love letter writer in the midst of a divorce, who develops a romantic connection with his computer operating system, Samantha (Scarlett Johansson). Heartbreaking yet slightly absurd, the film chronicles the trials and tribulations one might encounter in taking Siri out for dinner, through the eyes of someone in dire need of connection. Spike Jonze's vision of a futuristic L.A. is the perfect backdrop for Theodore's melancholia, capturing the dichotomy of exposure and isolation that characterizes urban life. Elevators are packed, yet everyone's staring straight ahead. The streets are bustling, yet everyone's looking down. Theodore finds the antidote to loneliness in Samantha, who only exists in the form of pixels and soundwaves. Her poses the question: Can you truly love something without a human body? Try Fat Sal's Irresistible Italiano sandwich, and you'll find that the answer is yes. Stacked with ham, salami, and pepperoni and topped with Italian spices and vinaigrette, get ready to fall head over heels.
Mid90s & The Fat Anthony
Jonah Hill's directorial debut, Mid90s, is a shameless period piece that captures Los Angeles' skate subculture, well before Blink-182 went mainstream and Thrasher got co-opted by hypebeasts. A solid entry in the "hangout movie" subgenre, Mid90s follows 13-year-old Stevie (Sunny Suljic), who begins spending time with a crew of older skateboarders he meets at a local skate shop. Shot on 16mm film to replicate a VHS look, soundtracked to Nirvana and Nas, and peppered with cultural touchstones like Super Soakers and Ren & Stimpy, Mid90s wears its nostalgia on its sleeve. Yet the highs and lows Stevie experiences are timeless: the adolescent desire for belonging, trying on new personas, and that first taste of freedom. (For Stevie, it's running from cops at the West L.A. Courthouse Skate Plaza and skating down a four-lane freeway at dusk.) Sink your teeth into nostalgia with Fat Sal's Fat Anthony — stuffed with chicken fingers, mozzarella sticks, and french fries, this sandwich will take you back to the good old days.
The Fast and the Furious & The Amazing Albacore Tuna
Before the Family took on Abu Dhabi, Rio de Janeiro, and outer space, The Fast and the Furious introduced us to a crew of street racers speeding through Los Angeles. It all began at Toretto's Market and Cafe, where we meet undercover cop Brian O'Conner (Paul Walker) by way of his sandwich order: "Tuna on white, no crust." Possibly the most consequential tuna sandwich in human history, it leads Brian to meet the Toretto siblings, Dom and Mia. In six subsequent films, he'll race across the world with one sibling and have a kid with the other — and somehow The Rock and Helen Mirren get involved, too. But first, we get a blistering fight scene outside the cafe set to Benny Cassette's "Watch Your Back" and street races down the Arts District and the Pacific Coast Highway. Pair this film with Fat Sal's Amazing Albacore Tuna sandwich — it could be the beginning of something great.
La La Land & The Fat Banh Mi-ki
From the opening minutes of La La Land, you can already tell that you're in for a treat. The meticulously choreographed long take of Los Angeles drivers breaking into song on a freeway sets the tone for a colorful celebration of the city. Aspiring actress Mia (Emma Stone) and struggling jazz pianist Sebastian (Ryan Gosling) romp through pool parties, jazz clubs, and tourist attractions — with a hunch that opportunity is right around the corner. La La Land is full of Easter eggs that pay homage to old Hollywood, like an Ingmar Bergman poster on Mia's wall, Rebel Without a Cause playing at the Rialto, and a tour around the Warner Bros. lot. Damien Chazelle's film, which was mistakenly awarded the Best Picture Oscar for two minutes, celebrates the "fools" who come to L.A. to chase a dream. Pair this film with Fat Sal's Fat Banh Mi-ki, which has both style and substance. The sweet and spicy soy sauce harmonizes with the sour notes of pickled vegetables and Szechuan slaw, and the jalapeños and sriracha bring it to a crescendo. The Fat Banh Mi-ki will sing and dance in your mouth.
(500) Days of Summer & The Perfect Pastrami Reuben
(500) Days of Summer is the ultimate vibe check movie. You can easily figure out somebody's philosophy on relationships based on whether they sympathize with Summer (Zooey Deschanel) or Tom (Joseph Gordon-Levitt) — the girl who doesn't believe in love or the hopeless romantic who falls for her. For most of the film, Tom sees Summer not as her own person, but a character in his idealized love story. She likes The Smiths, holds his hand at IKEA, and kisses him in the copy room — so she's the only person in the universe who can make him happy, he thinks. Once-aspiring architect Tom also has an affinity for L.A.'s overlooked landmarks, like the Continental Building and the Fine Arts Building. Tom's delusions finally shatter in a devastating split-screen sequence that compares his expectations against reality. (500) Days of Summer may be a cautionary tale about the dangers of expectation, but we promise Fat Sal's Perfect Pastrami Reuben won't let you down. Hot pastrami and sauerkraut are served on a buttery hero, and topped with melted Swiss and Russian dressing. It's the whole package.
Once Upon a Time in Hollywood & The Fat Jerry
The year is 1969, and Hollywood is in crisis. As is Rick Dalton (Leonardo DiCaprio), a television actor well past his prime who struggles to stay afloat as the golden age of film studios wanes. He spends his days meandering through Los Angeles with Cliff Booth (Brad Pitt), and dreaming of befriending his new neighbor Sharon Tate (Margot Robbie) to revive his career. Tarantino's depiction of Hollywood's changing tides hits close to home — it's easy to get cynical about the industry as studios pander to smaller screens and pump out franchise films. Rick and Cliff are jaded and indifferent about the industry, but a bright-eyed Sharon Tate beaming at the big screen proves that the magic of the movies isn't going anywhere. In classic Tarantino fashion, Once Upon a Time in Hollywood culminates in a bloody twist ending. Pair this film with the Fat Jerry sandwich. Filled to the brim with ribeye steak, melted American cheese, chicken fingers, mozzarella sticks and crisp bacon…it's gonna get messy.
This advertising content was produced in collaboration between Vox Creative and our sponsor, without involvement from Vox Media editorial staff.