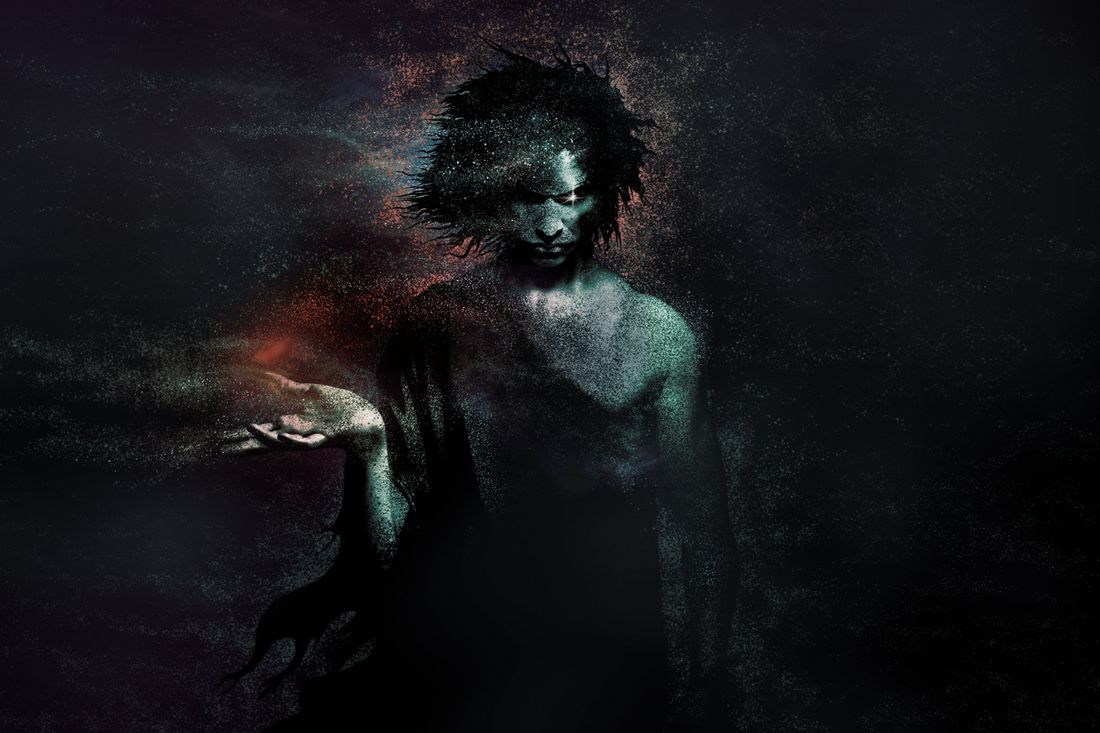 Illustration: Courtesy of Audible
As anyone with even the slightest knowledge of pop culture knows, adaptations of comic books and graphic novels continue to be all the rage. It's for good reason: By combining visual and written storytelling mediums, comic books and graphic novels can help us build colorful, tangible worlds and mythology. Last year, Audible added another medium to that already-potent mixture with the release of The Sandman, the first installment of a multi-part original audio series based on the DC graphic novels by Neil Gaiman. Now, Audible is letting you experience that #1 New York Times audio best-seller for free (yes, free!), in anticipation of the upcoming second installment of the series, The Sandman: Act II. 
First published in the 1980s, Gaiman's best-selling series blends horror, dark fantasy, historical drama (and many more genres), and was once hailed as "the greatest epic in the history of comic books." The Audible Original series uses an innovative cinematic soundscape experience to bring the original graphic novels to life, plus a powerhouse cast that includes Gaiman himself as the narrator and James McAvoy as Morpheus, a.k.a. the titular Sandman. The audio series was adapted and directed by multi-award-winner and frequent Gaiman collaborator Dirk Maggs, and the A-list cast also features Riz Ahmed, Kat Dennings, Taron Egerton, Samantha Morton, Bebe Neuwirth, Andy Serkis, and Michael Sheen.
Gaiman's original graphic novels follow Dream, who's also known as Morpheus, The Sandman, and many other names throughout the series. (He's basically the personification of the concept of dreams — NBD — and rules over the Dreaming, which is where we all go when we dream.) Morpheus is one of seven siblings, together known as the "Endless" — his siblings include Death, Desire, Despair, and… you get the picture. As The Sandman begins, Morpheus has been captured and is just beginning a 70-year imprisonment. After he escapes, he sets out for revenge and tries to rebuild what's left of his kingdom, the realm of dreams. As Morpheus travels through various dreams and nightmares, the story features multiple settings, time periods, and a wide array of characters. (There are also many spin-off books that dive into other parts of Morpheus' story, as well as the stories of his siblings.)
The first installment of Audible's Sandman series adapted volumes 1-3 of the graphic novels, and the second installment (coming Sept. 22!) will adapt volumes 4-5 and most of volume 6. We'd highly recommend that first installment as a must-listen before diving into The Sandman: Act II. It'll give you much-needed context and an introduction to the series. And it's the perfect time to take the plunge into the Sandman universe: As we mentioned above, Audible is now offering The Sandman for free for U.S. listeners until Oct. 22. Head to Audible's website to get yours now: It's a dream come true!
This advertising content was produced in collaboration between Vox Creative and our sponsor, without involvement from Vox Media editorial staff.