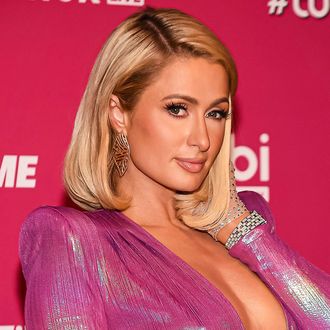 Photo: Frank Micelotta/FOX/PictureGroup/Frank Micelotta/FOX/PictureGroup
Paris Hilton isn't having an heir just yet. The socialite took to her podcast, This Is Paris, on July 27 to refute an earlier "Page Six" report that she was pregnant with her first child with fiancé Carter Reum. "Yes, I am pregnant with triplets," the 40-year-old joked, before clearing up the rumors. "I am not pregnant — not yet," she continued, adding that she is waiting until she gets out of her wedding dress. Hilton had previously shared that she was pursuing IVF treatment on the podcast Trend Reporter. On today's This Is Paris, she added that she "can't wait to have children in 2022." Hilton and her venture-capitalist fiancé got engaged in February on a private island after dating for more than a year.
On This Is Paris, Hilton also speculated about the source of the rumors, which she said blew up all five of her iPhones that morning. "I'm assuming that it was the Paris Hilton push-up bra from my new lingerie line. I was wearing it at dinner with my fiancé, Carter," she explained. "I guess some people got some shots, and they put them out and now they have a very reliable source that says Paris Hilton is pregnant." After the report emerged, Ben Widdicombe, editor of Avenue magazine, tweeted that Paris's sister, Nicky, refuted the story during a photo shoot, saying, "It's not true." And the news arrived on the same day as the trailer for Hilton's next venture: her cooking show, Cooking With Paris, which hits Netflix on August 4. Just to dispel any final rumors, Hilton added, "The only thing in the oven at the moment is my sliving lasagna." (That's slaying and living, mind you.)
This post has been updated throughout with Hilton's denial of the pregnancy reports.