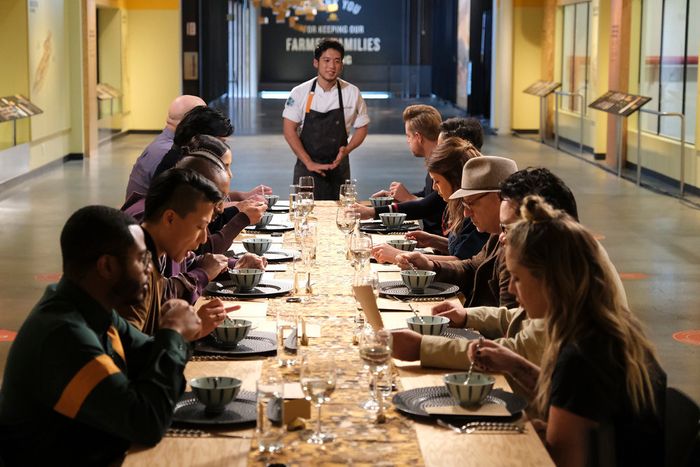 The finale has aired, the knives are packed, and the eighteenth season of Top Chef is now officially over. This season was based in Portland, Oregon, for the first time in the show's history, and featured plenty of great local restaurants and culinary stars from the City of Roses throughout its run. The season included many other firsts, as well: It was filmed in the midst of a pandemic that heavily impacted the restaurant industry, as well as during months of protests for racial justice in Oregon and nationwide. However, this great season was also overshadowed by late-breaking controversy, when reports surfaced about allegations of misconduct from this season's winner Gabe Erales, who was reportedly fired from his position at the Austin restaurant Comedor after Top Chef filming wrapped last year. (Host Padma Lakshmi has called for an investigation, and you can read more about the allegations here.) The reports have cast a shadow on this otherwise fantastic season of Top Chef. With that being said, let's talk about everything that happened in the last four episodes, before the winner was announced. Read on for everything you missed, and you can catch up on earlier episodes here.
Episode 11: "Blind Ambitions"
Our final five contestants — Gabe, Dawn Burrell, Maria Mazon, Shota Nakajima, and Jamie Tran — walk into the kitchen for this week's Quickfire Challenge, which is based on the "Black Box" challenge from the French version of Top Chef. The details get a little complicated, but basically — the chefs are paired into teams (because there's an odd number, Dawn is paired with alum Brooke Williamson) and have a few minutes to go into a pitch-black room and sample a dish. They can taste, touch, and smell the dish, but can't see it, and then they must try to recreate the dish on their own. The guest judge for this challenge, and the creator of the dish, is Gabriel Rucker, the owner of the Portland restaurants Canard and Le Pigeon. All of the contestants are quickly able to suss out that the dish includes carrots, pears, and a small bird, but the winners are Dawn and Brooke, who made the closest equivalent to the actual dish: grilled pigeon breast with roasted carrots, grilled pears, and a carrot mustard. This is the third Quickfire Challenge in a row for Dawn, which is a pretty big deal.
Next, the chefs receive care packages sent by their loved ones, which is a very sweet, emotional moment — especially in the isolated times of COVID. The care packages contain ingredients curated by the contestants' loved ones. This is when they're told about this week's Elimination Challenge: They'll have to use the ingredients sent by their friends and family to create a dish. (Evidently, the chefs' loved ones did not know this was going to be a challenge, and so the ingredients are pretty random.) The chefs take the ingredients and cook on location at Scholls Valley Lodge in Oregon's Tualatin Valley. When it comes time to serve the dish to the judges, Dawn doesn't have enough time to get her homemade gravy on all of the plates — this is the first instance of a theme that will come back to haunt her in future episodes.
Overall, though, it's a strong episode for the chefs. The winner of the challenge is Gabe, who made panuchos with braised pork, kale, and pickled red onion. Jamie and Maria are on the bottom, and Maria, who made grilled wings with miso and ginger, gets eliminated. However, before she can leave, Jamie tearfully offers to take her place. "I think she has more to give," Jamie says. "I think she should stay." Maria, who's also crying at this point, shakes her head: "I appreciate you, sweetheart, and I will not allow it. You have a lot to give too." The judges are all clearly touched by this heartwarming moment, and Padma says, "I think it's really beautiful the friendship that has clearly deepend. This is unfortunately what the game is." When Maria makes her exit, she says that she went from being "scared out of her mind" at the beginning of this season, but now has the confidence to claim her title of Top Chef finalist.
Episode 12: "The Cheesier the Better"
Padma tells the remaining chefs that they have one last Quickfire Challenge in the Top Chef kitchen, and then they're heading to the Oregon coast. She then introduces the "culinary mayor of Portland" Gregory Gourdet and Vitaly Paley, an award-winning chef and the owner of Portland-based Paley's Place. "Before Portland was even on the food map, Chef Vitaly was here creating the foundation which is today the Portland culinary scene," Gregory says. Even though the contestants will soon be waving goodbye to Portland, their Quickfire Challenge will pay tribute to the Rose City one last time — by creating a dish inspired by the Oregon Trail. "I'm sure you all remember playing the 'Oregon Trail' video game as kids," Gregory says. "But in actuality, the Oregon Trail was quite a serious thing. It was a vicious journey that took four to six months." Preparing food for the journey was vital, so the chefs' challenge is to create a modern dish using only the ingredients that the settlers would have had on hand: like lard, flour, coffee, molasses, fruit, meat, and herbs. The winner of this challenge is Jamie, who made pan-seared salmon with a walnut pepper sauce.
This week's Elimination Challenge is cheese-based! Specifically, cheese from Oregon's famous Tillamook Creamery, which makes 160,000 pounds (!) of cheese every day. The chefs' challenge is to craft a dish that uses Tillamook cheddar five different ways. They take a road trip to the coast to go on a tour of Tillamook and buy products, and most of the contestants seem nervous. "I don't really work with cheese unless it's mac n' cheese," Jamie jokes.
When it comes time to sample the dishes, the judges select Shota and his cheddar tofu manjū as the winner. Dawn again runs out of time to include one of her meal's components on one of the plates, and she's resigned to go home after two weeks in a row where she's made the same mistake. However, Jamie ends up eliminated instead of Dawn. The judges say she had an ambitious idea — sea bass with crispy cheddar — that wasn't pulled off as well as it could have been. "I am definitely proud of myself," she says in her exit interview, adding, "I did grow as a person throughout this experience but I think I'm good with the competitive cooking for now."
Episode 13: "Shellfishly Delicious"
We're down to the final three, and we're also officially out of Portland for the rest of the season. The remaining three chefs — Dawn, Gabe, and Shota — are staying at the Surfsand Resort in Cannon Beach, Oregon, when Padma gives them an unwelcome wake-up call at 5 a.m. for the last Quickfire Challenge of the competition. "When people think of the Oregon coast, there's one ingredient in particular that comes to mind," Padma says. "Clams." We're going clam digging! The chefs' challenge is to create a dish using local clams, and they have to dig for themselves at Yeager Creek in Netarts Bay. The winner of this challenge is Gabe — his first Quickfire win of the season, for making poached gaper clams and butter clams in broth.
Padma begins the explanation of this week's Elimination Challenge with a tribute to chef James Beard, who was born and raised in Portland and loved the Oregon area's local ingredients and flavors. The James Beard Foundation honors the best chefs across America, including many Top Chef alums. "Since we're here on the coast," Padma says, "It only seems right that we pay homage to James Beard by cooking with one his favorite ingredients, the Dungeness crab." The chefs' challenge to create two dishes — one hot and one cold — featuring the Dungeness crab, and they go crabbing with Gregory Gourdet at Kelly's Brighton Marina in Nehalem Bay. "Being in open water surrounded by trees, I'm just really inspired by everything that I see," Dawn says of her time on the Oregon coast. "I actually have never been crabbing [before]. I think it's cool."
The three chefs serve their dishes together — and honestly, it's kind of a mess. Shota isn't happy with the rice he's made, so he decides not to serve it; Dawn forgot to put potatoes on her plates; and Gabe is one tortilla short because one gets burned cloth on it. None of them are especially happy, but it ends up not mattering in the end. (More on that in a few sentences.) Shota is declared the winner of the challenge; he made Dungeness crab nigiri with an aioli and pickled ginger, as well as a Dungeness crab salad. "I lost so much closing my restaurant that I've had for five years," he says. "Making it to the finale…I think I might have another shot at doing what I love for the rest of my life." The time comes for the judges to tell one of the remaining chefs to pack their knives and go but…no one is eliminated. The judges explain that they couldn't come to a decision, and all three remaining chefs will be cooking in the finale. "I'm very glad that the three of us are competing," Shota says. "I don't like easy challenges. If it's not hard, then it's not worth it for me."
Episode 14: "The Next Top Chef Is…"
It's finale time. This episode starts off with dramatic re-introductions to all three chefs, and Padma reminds us of the stakes again: The prize includes $250,000 and a feature in Food and Wine magazine. Then, the final three chefs arrive at Willamette Valley Vineyards for their last challenge of the season. There's no Quickfire Challenge this week — we're going straight into the Elimination Challenge, and it's pretty straightforward. The chefs have two days to create a four-course progressive meal, which should tell the story of themselves and why they deserve to win. They get to drive all around the area shopping for local goods and produce, and three of the recently-eliminated chefs (Maria, Jamie, and Byron) show up to help the chefs cook. "This is the meal of my lifetime," Dawn says.
As the chefs arrive at their lodgings after their first day of cooking, all of the Top Chef alums from this season's judging panel are there to welcome them. They all enjoy a meal together and the alums share some last-minute advice. ("Tonight we're nice to you, tomorrow we're mean," Chef Edward Lee jokes.) On the final day of cooking, the chefs serve their four courses. During the first course, Dawn makes the same mistake she's been making the past few weeks and doesn't get all of her dish on the plates. Overall, the judges' favorite of the first course was Shota's dish, Gabe had their favorite second-course dish, and Dawn had the best third-course dish. (So, for those keeping track at home, it's tied 1-1-1.)
After a discussion at Judges' Table to determine who had the best fourth course and overall meal, the judges bring back all of the contestants to announce the winner of this Portland-based season. In the end, Gabe takes it home. He says he's proud to be the first Mexican Top Chef, and he calls his kids. All three of the contestants hug and celebrate, and give some lovely send-off quotes. "I think I needed Top Chef," Shota says. "It's just been such a tough year, having to close my dream restaurant…but I'm really excited to go home and cook without a time clock." Dawn adds: "I am very proud of my journey here. I did not leave anything on the table. My heart is full — I'm so proud of myself."
Welcome back to normal? Not quite. Portland has never really been normal. It's a city that's perfectly imperfect. A place where possible is still possible. It's James Beard's hometown and America's culinary epicenter, filled with food carts, farmers' markets and award-winning restaurants. Portland may not be for everyone, but it's definitely for you. Welcome to the new not-normal. Welcome to Portland. Plan your visit today.
This advertising content was produced in collaboration between Vox Creative and our sponsor, without involvement from Vox Media editorial staff.