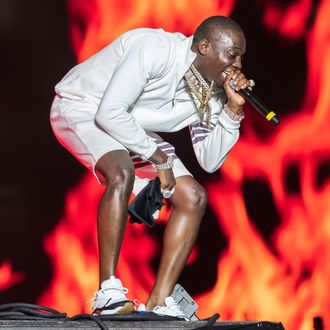 Bobby Shmurda performing at Rolling Loud Miami.
Photo: Jason Koerner/Getty Images
The return of music festivals also marks the return of musicians debuting new music at those festivals, giving lucky attendees a first taste of new songs while the rest of us scour Twitter for clips. That was the case at last weekend's Rolling Loud Miami, one of the biggest festivals to take place since the COVID-19 pandemic began, with Travis Scott and Bobby Shmurda both pulling out new songs for the crowd. Scott opened his Saturday night headlining slot with a high-energy performance of "Escape Plan," after previously teasing the song in a Twitter clip the day before. Shmurda, meanwhile, debuted his yet-untitled new music on Friday, when he performed as a "special guest" in his first show since being released from prison earlier this year. The New York rapper also reportedly told the crowd he had been shooting music videos in Miami ahead of the performance. New music: a much better festival-set surprise than a Tory Lanez appearance!