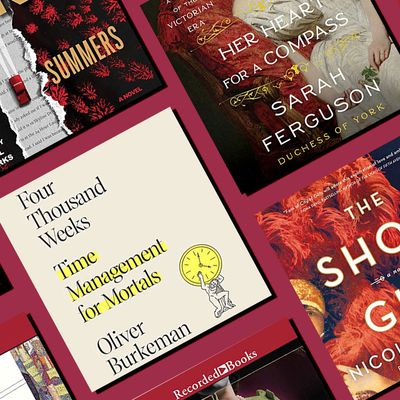 Photo-Illustration: Vulture; Photos by Publishers
The audiobook category is expanding every day, and I certainly can't listen to everything. The goal of this monthly column is to steer you toward audiobooks that I hope will provide the best experiences, pop-culture value, and something to talk about on your next Zoom.
Photo: Publisher
Read by: Paul Sparks
Length: 16 hours, 57 minutes
Speed I listened: 1.9x
I used to accidentally butt-dial the actor Paul Sparks all the time. Now he's in every streaming and cable series. I had his number because I wrote a story about a band he performed in. Thankfully, he never answered the phone, but his sweet revenge is this audiobook. It's about an assassin on his last job who also happens to have ambitions as a writer. More grounded than your typical Stephen King novel, Billy Summers sometimes reminded me of Barry on HBO. Sparks's gravelly and gruff timbre certainly adds to the creepy atmosphere, even when — well, maybe especially when — he's whistling "The Teddy Bears' Picnic." This may be a long and circuitous ride, but the conclusion is totally satisfying.
Photo: Publisher
Read by: Imani Jade Powers
Length: 11 hours, 9 minutes
Speed I listened: 2.1x
I devoured City of Girls, by Elizabeth Gilbert. The Show Girl, which follows Olive McCormick and her desire to fan-kick her way through the Ziegfeld Follies in 1920s New York, is kind of like a Lifetime-movie version of City of Girls. The Show Girl didn't inspire me as much as the earlier effort, but I couldn't turn off Harrison's rollicking, escapist yarn. Powers had me in the palm of her hand as soon as she slipped into old-fashioned bawdy talk, like when a room "heated up hotter than a two-dollar pistol."
Photo: Publisher
Read by: The author and Ell Potter
Length: 16 hours, 2 minutes
Speed I listened: 1.9x
Earnest 19th-century romance is usually not my genre, but I thought, Maybe it could be if the Duchess of York was reading it. Well, she tricked me! Because, disappointingly, Fergie only reads the dedication and the acknowledgments here. Ell Potter narrates the rest of this Bridgerton-like narrative of the fierce, independent, and Scottish Lady Margaret Montagu Douglas Scott as she jilts potential beaux in Europe and starts a life in New York City. Turns out Potter and Lady Margaret are entirely pleasant companions — especially when they're talking about chignons, blousons, and a noisy hen named Cluck-a-Lot.
Photo: Publisher
Read by: Becca Tobin
Length: 10 hours, 49 minutes
Speed I listened: 2x
A great August beach-walk listen. There's backpacking in far-flung countries. There are theoretical best friends (Emily and Kristen) who might be stabbing each other in the back. And there are secrets from the past that just keep bubbling back up to the surface. The real, random reason I can't get Bartz's tense narration out of my head, however, is a small one, yet it feels appropriate for the summer of 2021: At the end of the book, Emily describes an airport or train station or restaurant (who remembers? It's August!) as "shitshowery." I'd never heard that word spoken out loud, and Tobin enunciates it perfectly.
Photo: Publisher
Read by: Elisabeth Rodgers
Length: 8 hours, 27 minutes
Speed I listened: 1.8x
This audiobook is like listening to someone else have a panic attack. I think that's a compliment, actually. I'd much rather listen to a fictional nervous breakdown than have a real one of my own; in fact, I found the experience rather enjoyable. Rodgers's performance deepens the unsettling mood of Feito's interior monologue, about a New York mom haunted by the success of her husband's latest mystery novel. There's a mix of the old-fashioned bizarre with rampant, of-the-moment social anxiety. The speedier you crank it up, the more manic the panic attack seems. Is it crazy that I find that cathartic?
Photo: Publisher
Read by: The author
Length: 5 hours, 54 minutes
Speed I listened: 1.4x
I was intermittently concerned that this very wise treatise, somewhere between self-help and cultural philosophy, would incite my own aforementioned panic attack. Mostly because Burkeman delves into several triggering concepts. You know: death, accomplishment, wasting time, and failure. Instead, Burkeman and his irresistible British accent shifted my paradigm a couple centimeters, at least this week. "The day will never arrive when you have everything under control," he calmly whispered in my ear, and I think I believed him. Did this book make me more productive? It all depends on if you consider "productive" finishing a jigsaw puzzle of a Jeep Wagoneer.
Photo: Publisher
Read by: Adam Grupper and others
Length: 7 hours, 10 minutes
Speed I listened: 1.5x
Would this be truly sublime if it included the actual recorded interviews Lapine did as he reassembled how the musical Sunday in the Park With George came together in the early '80s? Yeah, it would. Len Cariou (the original Sweeney Todd) does an acceptable Stephen Sondheim, but it's definitely weird listening to actors who are supposed to be "Bernadette Peters" and "Mandy Patinkin" sound nothing like them. I moved on from that problem rather quickly. (Get it? "Move On" is a power ballad at the end of Sunday.) Mostly because it's fascinating to hear Lapine discover new elements of his own creative process and admit that at the time, he had no idea what in the hell he was doing. Relatable!