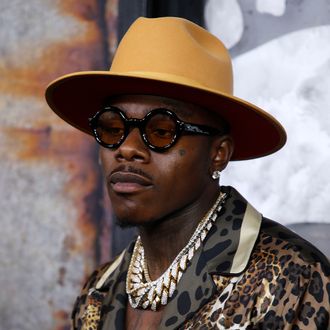 Hours before DaBaby was scheduled to perform at Lollapalooza's closing night, the Chicago music festival has pulled the rapper from its lineup. On Sunday morning, the festival announced the change of plans on Twitter, with a statement reading, "Lollapalooza was founded on diversity, inclusivity, respect, and love. With that in mind, DaBaby will no longer be performing at Grant Park tonight." In his place, Young Thug will perform at 9 p.m., and G Herbo has been added to the festival lineup for a 4 p.m. performance.
This announcement comes after DaBaby went on a short but nasty homophobic rant at Rolling Loud in Miami last Sunday, in which he mocked men "sucking dick" and people with HIV and AIDS. Despite many fans and peers in the music community expressing hurt at his words, DaBaby only gave a weak written statement at the end of his new music video, which reads, "My apologies for being me," as if public homophobia is crucial to his sense of self. DaBaby was originally fifth billed on the poster announcing this year's Lollapalooza lineup.
Update, August 2, 10:25 a.m.: A day after he was taken off the Lollapalooza lineup, DaBaby has been dropped from Governors Ball, where he was set to perform on September 24. "Founders Entertainment does not and will not tolerate hate or discrimination of any kind," the festival wrote in a message posted to Twitter. "We welcome and celebrate the diverse communities that make New York City the greatest city in the world. Thank you to the fans who continue to speak up for what is right. Along with you, we will continue to use our platform for good." The rapper was the second-billed performer that night, behind headliner Billie Eilish; Governors Ball said it would add an artist to the lineup in the coming weeks. DaBaby's upcoming festival performances still include Hot 97 Summer Jam on August 22, iHeartRadio Music Festival in September, Austin City Limits in October, and Day N Vegas in November.
Update, August 2, 1 p.m.: The shoes continue to drop for DaBaby. The rapper will now no longer appear at Las Vegas hip-hop festival Day N Vegas, where he was second billed, on November 12. "DaBaby will no longer be appearing at Day N Vegas 2021," the festival wrote on Instagram, without further statement on the musician's anti-AIDS and -LGBTQ comments. Replacing DaBaby at the hip-hop festival will be Roddy Ricch — who featured on DaBaby's 2020 hit "Rockstar."
Update, August 3, 11:40 a.m.: The day after he released a new apology for anti-AIDS and -LGBTQ comments he made at Rolling Loud Miami, DaBaby is still losing festival slots. Austin City Limits Music Festival announced on Instagram that DaBaby would not be performing at the two-weekend festival in October, after previously being set to headline the festival on October 3 and 10 alongside Stevie Nicks. Like Day N Vegas, ACL did not make a statement on on DaBaby's comments, simply promising a replacement "coming soon." Curiously, the two biggest festivals left on DaBaby's schedule, Hot 97 Summer Jam and iHeartRadio Festival, are also two of the closer ones on the calendar.
Update, August 3, 12:50 p.m.: DaBaby has now been pulled from the iHeartRadio Festival lineup for September, leaving Hot 97's Summer Jam as the biggest event left on the rapper's schedule. iHeartRadio Fest, scheduled for September 17 and 18, told Rolling Stone that the rapper "will no longer be performing," and his name has been taken off the festival's website. The news marks the second cancellation since DaBaby's new apology for his anti-gay and -LGBTQ remarks on August 2.