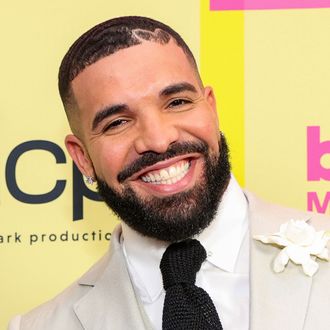 Photo: Rich Fury/Getty Images for dcp
Maybe that ACL's finally healed, maybe he wants to come out ahead of Kanye, but regardless, Drake finally seems ready to release Certified Lover Boy. The news isn't quite certified itself yet, but Drake appeared to tease the album — which he delayed back in January, citing recovery from knee surgery — with an ad during ESPN's SportsCenter on August 27. The ad seemed to appear in the middle of a broadcast, glitching in and out while showing a piece of cardboard that read "CLB SEPTEMBER 3" with a distorted voice in the background. Curiously, September 3 is also the next-scheduled release date for another perpetually delayed album: Kanye West's Donda. The news comes after the two reheated their beef last week, with Drake seemingly clowning Ye for being 44 and "burned out" on Trippie Redd's "Betrayal," which then prompted West to post (but delete) a screenshot of a group text with Drake, declaring he was becoming the Joker. (West made good on that promise while playing Donda in Chicago on August 26, bringing out alleged rapist Marilyn Manson and vocal homophobe DaBaby.) Check back next Friday to see if Drake gets the last laugh.
Update, August 30: And it's official. Drake confirmed the Certified Lover Boy date on his Instagram, posting a simple message alongside an image of 12 pregnant emojis. And it all came a day after Kanye West actually, really released Donda (or his label did without his permission, depending on whose side you believe). Did someone order the beef?