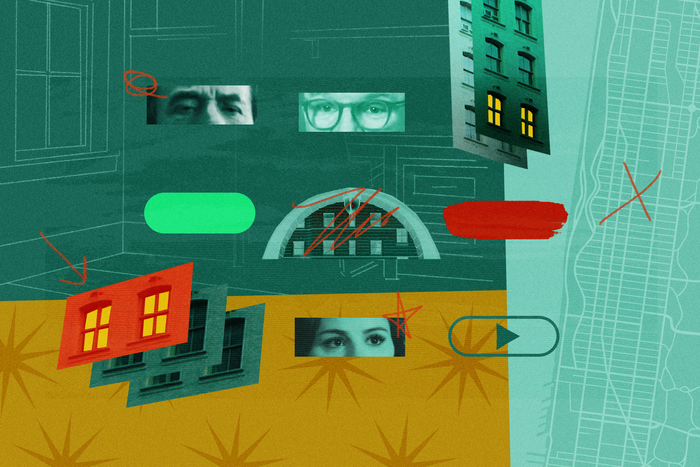 Photo-Illustration: Lauren O'Connell
How well do you know your neighbors? That's the hook of the true crime podcast that three neighbors start in Hulu's new series Only Murders in the Building, after a grisly death occurs in their apartment building. Like many of us, the trio has watched too many murder mysteries and suspects that there's more to the death than meets the eye. Steve Martin, Martin Short, and Selena Gomez flex their comedic chops and podcast voices as the amateur detectives, who join forces to investigate but soon learn that they can't even trust one another. When the trio realizes that a killer might be living among them, they must race to decipher the mounting clues before it's too late.
The scene of the crime is the Arconia, a luxury apartment building on the Upper West Side of New York City — and it's a labyrinth of decades-old secrets. Besides the podcast-hosting, crime-solving trio, it's also home to musician Jan (Amy Ryan), and Oscar (Aaron Dominguez), the son of the building's super, who returns to the residence after years away. Follow this guide to meet some of the residents of the Arconia, but don't get too close. There could be a killer among them.
Charles (Steve Martin)
Known for his iconic '90s role as TV's Detective Brazzos, small screen has-been Charles hangs onto his glory days by carefully documenting clues alongside his favorite true crime podcasts. Meticulous yet reserved, Charles knows nearly no one in the Arconia, despite having lived there for almost 30 years. As acting opportunities have dried up, he longs for friendship and a sense of purpose, which he finds when the gruesome death occurs. The mystery engrosses Charles — perhaps a little too much for his own good.
Oliver (Martin Short)
Oliver is a perennial showman who directed some of Broadway's biggest successes…and one of its largest flops. His vivacious mannerisms and extravagant outfits (a purple-on-purple overcoat and scarf combo comes to mind) indicate he's a man out of time. Likewise, his apartment serves as a time capsule of a bygone era — the days when the city's most prestigious theater crowd would come by to rub elbows. He now spends his time doting on his bulldog, Winnie, and trying to reconnect with his estranged family. An opportunity for redemption knocks when the curious death leads him to start the true crime podcast with Charles and Mabel.
Mabel (Selena Gomez)
A stylish twenty-something clad in leather trench coats and living alone in a swanky apartment, Mabel might be superficially classified as either "nepotism baby" or "self-made girlboss." But things are never clear-cut with her. ​​She sporadically mentions her past, old friends, and regrets — but it's always ambiguous whether she's telling the truth or dropping red herrings. Although she isn't great at connecting with people, her ability to connect the dots makes her an indispensable member of the detective operation.
Teddy Dimas (Nathan Lane)
Teddy is an entrepreneur who previously invested in many of Oliver's directorial endeavors — including the belly flop that was Splash! The Musical. He has resided in the Arconia with his son, Theo, for over two decades, and owns Dimas Deli, an infamous NYC chicken wrap and dip joint. ("Dips are an actual meal," according to Oliver, who loves the deli. "And no dish washing. It's all containers and fingers.") Teddy finds himself in business with Oliver once again, when he (reluctantly) agrees to make Dimas Deli the official sponsor of the trio's podcast.
Jan (Amy Ryan)
A talented musician, Jan is the first chair bassoonist in New York's most prestigious symphony. Her music is known by residents as the "Sound of the Arconia", as she often plays her bassoon out her window and into the building's courtyard. Following several elevator encounters with Charles, one of which included a T-shirt that reads "the only thing sexier than a bassoon is me with a bassoon," a flirtation begins. Jan's woodwind might just break down Charles' walls.
Tie-Dye Guy
Nicknamed for the oversized hoodie that conceals his face, Tie-Dye Guy's identity is a perplexing piece of the mystery puzzle. He becomes the trio's prime suspect in the investigation after Charles spots him entering the building on the night of the murder. Finding Tie-Dye Guy may be the key to solving the mysterious death — or could it be that simple?
Detective Williams (Da'Vine Joy Randolph)
As the lead investigator in the Arconia case, Detective Williams quickly declared the death a suicide — and made her distaste for true crime obsessives clear to the podcasting trio. Despite her tough-as-nails exterior (she hates when people tell her how to do her job), she has a soft spot when it comes to her spouse.
Bunny (Jayne Houdyshell)
Bunny is the President of the Board at the Arconia and a longtime resident of the building. Her brusque demeanor often comes off as impatient and insensitive to her neighbors, including Charles and Oliver. She is no fan of Charles nor his '90s TV alter ego Detective Brazzos, and though she's known Oliver for years, she won't hesitate to evict him if he misses his building fees again.
Now that you've met our main characters, it's time to play detective. So dust off your evidence board, unravel your red string, and tune into Hulu's Only Murders in the Building. The show is helmed by co-creators and writers Martin and John Hoffman, and the two also executive produce along with Short, Gomez, Jamie Babbitt, This Is Us creator Dan Fogelman, and Jess Rosenthal. The first few episodes of Only Murders in the Building are available on Hulu now, with new episodes releasing every Tuesday.
This advertising content was produced in collaboration between Vox Creative and our sponsor, without involvement from Vox Media editorial staff.