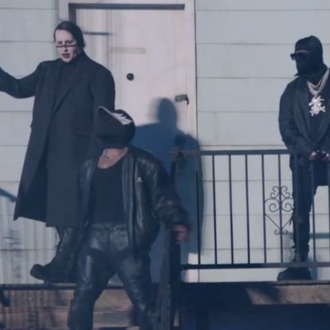 Kanye West made good on his promise to become the Joker, bringing out both Marilyn Manson and DaBaby at his third Donda listening party at Soldier Field in Chicago. Manson is currently facing multiple lawsuits for sexual assault, and DaBaby was dropped by several music festivals after making homophobic comments last month. At the event, which was live-streamed by Apple Music, DaBaby delivered a guest verse on a song that previously featured Jay-Z, while Manson kind of just stood there (as he always does when performing with rappers). The decision to bring out Manson and DaBaby seems, like most of West's career choices, designed to provoke. But from where we're standing, it just looks like clownery, and not the fun kind.
Update, August 27, 9 a.m.: Later in the event, West also shocked by bringing out his ex-wife, Kim Kardashian. She wore a couture wedding gown and appeared shortly after West set himself on fire during the final song. What's more, West and Kardashian seemed to hold hands on the way out of the venue. Was it just more trolling, like getting rid of the Kid Cudi verse? Or is something afoot there?
Update, August 27, 12:35 p.m.: Not only did Ye bring Marilyn Manson out during his latest Donda listening event — a spokesperson for Manson says the disgraced rocker will be on the eventual album. "Marilyn Manson's voice is featured on Donda," a rep told People. "And he will continue to conceptually collaborate with Ye on the Donda project." That'll be a "no comment" from Vulture.