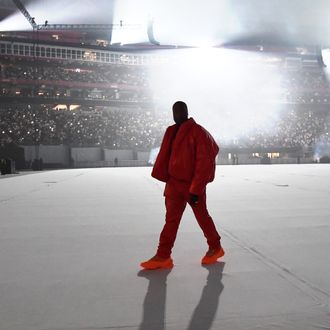 Photo: Getty Images for Universal Music
Of course Kanye West waited to drop Donda until a Sunday morning. Yes, half the time he's a church booster, but the other half of the time, he wants you to know that if you do go to a church that isn't his Sunday Service, you just might be missing out on new content. After a month of teased release dates, stadium-filling listening parties, problematic guest-artist appearances, and somehow turning into both the Joker and the Phantom of the Opera, the album named after his late mother, Donda West, has arrived on streaming.
It is 27 tracks long, although you won't be able to listen to "Jail pt 2," which features DaBaby. According to texts posted to West's Instagram, DaBaby's manager hasn't cleared the song for use. In those posted texts, West said of the rapper embroiled in controversy for his homophobic comments, "I'm not taking my brother off" because he "was the only person who said he would vote for me in public."
But there are still plenty of other features, including Jay-Z, the Weeknd, Travis Scott, Lil Baby, Playboi Carti, and the late Pop Smoke. Marilyn Manson is unfortunately also credited. See who else you can make out on the literally feature film-length album. Happy Donday!
Updated 11:44 a.m.: It appears that DaBaby's track, "Jail pt 2," is included in the album and available to stream on Tidal.
Also, according to the full album credits, Ariana Grande is among the album's featured vocals, appearing on track 15, "Donda."
Updated 3:40 p.m.: It appears that Ariana Grande is not, in fact, featured on "Donda," despite widely-circulated credits. Recording artist Stalone tweeted a screengrab of credits on the album's titular track that lists her as an additional vocalist and does not list Ariana Grande, with the caption, "I love Ari and so grateful that my vocals would even be compared to hers."
Grande appeared to corroborate that she is not on the track by sharing a picture of Stalone recording Donda vocals with the caption, "you sound beautiful" on her Instagram stories.
Updated 4:20 p.m.: Kanye West is now claiming that "Universal put my album out without my approval" and that "they blocked Jail 2 from being on the album," in an Instagram text post. These claims seem to contradict the iMessage screengrabs that West posted this morning, in which it was said that DaBaby's manager was the party who wouldn't clear the track. In those texts, West also appeared to have written, "So the album is not coming out," before defiantly adding, "They tried to stop you from coming in The people next to you trying to destroy you But God gotta bigger plan," as if to announce he was aware that the album was being released despite the controversy over DaBaby's track. Those Instagram posts have since been deleted.
Updated 7: 24 p.m.: Apparently now Ye is too messy for Chris Brown. Let that marinate for a second. Chris Brown! The Shade Room screenshotted a very briefly hosted IG story of Brown's where he called Kanye a "whole h**" (presumably hoe). Brown is featured on the Donda track "New Again." Is he just mad that he didn't get invited to the allegedly violent men photo op in Chicago? At the time of publication, Brown's story just reads "Nah he tweakin."