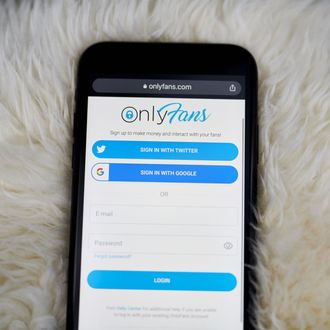 Photo: Gabby Jones/Bloomberg via Getty Images
Update, August 25: In a total U-turn, OnlyFans is canceling its upcoming ban on the sexually explicit content that built the subscription platform. The company tweeted on August 25 that it "secured assurances necessary to support our diverse creator community and [has] suspended the planned October 1 policy change." Those assurances would be from banks and payment processors, which the platform previously said were driving the move to ban sexual content. In a Financial Times interview published just the day before, CEO Tim Stokley said the company "had no choice" given the banks' stance. OnlyFans did not elaborate on what changed, only thanking users and creators "for making your voices heard" and adding that a message would go out to creators soon. "OnlyFans stands for inclusion and we will continue to provide a home for all creators," the company added.
Original post, August 19: Stop us if you've heard this one before: OnlyFans is banning "sexually explicit" content from its platform, with the app chalking up the decision to banking and payment partners. Bloomberg reported on August 19 that the ban will go into effect in October "to ensure the long-term sustainability of our platform, and to continue to host an inclusive community of creators and fans," per an OnlyFans statement. The new rules do leave a bit of leeway for creators — nude content will still be allowed in line with the platform's Acceptable Use Policy; OnlyFans added in its statement that it would provide more clarity soon. The subscription-based photo and video service had previously been a popular outlet for adult performers, allowing them to independently post and charge for content. According to the Verge, OnlyFans boasts over 2 million creators and 130 million users and did $2 billion in business in 2020 alone. Yet the app's association with porn has led to issues finding investors, per a separate Axios report today. The policy change is also notably not the first time the app has placed regulations on its sexual content, with a previous ban on public sex enforced with little warning in March. Not that you were ever on there anyway, right?