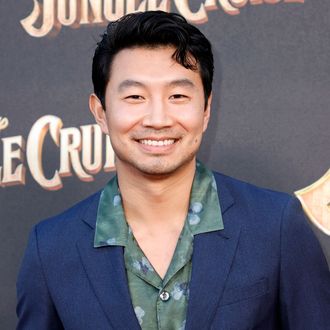 Shang-Chi and the Legend of the Ten Rings is going to be a lot of things. It will be Marvel's first film with an Asian lead superhero. It will be a breakout action-star moment for Canadian Kim's Convenience actor Simu Liu. But in a Walt Disney Company quarterly earnings results webcast on Thursday, CEO Bob Chapek called the upcoming film's theatrical release "an interesting experiment for us because it's got only a 45-day window." Chapek was referring to how the film will be released exclusively to movie theaters in a coronavirus-affected market, while the company's other live-action summer offerings under the Disney and Marvel umbrellas — Cruella, Black Widow, and Jungle Cruise — all had simultaneous VOD releases through Disney+ Premier Access. But referring to Marvel's first martial-arts movie inspired by Chinese cinema as "an interesting experiment" makes for a rough sound bite.
On Saturday, Liu responded to Chapek's comment with a rousing post on Twitter and Instagram, writing, "We are not an experiment. We are the underdog; the underestimated. We are the ceiling-breakers. We are the celebration of culture and joy that will persevere after an embattled year. We are the surprise. I'm fired the f**k up to make history on September 3rd; JOIN US."
You had us at that first picture, Simu. We're joining you.
Update August 17, 9:00 p.m.: Marvel Studios president Kevin Feige responded to the controversy at the premiere of Shang-Chi on Monday night. Feige said of Liu, "He is not a shy man. I think in that particular tweet you can see and I think everyone does, a misunderstanding. It was not the intention." Feige continued, "The proof is in the movie and we swing for the fences as we always do. With the amount of creative energy we put in and the budget, there's no expense spared to bring this origin story to the screen."