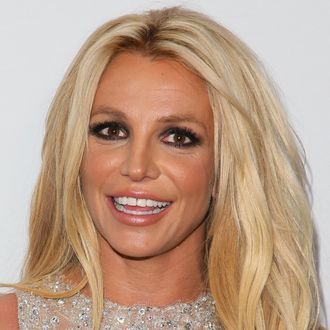 After 13 years of micromanaging all aspects of Britney Spears's life, Los Angeles Judge Brenda Penny has officially removed her 69-year-old father Jamie Spears from controlling and overseeing her $60 million estate. At a pivotal court hearing on Wednesday, September 29, Jamie was removed from serving as the conservator of his 39-year-old daughter's estate, a role he has held since the conservatorship was put in place at Jamie's request in 2008.
During the more than two-hour long Zoom hearing, Britney's attorney Mathew Rosengart made an impassioned plea to the court outlining all the reasons why Jamie staying on as part of his daughter's case for one more day would not be in her best interest. Both Britney's parents, Jamie and Lynne, were present, but Britney herself did not make a virtual appearance.
Since taking over as Britney's lawyer in July, at her request, Rosengart has been lobbying the court that his client's father needed to go. He said in court papers that it would be the first and a substantial step toward Britney regaining her freedom and "ending the Kafkaesque nightmare imposed by her father, so that her dignity and basic liberties can be restored."
Rosengart was also clear in his recent filings that "Ms. Spears will not work while her father remains a conservator and that every day that goes by with him as conservator — every day and every hour — is one in which he causes his daughter anguish and pain.
Britney told the court herself in no uncertain terms on June 23 that her relationship with her father was almost masochistic. "He loved every minute of it. The control he had over someone as powerful as me. He loved the control, to hurt his own daughter. One hundred thousand percent, he loved it."
Rosengart also asked the court to set a date for Britney's conservatorship to be terminated in its entirety. He told Judge Penny that he was putting a transition team in place. In the interim, Penny has granted his request to appoint John Zabel, a certified public accountant, to serve as the temporary conservator over Britney's estate.
Rosengart said he believes that the conservatorship will be terminated and expects it to occur by November 12, the date of the next hearing.
Following today's hearing, Rosengart addressed the cheering crowd outside the courtroom: "It's a great day for justice. There's definitely something to celebrate."
He continued, "I'm so proud of [Britney] for her courage, her strength and her poignancy. I've only been on this matter for a couple of months, but I'm proud to say that we've gotten to know each other very well. And she's so pleased and she's so thankful to all of you."
"The support of the Free Britney movement has been instrumental, to the extent that it allowed my firm to carry the ball over the finish line. I thank them for it as well. I'm proud and Britney is proud."
He also told the media that law enforcement will be taking a hard look at what the NYT uncovered in its latest documentary regarding the alleged secret recordings of Britney's private conversations. Under the suspension, Jamie is now obligated by law to turn over all his files; Rosengart said he will find out what the lawyers knew and when/if they knew that there was an alleged listening device in Britney's bedroom.
"I said at the outset that my firm and I were going to top to bottom look at what Jamie Spears and his representatives have done here," Rosengart said. "That's already in process."
"I believe that will reveal corruption and that is something that we will be vigorously looking into," he continued. "Jamie Spears and others are going to face even more serious ramifications for his misconduct."
He also noted to the crowd of #FreeBritney fans that the future of Britney's career and whether or not she will return to performing is now up to her.
"For so long that decision was made for and that is a decision that she alone will make," Rosengart said.
Supporters started chanting in response, "Free by 40!" — Britney's 40th birthday is December 2.
Update, September 30: On Thursday, Jamie Spears responded to his suspension in a statement to Vulture via his lawyer calling the court's decision "wrong." It reads, in part, "Mr. Spears loves his daughter Britney unconditionally. For 13 years, he has tried to do what is in her best interests, whether as a conservator or her father …. These facts make the outcome of yesterday's hearing all the more disappointing, and frankly, a loss for Britney. Respectfully, the court was wrong to suspend Mr. Spears, put a stranger in his place to manage Britney's estate, and extend the very conservatorship that Britney begged the court to terminate earlier this summer."
His statement concludes, "Despite the suspension, Mr. Spears will continue to look out for the best interests of his daughter and work in good faith towards a positive resolution of all matters."
This post has been updated throughout.