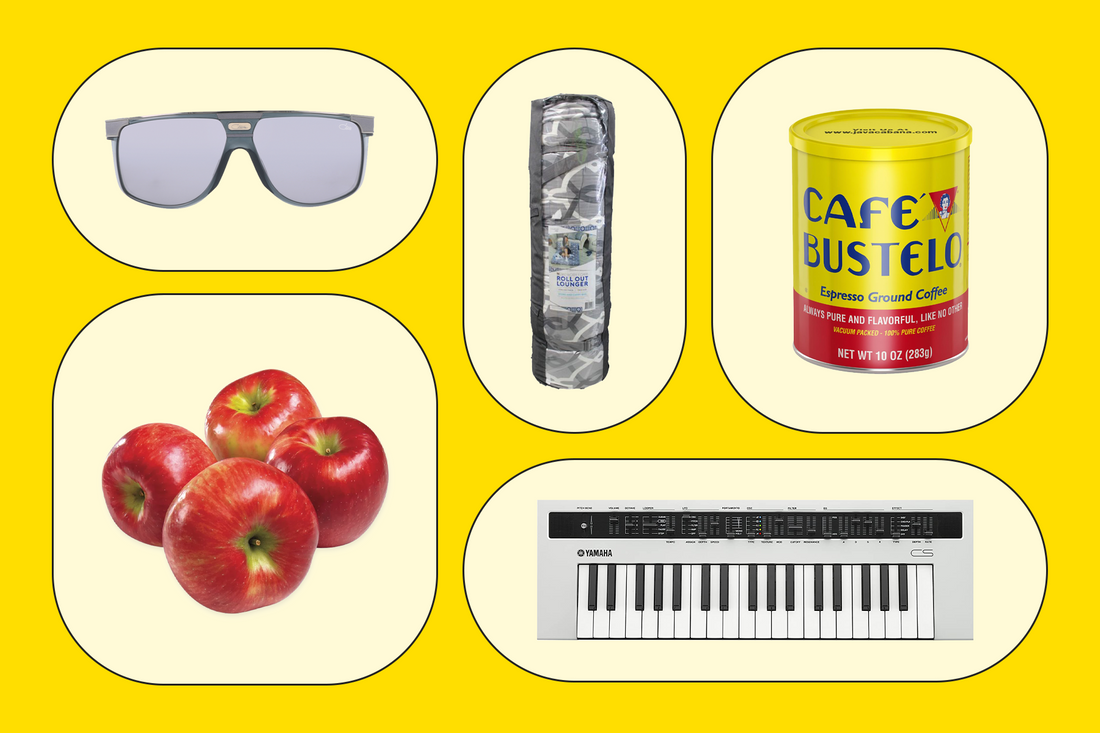 Photo-Illustration: Ashlie Juarbe
"It was basically a reverse Yoko Ono situation," jokes Luis Alfredo Del Valle, one half of the Puerto Rican band Buscabulla. After meeting at a mutual friend's party in New York City in 2011, Del Valle was keen on joining Raquel Berrios's all-girl music group. A couple years later, the pair found themselves cooped up in a studio with Dev Hynes recording their first EP — as their own band.
Now, you'll find the married couple heading on tour to promote their first studio album: the critically acclaimed, tropical-synth record Regresa. The duo decided to move back to their native Puerto Rico after Hurricane Maria hit in 2017, and, perhaps ironically, they created their album during the pandemic.
"Our biggest influence is where we come from," Del Valle says. "Puerto Rico has so much to pull from culturally, and as our home, it's a place we really hold dear. We like to combine those homegrown influences with things that are perhaps more rare and niche, as well as the more contemporary sounds we're all familiar with." He reflects that Buscabulla's return to the Caribbean — where the couple agrees that no routine is the best routine — was a welcome shift away from the hustle of New York. As Del Valle puts it: "By the time we had moved, we were very much ready for a change of pace. Now [we have] much more time to experiment on music and [have] all these inspiring landscapes to make a soundtrack to."
Although they avoid routines, one thing that stays consistent is Buscabulla's love for their daily coffee ritual. "Coffee is part of our culture," Del Valle notes. "It's so deeply embedded that you don't even question or think twice about it. One thing that seems different is that in our culture, coffee doesn't seem to have the exclusivity [that] it can have in the States. In PR, it mostly has a communal and collective vibe to the way it's consumed, shared, and offered. It's gotta be simple, accessible, and strong." As for their touring necessities, that simpler-is-better approach remains true. Read Buscabulla's travel must-haves, ahead.
Yamaha Reface CS Mobile Mini Keyboard
Berrios: Being a musician is a tricky thing. It's your job, but it's also your [passion] that you literally can't live without. Even while we are touring and playing music on a regular basis, we enjoy playing and making music more than almost anything. We need the tools to do it at any time, or else you can miss out on that one great song you were just about to write.
Café Bustelo Coffee
Del Valle: Coffee is a must for life on the road. We'll get some Café Bustelo because it tastes great, and you can usually find it in most bodegas or supermarkets in the U.S. We'll have it black, with oat milk, or with coconut oil, depending on which side of the bed we wake up on. At home we use the one in the can with our favorite yellow Moka pot, but on tour we'll try to slip a brick in our suitcase.
Novaform Roll Out Memory Foam Lounger
Berrios: A comfy bed is a true blessing in life, and especially on tour. It's not always possible, but a good night's rest is priceless, and you've got to remember to be kind to yourself out there.
Cazal Eyewear Sunglasses
Del Valle: Love a good pair of shades. You really can't live without them back home in Puerto Rico with that intense Caribbean sun. They also come in handy for hiding how tired you might be at any point on tour. We have different tastes, but generally anything with some subtle flair and bold framing will be a good addition to any day on the road.
Trader Joe's Fresh Fruits and Veggies
Berrios: Listen, you need the fiber, water, and vitamins to stay healthy and get to the next show. Ours is at Elsewhere in NYC on October 16. Come by, say hello, and bring some healthy snacks.
This advertising content was produced in collaboration between Vox Creative and our sponsor, without involvement from Vox Media editorial staff.