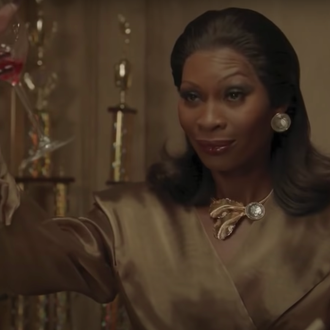 She's already in the business of snatching trophies.
Photo: FX
It was tens, tens, tens across the board on Saturday and Sunday at the Creative Arts Emmys, which were held over two days and three ceremonies in Los Angeles. Clearly, the creative categories' voting bodies went through a bit of a The Queen's Gambit phase last year like the rest of us, because the Netflix series that made chessboards sell out last night's awards with several wins. Blockbuster IP series The Mandalorian and WandaVision both earned multiple awards for a little mom-and-pop streaming operation called Disney+, and Pose's series finale swept the contemporary hair, makeup, and costuming categories. Saturday Night Live won Emmys including, disturbingly, a makeup win for the Elon Musk episode. Grimes as Princess Peach really did that.
The Creative Arts Emmys continue on Sunday with afternoon and evening ceremonies. Genndy Tartakovsky's Primal beat perennial favorite The Simpsons for Outstanding Animated Program, and Quibi (rip) won a posthumous award. JB Smoove and his award-winning performance on Mapleworth Murders can still be found on Roku Originals. Maya Rudolph became the third Black woman to ever win back-to-back Emmys, having won back-to-back Emmys for her 2020 and 2021 Big Mouth and SNL guest spots. Below are all the winners from night one.
Outstanding Main Title Design
The Good Lord Bird
Outstanding Contemporary Hairstyling
Pose, "Series Finale"
Outstanding Period and/or Character Hairstyling
Bridgerton, "Art Of The Swoon"
Outstanding Contemporary Hairstyling for a Variety, Nonfiction or Reality Program
Saturday Night Live, Host: Maya Rudolph
Outstanding Interactive Program
Space Explorers: The ISS Experience
Outstanding Motion Design
Calls
Outstanding Innovation in Interactive Programming
For All Mankind: Time Capsule
Outstanding Period and/or Character Makeup (Non-Prosthetic)
The Queen's Gambit, "Adjournment"
Outstanding Contemporary Makeup (Non-Prosthetic)
Pose, "Series Finale"
Outstanding Contemporary Makeup for a Variety, Nonfiction or Reality Program (Non-Prosthetic)
Saturday Night Live, Host: Elon Musk
Outstanding Prosthetic Makeup
The Mandalorian, "Chapter 13: The Jedi"
Outstanding Production Design for a Variety, Reality or Competition Series
Saturday Night Live, Host: Kristen Wiig
Outstanding Production Design for a Variety Special
The Oscars
Outstanding Production Design for a Narrative Contemporary Program (One Hour or More)
Mare of Easttown
Outstanding Production Design for a Narrative Period or Fantasy Program (One Hour or More)
The Queen's Gambit
Outstanding Production Design for a Narrative Program (Half-Hour)
WandaVision
Outstanding Cinematography for a Limited or Anthology Series or Movie
The Queen's Gambit, "End Game"
Outstanding Cinematography for a Single-Camera Series (One Hour)
The Crown, "Fairytale"
Outstanding Cinematography for a Multi-Camera Series
Country Comfort, "Crazy"
Outstanding Period Costumes
The Queen's Gambit, "End Game"
Outstanding Contemporary Costumes
Pose, "Series Finale"
Outstanding Costumes for Variety, Nonfiction or Reality Programming
Black Is King
The Masked Singer, "Super 8 - The Plot Chickens! Part 2"
Sherman's Showcase Black History Month Spectacular
Outstanding Sound Mixing for a Variety Series or Special
David Byrne's American Utopia
Outstanding Sound Mixing for a Comedy or Drama Series (Half-Hour) and Animation
Ted Lasso, "The Hope That Kills You"
Outstanding Cinematography for a Single-Camera Series (Half-Hour)
The Mandalorian, "Chapter 15: The Believer"
Outstanding Single-Camera Picture Editing for a Limited or Anthology Series or Movie
The Queen's Gambit, "Exchanges"
Outstanding Single-Camera Picture Editing for a Comedy Series
Ted Lasso, "The Hope That Kills You"
Outstanding Single-Camera Picture Editing for a Drama Series
The Crown, "Fairytale"
Outstanding Multi-Camera Picture Editing for a Comedy Series
The Conners, "Jeopardé, Sobrieté And Infidelité"
Outstanding Sound Mixing for a Limited or Anthology Series or Movie
The Queen's Gambit, "End Game"
Outstanding Sound Mixing for a Comedy or Drama Series (One Hour)
The Mandalorian, "Chapter 13: The Jedi"
Outstanding Sound Editing for a Comedy or Drama Series (Half-Hour)
Love, Death + Robots, "Snow in the Desert"
Outstanding Sound Editing for a Limited or Anthology Series, Movie or Special
The Queen's Gambit, "End Game"
Outstanding Sound Editing for a Comedy or Drama Series (One Hour)
Lovecraft Country, "Sundown"
Outstanding Picture Editing for Variety Programming
A Black Lady Sketch Show, "Sister, May I Call You Oshun?"
Outstanding Fantasy/Sci-Fi Costumes
WandaVision, "Filmed Before a Live Studio Audience"
Outstanding Character Voice-Over Performance
Maya Rudolph, Big Mouth, "A Very Special 9/11 Episode"
Outstanding Casting for a Reality Program
RuPaul's Drag Race
Outstanding Writing for a Nonfiction Program
The Social Dilemma
Outstanding Narrator
Sterling K. Brown, Lincoln: Divided We Stand, "The Dogs of War"
Outstanding Animated Program
Genndy Tartakovsky's Primal, "Plague Of Madness"
Outstanding Picture Editing for a Nonfiction Program
The Social Dilemma
Outstanding Sound Mixing for a Nonfiction or Reality Program (Single or Multi-Camera)
David Attenborough: A Life On Our Planet
Outstanding Hosted Nonfiction Series or Special
Stanley Tucci: Searching for Italy
Outstanding Directing for a Documentary/Nonfiction Program
Dick Johnson Is Dead
Outstanding Directing for a Reality Program
RuPaul's Drag Race, "Gettin' Lucky"
Outstanding Music Composition for a Documentary Series or Special (Original Dramatic Score)
David Attenborough: A Life On Our Planet
Outstanding Cinematography for a Nonfiction Program
David Attenborough: A Life On Our Planet
Outstanding Cinematography for a Reality Program
Life Below Zero
Outstanding Host for a Reality or Competition Program
RuPaul, RuPaul's Drag Race
Outstanding Short Form Animated Program
Love, Death + Robots, "Ice"
Outstanding Individual Achievement in Animation
(Six pre-announced juried award winners)
David Krentz, Storyboard Artist, Genndy Tartakovsky's Primal, "Plague of Madness"
Robert Valley, Production Designer, Love, Death + Robots, "Ice"
Patricio Betteo, Background Artist, Love, Death + Robots, "Ice"
Dan Gill, Stop Motion Animator, Love, Death + Robots, "All Through the House"
Laurent Nicolas, Character Designer, Love, Death + Robots, "Automated Customer Service"
Nik Ranieri, Lead Character Layout Artist, The Simpsons, "Wad Goals"
Outstanding Sound Editing for a Nonfiction or Reality Program (Single or Multi-Camera)
The Bee Gees: How Can You Mend A Broken Heart
Outstanding Picture Editing for a Structured Reality or Competition Program
RuPaul's Drag Race, "Condragulations"
Outstanding Picture Editing for an Unstructured Reality Program
Life Below Zero, "The Other Side"
Outstanding Documentary or Nonfiction Special
Boys State
Outstanding Documentary or Nonfiction Series
Secrets of the Whales
Exceptional Merit In Documentary Filmmaking
76 Days: Pluto
Outstanding Structured Reality Program
Queer Eye
Outstanding Outstanding Short Form Nonfiction or Reality Series
Uncomfortable Conversations with a Black Man
Outstanding Outstanding Unstructured Reality Program
RuPaul's Drag Race Untucked
Outstanding Casting for a Comedy Series
Ted Lasso
Outstanding Guest Actor in a Comedy Series
Dave Chappelle, Saturday Night Live
Outstanding Guest Actress in a Comedy Series
Maya Rudolph, Saturday Night Live
Outstanding Writing for a Variety Special
Bo Burnham: Inside
Outstanding Lighting Design/Lighting Direction for a Variety Series
Saturday Night Live "Adele/H.E.R."
Outstanding Lighting Design/Lighting Direction for a Variety Special
David Byrne's American Utopia
Outstanding Actress in a Short Form Comedy or Drama Series
Keke Palmer, Keke Palmer's Turnt Up With The Taylors
Outstanding Actor in a Short Form Comedy or Drama Series
JB Smoove, Mapleworth Murders
Outstanding Short Form Comedy, Drama or Variety Series
Carpool Karaoke: The Series
Outstanding Special Visual Effects in a Season or a Movie
The Mandalorian
Outstanding Choreography for Scripted Programming
Dolly Parton's Christmas on the Square
Outstanding Choreography for Variety or Reality Programming
Dancing with the Stars, Paso Doble – Uccen / Tap Dance – Let's Fall In Love For The Night
Outstanding Casting for a Drama Series
The Crown
Outstanding Casting for a Limited or Anthology Series or Movie
The Queen's Gambit
Outstanding Original Main Title Theme Music
The Flight Attendant
Outstanding Commercial
Nike, "You Can't Stop Us"
Outstanding Directing for a Variety Series
Saturday Night Live, "Dave Chappelle/Foo Fighters"
Outstanding Directing for a Variety Special
Bo Burnham, Bo Burnham: Inside
Outstanding Special Visual Effects in a Single Episode
Star Trek: Discovery, "Su'kal"
Outstanding Stunt Coordination
The Mandalorian
Outstanding Stunt Performance
The Mandalorian, "Chapter 16: The Rescue"
Outstanding Technical Direction, Camerawork, Video Control for a Special
Hamilton
Outstanding Technical Direction, Camerawork, Video Control for a Series
Last Week Tonight with John Oliver, "Trump & Election Results / F*ck 2020"
Outstanding Original Music and Lyrics
Kristen Anderson-Lopez and Robert Lopez, WandaVision, "Agatha All Along"
Outstanding Music Direction
Bo Burnham, Bo Burnham: Inside
Outstanding Music Supervision
Ciara Elwis and Matt Biffa, I May Destroy You, "Ego Death"
Outstanding Guest Actress in a Drama Series
Claire Foy, The Crown, "48:1"
Outstanding Music Composition for a Limited or Anthology Series, Movie or Special (Original Dramatic Score)
Carlos Rafael Rivera, The Queen's Gambit, "End Game"
Outstanding Music Composition for a Series (Original Dramatic Score)
Ludwig Göransson, The Mandalorian
Outstanding Guest Actor in a Drama Series
Courtney B. Vance, Lovecraft Country, "Whitey's on the Moon"
Outstanding Television Movie
Dolly Parton's Christmas On The Square