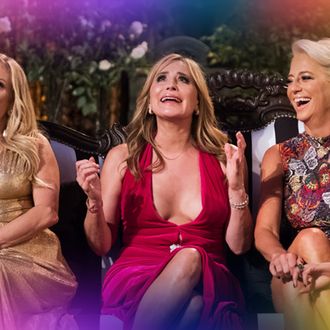 Photo-Illustration: Vulture; Photo by Bravo
Bravo put the first seven minutes of the season two premiere of Real Housewives of Salt Lake City online this week and it is as spectacular and explosive as fans were hoping. In fact, the whole episode, which airs this Sunday, is wonderful. (Yes, I got an early copy. What? You think I run the Housewives Institute for fun? No. I do it for the press screeners.) The very beginning of the footage shows Jen Shah fleeing filming when she finds out the cops are on the way, and the women reacting as the news breaks in real time. It's the closest one will get to having an orgasm while trying heroin for the first time without having to do either.
The early clip also includes the gang's new taglines. Shall we give them a little graded evaluation?
Jen Shah: "The only thing I'm guilty of is being SHAH-MAZING"
• This is the tone you want to strike when you might be going to jail? F.
Whitney Rose: "In a town of beauties and beasts, there is only one wild rose."
• Shilling for your new beauty line in your tagline isn't the look. C.
Lisa Barlow: YouDontHaveToLikeMeILoveMyselfEnoughForTheBothOfUs
• Not a bad tagline, but she needs to enunciate and learn how to give a line reading. D+.
Jennie Nguyen: "I have plenty of everything, including opinions."
• A solid introduction. A-.
Meredith Marks: "I may be known for my ice, but I always bring the heat."
• Basic, but completely acceptable. B.
Mary Cosby: If you come for me, I will send Jesus after you.
• Only because now I can't stop imagining Jesus as some kind of hit man, B+.
Heather Gay: I was raised Mormon, but now I'm raising a glass of champagne.
• This tagline, your name is basic. C-.
There's a lot in this week's newsletter, including reviews of Sonja Morgan's comedy show debut and Lisa Rinna and Eileen Davidson's turns on the new Days of Our Lives spin-off, so without further ado (or in the case of Jen Shah's tagline, adon't), let's dive right in and check out the news.
—Dame Brian Moylan
Not all the news, but all the news you actually care about.
RIP GREGG LEAKES: It is with a very sad heart that I announce the death of Gregg Leakes, who died of colon cancer on September 1 after a long battle with the disease, which was featured on several seasons of RHOA. Of course, my thoughts are with his wife NeNe Leakes and their whole family during this awful time.
Tributes poured in from across the Bravoverse, from Andy Cohen, Cynthia Bailey, Kandi Burruss, Shereé Whitfield, Marlo Hampton, and even NeNe's mortal enemy, Kim Zolciak Bierman.  Gregg reminds me a bit of Bobby Zarin, another Househusband we lost too soon to cancer, because no matter how you felt about his wife, everyone seemed to love him. There was also a celebration of Gregg's life earlier this past Wednesday where Atlanta Housewives past, present, and future all came out to show their support for NeNe and remember their lost co-star.
Personally, I'll always remember Gregg wearing a cockroach costume to a Halloween party in RHOA's season-10 finale. This was, of course, a reference to a video Kim's daughter posted at NeNe's house accusing her of having roaches. The two of them dressing as an exterminator and a roach was peak Gregg Leakes: always ready with a joke, willing to do anything for his wife, and just the right amount of shady. He will be missed very much.
REUNITED AND IT FEELS SO MEH: The RHONY season-13 reunion is back on and will supposedly be filmed in late September or early October if the Daily Mail is to be believed. (But they call Andy Cohen the "creator" of the Housewives, which is Scott Dunlap erasure, so who knows what we can believe.) An "insider" told the paper, "'Ramona [Singer] went to dinner with Eboni [K. Williams] to make peace and [Countess] LuAnn had to be coaxed to answer her phone while living her best life in Europe, but we're making it happen." Coaxed into answering her phone? It sounds like I'd rather watch a show about Luann's (yes, Daily Mail, she dropped the capital A years ago) summer than the whole group's fall. But even if the reunion is filmed in late September or early October, it will still have to be edited together, etc., which means we won't see any of it until at least mid-October. With the sagging ratings from this season, is anyone going to care by then?
BOTH SETS OF LIPS: If you (like Drake) follow Lisa Rinna on Instagram you can see her doing her patented dances all over the world. However, if you want to see her and her husband, Harry Hamlin, naked then you're going to have to follow Lisa's daughter Amelia on Instagram. Yes, that's the Scott Disick one. Oh no. Wait. Wait. They just broke up. Anyway, Amelia was recently staying at her parents' house in Canada when she spotted them naked in the hot tub together. Because she is a teen and an influencer, she posted the two (fully covered) on her Instagram Story. It was preserved by "Page Six" for all eternity. Considering Lisa taught her daughters how to give BJs, being naked in front of them shouldn't be much of a shock.
ERIKA UPDATES: The big news is that Erika Jayne was sued for $25.5 million plus interest for the "loan" that her husband's law firm, Girardi Keese, gave to Erika's business. In an accounting of where the money went, most of it was spent on paying Erika's AmEx bill as well as for her glam squad. "The glam cannot be supported by a sham," the bankruptcy trustee Elissa Miller wrote in her complaint. In the accounting Erika provided, $156,000 was paid to a company called DNA Inc. RadarOnline insisted that was a clothing line owned by Lisa Rinna's daughters, Amelia and the Other One, that was also called DNA. They later had to issue a retraction to the story. While she's still hunky dory (shout out to Kathy Hilton) with Rinna, things between Erika and Kyle Richards have soured. According to The Sun, she will be coming after Kyle at the reunion for supporting her to her face but doubting her in front of the other women. The source also says Erika has been working with her lawyers to prepare to answer the difficult questions at the reunion, which is filming (checks watch) just this very second.
THE OH GEE OF THE OC: Vicki Gunvalson is having quite a time with her children lately. First her son, Michael Wolfsmith, posted on Instagram that he got vaccinated. When a commenter asked what his anti-vaxx mother thought of his jab he said, "She said 'it broke her heart' lol." Yes, mom is anti-vaxx and her fiancé, Steve Lodge, who is running for governor of California, recently slammed fellow Housewives alum Lisa Vanderpump for demanding patrons of her establishments be vaccinated. No wonder when she got an "unknown cold" everyone thought it was COVID.
Then there was drama just this week with her daughter Briana Culberson and her husband, Ryan. The two had a gender-reveal party (don't they know those are deadly?) for their fourth child and Vicki went and posted the results against the couple's wishes. "Ever get really good news and find out your mother-in-law ruined it?" Keto guru Ryan posted on Instagram. Oh, it's a girl, by the way.
THE WEDDING IS OFF: Alanis Morissette sang about rain on your wedding day, but what do you call this? Former Real Housewife of Miami Alexia Echevarria's mother died of COVID on what was supposed to be her wedding day. When her mother fell ill earlier in the week, she postponed the ceremony only to have her mother pass on the big day. This whole thing is just awful. Stay safe out there, kids.
A WINTER OF DISSES AND CONTENT: Bravo posted the first trailer of the show formerly called Summer House Winter Charm and thereby announced that the show would be officially called Winter House. Thank the ghost of Tim Gunn I didn't even once have to say the original title out loud. As fans already know, the cast includes Lindsay Hubbard, Kyle Cook, Amanda Batula, Luke Gulbranson, Ciara Miller, Paige DeSorbo, Craig Conover, and Austen Kroll, who apparently everyone is fighting over? There are also four new faces. The Dipp did all the digging on the new cast members if you want to go check them out. (Warning: There's a paywall.)
DROP-DEAD GORGEOUS: The season-nine trailer for Vanderpump Rules is here. The highlight is Ariana Madix falling over and smashing her head into a bar. Yeah, it looks like it hurt, but boy was it funny. It returns September 28.
ALL STARS NO MORE: Bravo revealed the cast photo for what is now called Real Housewives Ultimate Girls Trip but we have all been calling Real Housewives All Stars. The photo is just the confirmed cast on a bland background. It gives nothing away. But at least we got this hilarious tweet about trying to pronounce RHUGT. It airs this fall on Peacock.
Sonja
Morgan
Tries
Her
Hand
at
Comedy,
and
Succeeds
You may be completely unaware, but this past Wednesday was the world debut of Sonja Morgan's new comedy show Sonja in Your City. Because I live in London I was not able to attend, but I had the Real Housewives Institute's current Comparative Literature Department Chair Louis Peitzman (who wrote this amazing examination of Erika Jayne's performance) do a little review for all of us. 
I have now had the pleasure of seeing Sonja Morgan live three times. The first time was when she made her off-Broadway debut in Sex Tips for Straight Women From a Gay Man, during which she impressively nailed several of her lines. Later, I saw her as a guest at Luann's first ever cabaret show at 54 Below, where she stole the show onstage and then fell on our table. (The falling was not part of the show, but also, it's all part of the show.) And finally, as the star of Sonja in Your City, which is part comedy, part improv, part barely controlled chaos. I'm still not entirely clear on how much of the mess is rehearsed, which is maybe the purest distillation of Sonja Morgan there is.
The easiest way to explain Sonja in Your City is that it's an ad for Sonja Morgan, a collection of games and sketches and quotable moments designed to remind you that she's RHONY's most entertaining Housewife. If you're not convinced by the comedy, perhaps the lyrics from one of multiple songs about Sonja's endless appeal will change your mind. (I was particularly moved by the rap break that declared her "the baddest fucking bitch on the Upper East Side.") Listen, there's a shameless infomercial quality to the proceedings, but if you're not enchanted by shamelessness and infomercials, what are you doing at a Sonja Morgan show?
And while Sonja and her duo of improviser assistants might try too hard to convince you of her entertainment value — seriously, the whole thing feels like it was orchestrated to play to an audience of RHONY producers making casting decisions for next season — she's undeniably a blast to watch. If you regularly find yourself asking "what the fuck is going on?" while wondering if Sonja has genuinely lost her place again or is just pretending to be confused, that is the selling point of Sonja in Your City. Are you there to see if Sonja has successfully mastered long-form improvisation? No, you're there because watching Sonja ask, "Am I supposed to be doing something now?" is a thrilling experience.
Or maybe you want to engage with Sonja directly. Personally, I crawl under my seat at the mere suggestion of audience interaction, but you do you. There are ample opportunities for being part of the show, whether it's calling out an idea for a business Sonja could start (would you be shocked to know the loudest suggestions were "dildos" and "poppers"?) or letting Sonja message guys on Grindr for you ("Show me the best asshole on there," she asks). The show is loosely structured around Sonja auditioning new interns, an incredible opportunity for anyone exceedingly patient and independently wealthy. You could probably just show up at her townhouse with a suitcase and get the job that way, but isn't it more fun having to win over an entire audience?
The elephant in the room of this whole event, of course, is that Sonja's new act follows the Countess's cabaret, which — despite the hard truth that life is not, in fact, a cabaret — has become central to Lu's identity-slash-storyline. But Sonja, who would surely remind you that her caburlesque performance predated anything Luann did, is very much doing her own thing here. And even if there is some overlap in the form of "Chic, C'est La Vie"–adjacent ditties, not to mention references to their shared sexual history (Tom is bad in bed, allegedly), the city is big enough for both Housewives. Surely Harry Dubin, whom Sonja says she found under a rock in Maryland and has now become the itch she can't scratch, would agree.
Far be it from me to pit two powerful women against each other, but even though I would almost certainly choose cabaret over improv, Sonja's free-for-all act might be more my speed. The Countess's shows feel a little like the manifestation of her search for a purpose; Sonja in Your City, by contrast, is less "why" and more "why not." And if I'm going to be spending an hour-plus in a basement among Housewives fans, wondering which one of them is going to give me COVID, I'd rather embrace the mess.
It seems like there has always been a huge overlap between soap fans and Housewives fans, especially when RHOBH cast two soap divas to liven up the show. In its move to corner the Housewives market, NBC-owned streamer Peacock has many planned projects with Bravolebrities, including a one-week Days of Our Lives spinoff featuring two luminaries of the Housewives universe. Since I was never a Days fan, I tapped Shinan Govani, the Housewives Institute's Canadian ambassador, to fill us in on what we're missing. 
The arrival this week of Beyond Salem — a limited spinoff of the long-running serial Days of Our Lives — got me thinking of one of the most famous moments in Housewives history: the Amsterdam dinner gone so very wrong in season five of RHOBH. It is a scene that is effectively canon in the Bravo-verse, giving us such legendary moments as Lisa Rinna breaking a glass ("Don't talk about the husband!") and her friend, Eileen Davidson, delivering two aghast words with maximum panache: "You … BEAST."
For those of us who have toggled back and forth between daytime TV and Housewives forever, the thrill of that moment, even then, was doubled knowing that both Rinna and Eileen are Days vets, and were, in fact, digging into their inner soap goddesses. Seeing both ladies back for this all-new show  — a miniseries on Peacock that is part international caper, part romance, complete with lots of epic returns — made me appreciate exactly how much of a house-of-mirrors it all is between soap operas and the women of Andy Cohen's world.
Both soaps and Housewives are continuing storylines. Both depend on an ever-deepening dynamic between various characters, where even the smallest tiffs are often proxy wars for long-buried tensions. Both use a bevy of reaction shots and close-ups. They use many of same tropes, as our almighty sage Brian Moylan detailed in his book: for example, the choice to crisscross scenes between two different sets of characters discussing something that has previously happened, so you get two different, often varying, points-of-view (a trope as old as dirt in soap-land).
Watching how Beyond Salem plays homage to many of the characters from Days past, in ways subtle and not, reminded me how much Bravo fans, too, lean on a shared language and collective history. In just the first episode in the Days spinoff there is a complicated throwback to a gay back-from-the-dead amnesiac storyline (you had to be there), which got me thinking how the mere mention of "Brooklyn Bridge" on RHONY summons up a decade-plus history of Bethenny's antagonistic see-saw with Ramona.
And as much as Days has always reveled in a certain camp factor, even more than other soaps (I mean, this is a show that famously had a devil possession storyline in the '90s), at its core, like all these shows, it is about heart and hearth, a shared cosmos of characters with intersecting lives. This has always been the appeal of soaps, the long horizon of storytelling. Except with soaps, you are talking three, four, sometimes five, generations. Take the super-couple that is Eli and Lani on Days currently: They are freighted with the history that Eli is the long-lost grandson of Julie Olson Williams (a character on the show since the 1960s!!!!), and that his dad, David Banning, was part of the first interracial couple on daytime TV (a major sensation in the '70s).
Longtime soap industry-watcher and journalist Nelson Branco told me that it is no accident that this new side series is being housed on Peacock, home of the Housewives. It is a business decision, in his eyes, because, "Days is the number one show on Peacock (where eps go up daily, after their TV broadcast), just as General Hospital is making crazy money on Hulu." So many people who maybe didn't even know a Peacock from a panini will download the app, and that, in turn, will draw eyes to the Housewives, is Branco's point. It is synergy. "Ironic that soaps are saving these networks again," he added.
Finally, one last point about Rinna, who remains a weather pattern unto herself. On Beyond Salem, when we meet her, she is playing her original character, Billie Reed, playing the alter-ego, Princess Gina, of her one-time rival, Hope Brady (again, you had to be there). But here, she seems to be playing Billie playing Hope playing Princess Gina playing Lisa Rinna — because, let's face it, anytime she is on screen, she seems like she is five seconds away from screaming "OWN IT! JUST OWN IT!" or "Oof … you're angry." There is too much Rinna-ness in Rinna for her to be anyone else at this point.
Real Housewives of Potomac, Season 6, Episode 8: Wick-splitting aside, why do none of these women have their products available yet after announcing their development on the show? They filmed in winter, so they had plenty of time to get to an AliExpress manufacturer and get a drop-shipping situation going by now.
Real Housewives of New York City, Season 13 finale (thank Jesus): Then Ramona gives all of the women pasties so that they can show off their tits, and they all bump boobs together and shimmy with their red feather boas and (adjective, adjective) their (nouns) while they (verb) and (adjective) (adjective) (adverb) (proper noun) (name of someone you went to high school with) (adjective) (queen from Drag Race) (adjective) (noun). No, this is not a Mad Lib, this is me trying to pad out my recap so that there is enough to meet my word requirements so that Vulture will give me the $7.50 and a tube of fruit Mentos that I get paid to write these.
Real Housewives of Beverly Hills, Season 11, Episode 15: Ideologically, I agree with Erika: What other people say about you behind your back is none of your business [dot dot dot] unless your business is the reality-television arts and sciences.
Real Housewives of Potomac, Season 6, Episode 9: Candiace and Ashley both came out of the pageant circuit, both met their white partners while working together, both have a tendency to run their mouth and regret it later, and — while we're at it — they both have generous foreheads.
Real Housewives of Beverly Hills, Season 11, Episode 16:  Erika insinuates that if Sutton is saying Tom is lying about his health, she could be sued and then tells the women, "She should be quiet." I don't think she was really talking out of turn or could be schooled. After all, sitting around a dinner table talking about each other's problems and fighting with each other is sort of the show. Sutton understands the assignment, as the kids say, and Erika is hoping that the assignment will change because she has not done her homework.
Fashion
Highlight
of
the
Week
I had the same reaction as Wendy and Mia when Karen came out in this overly bedazzled dress.
Dean's
List
for
Reader
Comment
of
the
Week
Highlighting the best comment of the week for our lovely Institute members.
This one is from the RHONY finale:
Murat: Finally watched this, and it's a crime that should be prosecuted to the full extent of the law, with the death penalty on the table. Cancel everyone involved to the seventh degree: cast, crew, catering, production, management. Kill it with fire, salt the earth, and cover over with concrete and barbed wire.
"My wife watch these shows where middle aged women just be eating and arguing the whole time. Then they travel as a group to a new location to do more eating and arguing, but with a beach in the background." —@PrinceHAK33M in a viral tweet