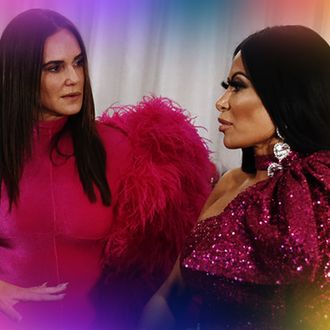 During our time at the Real Housewives Institute, we have gone to many wondrous and mythical places. We've seen Eileen Davidson's Dubai hotel room with sharks swimming in it. We've been around the world with the women of RHONY, facing scary islands, Johnny Depp pirates, and a boat ride from hell. We've also been to whatever the hell that windswept crag in Williamsburg where they dumped the RHOP cast was. However, we have never been to a place as absolutely insane as Mary Cosby's house. No wonder she didn't let us out of the closet for a whole season! Not only does she have gigantic whimsical chairs that look like they're made from unicorn hides, but there's also the green carpet with matching fireplace, obscene jangly sconces she blames on shopping while menstruating, and her son's fake Gucci bedspread with so many visible labels, Dorit Kemsley was caught trying to break into the house to abscond with it in the night. This thing really should not be redone. Like the gasping rictuses of those choking down ashes in Pompeii, this thing should be preserved for eternity.
But before we can talk about some of the other insane developments on RHOSLC, let us get to the news!
— Dame Brian Moylan
Not all the news, but all the news you actually care about.
WHY I'M LEAVING NEW YORK: Well, Bravo is still headquartered there, and our favorite apple holders are still there, but the season 13 reunion for RHONY departed before it even moved in. After pushing the date back for weeks, then saying it would film in late September or early October (nearly a month after the season finished), Bravo finally pulled the plug.
"Due to scheduling challenges around taping the reunion of The Real Housewives of New York City in a timely manner, Bravo confirmed there will not be a reunion for this season," Bravo said in a statement. "It's disappointing to not be able to bring the cast back together, but we are happy to have ended on such a high note with the finale, and are now shifting our focus to next season."
How many lies can we spot here? The biggest one is calling that finale, which was lower than SpongeBob's pineapple at the bottom of the sea, a "high note." Maybe that note was so high that only dogs and Aviva Drescher heard it, because 300,000 fewer viewers tuned in for this finale than the last one. And scheduling conflicts? Andy Cohen says "jump" and these women say, "Into which bush?" They get a financial bonus for taping the reunion and they all want to keep this job. There is no conflict the network and producers can't force into resolution. Hell, they could pull a Zoom-union together in three hours and it would still look better than Bravo Chat Room.
The Instagram account Real Housewives Franchise has a different theory. It speculates that maybe these "conflicts" were just a way of protecting one of the show's biggest asses — sorry, I mean biggest assets — Ramona Singer. One way of keeping her away from the criticisms of racism and bad behavior at the reunion is, well, not to have a reunion at all.
THE HILLS ARE ALIVE: While the RHONY reunion got canned, it sounds like the RHOBH reunion is going to be one for the ages. It filmed in LA on September 10, but, based on the women's rag-tag ensembles, it does not look like there was any predetermined dress code. On the 13th, Andy Cohen said on his radio show that Erika Jayne "answers everything." He continued: "I will say, we did a big chunk of her marital drama earlier in the day, and then I would say the last 90 minutes was a very spirited conversation about the case and what's going on."
Some sources say Bravo knew this would be a ratings boon, so they really pressured Andy to ask Erika the hard questions. But it's not only Erika who's in the hot seat. Hollywood Life says that Lisa Rinna and Garcelle Beauvais really "went at it." I don't know what was said, but I can already tell you that I'm Hashtag Team Garcelle.
MILLIONS OF PEACHES, PEACHES FOR ME: Millions of peaches, peaches for free. Sorry — much like Lisa Rinna's hair, I got stuck in the late '90s for a second. The reason we're talking about peaches is because there's been a lot of gossip about the RHOA lineup. The biggest news is that Porsha Williams is said to be opting out of the upcoming 14th season. It could be to film her own spinoff show, or it could be that she doesn't want scrutiny surrounding her new fiancé, whom she stole from a former castmate. Maybe it's both? It also sounds like Cynthia Bailey-Hill won't be back for season 14, but we will still see her on Ultimate Real Housewives Girl's Trip All Stars or whatever we're calling it now.
Rounding out the RHOA cast will be perpetual fan favorite Kandi Burruss, our favorite villain Kenya Moore, and sophomore housewife Drew Sidora. Also supposedly in the cast are once and future champion Sherée Whitfield and always-a-bridesmaid Marlo Hampton. According to The Sun, both of them will be full-time cast but with starter Housewife salaries (which is about $60,000 for a season), but I doubt that's true of Marlo. She was making way more than that as a friend-of, but still. #GiveMarloAPeach. And there's one thing all the gossips seem to agree on: NeNe Leakes will not be back. BLOOP!
There will also be a "new girl," and B Scott, the gossip blog Kenya admitted to actually leaking info to during BoloGate, says it's former Olympian Sanya Richards-Ross. An Olympian! We've never had one of those before.
ERIKA UPDATES: This is the time during the scandal's lifecycle when all the former Housewives come out and say they totally knew Tom Girardi was a crook way before the rest of us did. Bethenny Frankel started the trend on her podcast; she claims her late almost-fiancé Dennis Shields knew Tom because they both worked in the legal profession and he told her four years ago that Tom owed him $500,000. "Dennis said to me … 'He doesn't have money. He owes everybody money,'" she said on the show. "And I go, 'What are you talking about? How is she flying around on [private planes]?' And he said, 'It's because he's using people's money to support her lifestyle. He's using the company's money to support her lifestyle.'" People has more on her claims, if you care to go deep.
Erika's lawyer wasn't so happy about that. "To me, this is another example of people trying to throw dirt on Erika based on alleged conversations (this time, with an individual, Dennis [Shields], who I understand is deceased) where even the perpetrator of the gossip says Erika wasn't involved," Evan Borges told "Page Six."
Next up is Camille Grammer (née St. Camille of Grammer). She said on Twitter that one of the other Housewives told her about Tom's financial woes at Andy Cohen's infamous baby shower back in 2019. Okay, anyone else? Kathryn Edwards, would you like to weigh in? Oh, you do? Well, I was only asking facetiously.
Everyone is speculating about how much Erika knew and when, and one intrepid paparazzi had the nerve to ask Tom Girardi right to his face. He asks, "Did Erika know anything?" Tom, who looks a bit frail and out of it, eventually responds, "I think she does." I don't think this is the bombshell everyone wants it to be, and it seems like Tom might be answering a different question than the one he was asked. You should watch the whole video before making up your mind. Or just jump to conclusions on Twitter. It is, after all, the national pastime of the Real Housewives Institute.
HOUSEWIVES INSTITUTE SOCIETY PAGES: 
• Our condolences to Victoria Denise Gunvalson Jr.'s fiancé, Steve Lodge, who lost his bid to become California's governor in the recent recall election. He came in at 28th place with 4,025 votes.
• Congratulations to Kathy Hilton for her debut as a clothing designer: She walked out of an L.A. eatery wearing a toga fashioned out of a tablecloth. Klassic Kathy.
• Braunwyn Windham-Burke is back on the market after breaking up with fellow former RHOC lesbian Fernanda Rocha.
• This is a classified ad for Melissa Gorga's shore house, Gabagool Gables, which is now on the market for $2.9 million.
• This is not a classified ad for Sonja Tremont Morgan's (of the Remax Realtor Morgans) Manhattan townhouse and Wesson Oil depository. After eight years she has taken it off the market without an offer.
• This is a notice that Katie Cunningham, who wrote an excellent article in The Guardian about finding the franchise, now owes the Institute her dues, which amount to a hat from The Agency and one (1) casserole.
• Finally, a big mazel to friend-of-the-Institute Dave Quinn, who has a new book about the franchise coming out next month on Andy Cohen's imprint. Hmmm. A book about the Real Housewives franchise. Where did Andy ever get that idea?? One day I will tell you all about the behind-the-scenes drama, but until then, go buy Dave's book.
Meredith
Marks
and
Jen
Shah
Aren't
Really
Fighting
About
Twinks
Let's get one thing straight right off the bat: Brooks Marks is a twink. I'm sorry, it's true. The term used to refer to a young, slender, effeminate, hairless gay; think Lance Bass in his "Bye, Bye, Bye" days or this picture of 24-year-old Brian Moylan. (The performance artist Taylor Mac hilariously says there are four ages in gay life: chicken, twink, 28, and daddy.) But the word has gone mainstream — in 2018 the New York Times said it is the age of the twink and once the Times finds out about something, it's already passé — and recently, it's been used to describe straight celebrities like Timotheé Chalmet and Shawn Mendes. Apply air quotes around the word "straight" as you see fit.
What I mean is that Brooks is a young, slender, effeminate gentleman. Even if he isn't hairless or gay, he's still a twink. Therefore, Jen Shah liking a tweet that says Brooks is a twink is not homophobic, nor is it coming after Meredith's family, like she has said repeatedly on the first two episodes of Real Housewives of Salt Lake City. Neither is insinuating that Brooks, who Meredith claims has never discussed his sexual orientation publicly, is gay. Insinuating that someone is gay is not an insult because there is nothing wrong with being gay. Speculating about Brooks's sexuality is as harmless as speculating about how much model pussy Leonardo DiCaprio gets on an annual basis. (If I had to guess I would say that Brooks's level of gayness is comparable to Leo's amount of model poontang.) That is to say, Brooks made himself a public figure by being on the show, so such speculation is fair game.
But this argument is like one I keep seeing more and more on the Housewives shows. I call it an "ammunition argument." The Housewife may or may not actually believe in what she's selling, but she needs ammunition against an enemy and makes a bad faith argument to get back at her.
The Meredith example may not be the best to lead off with. She does seem to believe that Jen is attacking her son and, yes, liking tweets where people say they want to slap a "sissy" like Brooks is definitely homophobic and coming for Meredith's family. However, in the season premiere that hinged on what was happening with Jen and Meredith, the only example Meredith cited was the "twink" tweet, which is more insubstantial than a twink's diet of Fleet enemas, Instagram filters, and self-regard.
Maybe a better example of the Ammo Argo, for short, is Meredith's vocal fry doppelgänger Lisa Barlow's claim that Heather Gay and Whitney Rose are "attacking her character." That someone is "attacking my character" is a classic of this genre, since most of these women have about as much character as a one-woman show. Lisa just doesn't like Heather and Whitney, is mad they made her look bad for pretending not to know them when she did, and needs an excuse for why she's so angry. She has cooked up "attacking her character" as ammunition in the complete absence of any evidence of how they wronged her.
The best example of this tactic is currently playing out on RHOP. Karen Huger says Gizelle Bryant owes her family an apology for making a joke about Karen's husband, Ray, four years ago. Ray told Gizelle that beauty fades and Gizelle said, in retort, that "Ray will be six feet under before this beauty fades." Karen says this is tantamount to wishing Ray dead. Girl. Come on. Not even Tucker Carlson could spin these false facts into a compelling narrative. Karen is an intelligent person. She knows Gizelle didn't mean that. According to the genius Instagram account Reality Pollsters, only 5 percent of fans think Gizelle actually meant what Karen says she meant. Five percent! A higher percentage of the population thinks the world is actually flat.
Karen just needed more grist for her ongoing feud with Gizelle and landed on this old, lame comment because she had nothing else. I'm not saying these two should make up. In fact, this rivalry among two excellent practitioners of the reality television arts and sciences is one of the main reasons to tune into RHOP. But Karen isn't even bringing a knife to a gunfight. She's bringing a Pepsi-logged Twizzler that someone used as a straw at the movies. All Karen has to do is wait until Gizelle does something truly shady — she'll only have to wait about an hour or so.
Just like Karen and Gizelle, I'm happy when our favorite ladies are at each other's throats, but I want there to be a real reason. I want there to be actual stakes and tension. The best Housewives fights are when everyone is a little bit right and everyone is a little bit wrong. When an ammunition argument comes around, someone is so clearly right and someone is so clearly wrong that it's no fun. Or, in the case of Jen and Meredith, Meredith is clearly right to hate Jen but the reason — her ammunition — is so weak that we're not persuaded.
I started to notice this during season four of Real Housewives of Dallas. (Hold on tight, because I am about to get very close to getting myself canceled.) This is the season when LeeAnne Locken kept calling Kary Brittingham "that Mexican," and all the other women kept yelling about her racism. I'm not saying that racism is okay and I think that LeeAnne's remarks are indefensible, but I also don't believe that any of the women on those reunion couches (barring Kary herself) really care that LeeAnne was being racist. They just wanted her off the show.
I think this is especially true of LeeAnne's archnemesis, Brandi "Making Fun of Asians" Redmond. We all saw how Brandi, Kameron Westcott, and their fellow castmates treated Asian Housewife Tiffany Moon; these are not people on the front lines of our current racial reckoning. I think that Brandi knew that if she kept talking about LeeAnne's racism, Bravo would finally have to give her what she and the rest of the cast wanted: LeeAnne no longer holding a Whataburger in the opening credits. (That's what they hold in Dallas, right?) In this case, the ammunition was correct, but the argument has about as much bad faith as Madonna in the "Like a Prayer" video. Ultimately, they were right about LeeAnne, but if any of them behaved like they meant it, their argument actually would've been powerful.
From the looks of the trailer for this season of RHOSLC, Meredith is going to have lots of good reasons for wanting Jen off the show, and Jen is going to have lots of reasons to be mad at Meredith, especially since Meredith is insinuating she's the one who called the feds on Jen. But if it comes back to this twink stuff — this argument without any heft or truth to it — then I'm going to want to bury myself in a bomb shelter and come out when the only things left on this wildfire-and-floods earth are cockroaches, Tamra Barney's second set of breast implants, and, of course, Twinkies.
Real Housewives of Salt Lake City, Season 2, Episode 1: My notes at this point just say, "POLICE DESCENDING. (NYPD? WHY?) SIRENS BLARING. HELICOPTERS CIRCLING. WE ARE 1 MINUTE AND 35 SECONDS INTO THIS SEASON, AND I CANNOT BREATHE."
Real Housewives of Potomac, Season 6, Episode 10: Chris and Candiace have been fighting for a week about whether his work matters outside of her career. I still don't know what his work actually is outside of the golf course, so I guess that's his answer.
Real Housewives of Beverly Hills, Season 11, Episode 17: I was very distracted because PK can't eat a piece of perfectly roasted salmon without mayonnaise or tartar sauce. He is basically Tiny Tim's crutch if it got stuck in a septic tank.
Real Housewives of Salt Lake City, Season 2, Episode 2: Meredith is back on her bullshit. And by bullshit, I mean, wearin' blazers indoors, slurpin' Merlot out of goblets, and nuzzlin' on the goatee Seth dramatically reveals after removing his Lana Del Rey x Donda errand look.
Real Housewives of Potomac, Season 6, Episode 11: This plotline of Gizelle teaching Grace how to drive is duller than Robyn and Gizelle's podcast. Instead of risking your camera crew's lives for a storyline, find a halfway decent driving school, fork over a couple hundred dollars, and let your daughter terrorize an adult who has a Toyota Camry fitted with a passenger-side brake like every other New Yorker at the age of 25.
Real Housewives of Beverly Hills, Season 11, Episode 18: Kathy Hilton should be holding a diamond in the opening credits and her tagline should be, "Why spend a night in Paris when you can own the whole hotel?"
Fashion
Highlight
of
the
Week
Seriously, guys, I'm still on Mary Cosby's house. What in the Alice in Wonderland X Starburst collab is going on with these chairs?
Dean's
List
for
Best
Vulture
Comment
of
the
Week
Highlighting the best comment of the week for our lovely Institute members.
This one is from last week's Salt Lake City recap. 
Lolaforever: Uh, calling Eboni aggressive would certainly be problematic. Calling Jen Shah aggressive is simply factual. 
"A lot of people don't realize that peanuts come in a shell." — Karen Huger