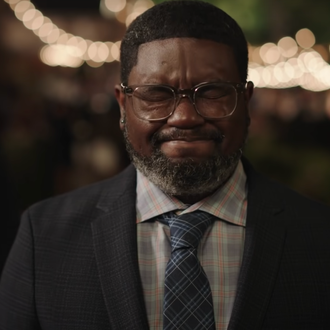 Photo: 20th Century Studios/YouTube
Midsize comedy movies are back, baby! But only on streaming. After Vacation Friends had the strongest three-day opening weekend in Hulu history (according to Hulu), the streamer has already demanded a sequel. The new film, currently titled Honeymoon Friends, will bring back writer-director Clay Tarver. Leads John Cena, Lil Rel Howery, Yvonne Orji, and Meredith Hagner are also set to reprise their roles.
Vacation Friends is about an engaged couple (Howery and Orji) who meet another couple while on vacation (Cena and Hagner). One couple is somewhat uptight, one is cuckoo bananas, and wackiness ensues. Honeymoon Friends presumably will find Howery and Orji running into their buds after getting married, but we're just spitballin' here.
Per Deadline, Vacation Friends overtook Palm Springs to become the Hulu original with the best opening weekend. Hulu doesn't share the nitty-gritty of its viewing data, but it's notable that two of the platform's self-described best performers are big ol' comedies. Big comedies have fallen behind superhero tentpoles in theaters, but maybe there's a new home for them on streaming? Could be fun! And if they do well enough, they can get in-theater screenings, like Barb and Star Go to Vista Del Mar.