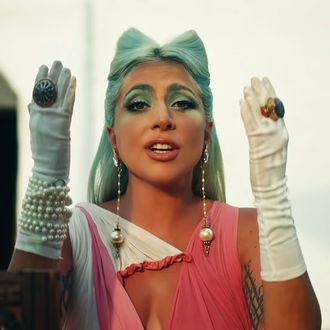 Father, son, and HOLY GAGA.
Photo: Lady Gaga/YouTube
No more living off Twitter teasers and song crumbs: Lady Gaga's Dawn of Chromatica remix album is finally here. Some 15 (!) months after Gaga's sixth studio album introduced us to planet Chromatica, we're returning with a slew of iconic new guests: Charli XCX, Arca, Rina Sawayama, Ashnikko, Shygirl, Dorian Electra, and Bree Runway just to name a few. The remix album, once again executive produced by BloodPop, features a take on every song on the album, minus the three "Chromatica" interludes. And in news that can only be described as "gossip," there are not one but two remixes of the gloriously stupid "Babylon": one featuring rapper Bree Runway and producer Jimmy Edgar, along with the "Haus Labs version." The country may rather be dry, in more ways than one, right now, but at least we can now be alive once again.
Miss Gaga has been a little busy since dropping Chromatica at the end of May 2020, so we guess we could forgive the wait. The pop star followed the album with a stunning performance at the VMAs and a bonkers video for "911"; she stumped for Joe Biden and performed at his inauguration; she dropped a series of Born This Way covers and acknowledged that her Little Monsters love Artpop too; she got her stolen dogs back; she even released a line of goddamn Oreos. And if a full-length remix album still isn't enough for you? Just catch her on Love for Sale, her second duet album with Tony Bennett, on October 8, and in The House of Gucci, Ridley Scott's crime drama in which she stars across from Adam Driver, on November 24.