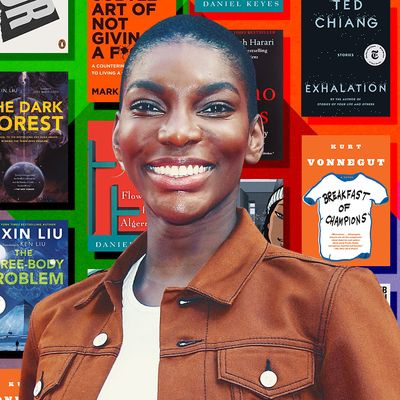 Photo-Illustration: Vulture, Photo: Getty mages
Bookseller One Grand Books has asked celebrities to name the ten titles they would take to a desert island, and it has shared the results with Vulture. Below, Michaela Coel — actress, screenwriter, director, and author of the new book Misfits: A Personal Manifesto — shares her list.
The first book I read that was adjacent to the world in which I lived. It's about a girl on a West London housing estate, who is a conduit to the lives of all the other people in her orbit. Until reading this, I didn't realize that books in which I could recognize people from my own life could be written.
I was drawn to the book because of the subtitle: A Brief History of Tomorrow. It had been a year since I left church, and I was having what I now understand was an existential crisis and spinning out of my mind: What the fuck is going on? Where am I? What is happening? I didn't understand anything because I'd so whole-heartedly adopted the Bible's account of reality. Reading Homo Deus helped me understand that nobody really knows what's going on. Hariri's theory of where we might be heading really grounded me and made me feel OK about uncertainty.
Because it helped me give less of a fuck.
Originally published in China in 2006, but now translated into English, this took me about eight months to read because I had to keep going back. It's a book that I struggle to explain — it flashes back and forth in time over a million years and across solar systems — but it totally helped me escape this planet. It's not offering a utopian vision — the future it imagines is fucking terrifying — but it's so rooted in science that it's all very plausible. If I can read this book and get it, while also being completely gripped, anyone can.
The second in Liu's trilogy (see above), that takes off in new and wonderful ways.
The story of a mouse in a lab undergoing an experiment to make it more intelligent is juxtaposed with a parallel story in which Charlie Gordon, a cleaner in a bakery with learning difficulties, undergoes the same experiment. It may mean different things to different people; for me it was about what you lose when you trade naïveté for intelligence — being smart isn't everything.
Reading this reminded me of people who approach life like a video game, without consequence. I love it so much that I included a homage to Kurt Vonnegut in I May Destroy You — in episode two when Arabella is at the clinic and meets a woman who is covered in blood, having been assaulted. The woman says, "Everything is beautiful and nothing hurts," which is written on Kurt Vonnegut's gravestone.
I'm usually drawn to novels, but this beautifully-written collection of short stories was recommended by the same person who recommended Three-Body Problem, and they weren't wrong.
I've never read about life on a housing estate written with such beauty. Femi is a poet, and this is a combination of short stories and poems and photography, and — a little like Society Within — it's about life for people in working class London who are Black, so again it's a book in which I saw myself.
I never thought I would see myself in an eel, until I read Svensson's beautiful book, in which he anthropomorphizes eels and shows how mysterious they are, and how little we know about them. It's a beautiful book that makes you realize that the eel is our cousin — we are the eel, and the eel is us.