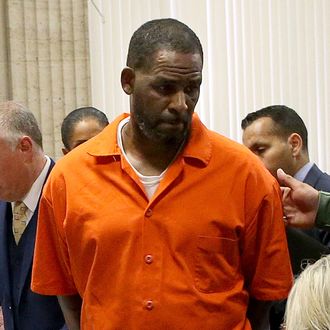 R. Kelly in 2019.
Photo: Pool/Antonio Perez - Pool via Getty Images
Moments after R. Kelly's legal team started its closing argument on Thursday, it became clear that the R&B singer's last chance to proclaim his innocence would be as weird as the first opportunity. Indeed, lead Kelly attorney Deveraux Cannick invoked Dr. Martin Luther King Jr., Mike Pence, and Hugh Heffner in arguing that his client is not guilty.
What transpired is this: Cannick started his closing by saying, "This is a great country" and that "our constitution is most sacred."
This is pretty normal fare for defense lawyers — the Sixth Amendment says that people charged with crimes have a right to a fair trial — but things quickly took a turn. Cannick said that in the 1960s, someone who was derided as "rabble-rouser" and "communist," along with like-minded allies, decided that the Constitution wasn't being fair to them.
"So they took to the street. They revolted," Cannick said. Multiple oh nos could be heard in the room when it became clear where Cannick was going. "And in the process, some were killed. Some were maimed."
"And Dr. King, as you know, he was murdered."
Cannick then quoted King's "I've been to the mountaintop" speech, essentially arguing that the late civil-rights leader and Kelly are both fighting for their constitutional rights.
"And that's all Robert is trying to do," he said.
Cannick also described Kelly's behavior as in keeping with the international superstar he had become after rising up from being a mere street musician.
"His label marketed him as a sex symbol, a playboy. So he started living that lifestyle," Cannick said. "Where's the crime in that? Hugh Hefner, that was his life. Not a crime. Not a crime."
Cannick also described Kelly's affinity for younger females as normal. "He prefers, in some instances, the May-to-October relationship. Older man, somewhat younger woman. Some people just like it that way," Cannick said. "Some people also just like kinky sex."
Cannick also argued against the prosecution's claim that Kelly's alleged requirement that his girlfriends call him "daddy" was evidence of manipulation and abuse.
"Daddy. It's almost a crime to call a man a daddy," Cannick said. "I guess people can't do that anymore."
"The former vice-president Pence called his wife 'mother,'" he said.
Earlier in the day, sometime between the fourth and fifth hour of prosecutors' closing arguments, the R&B singer seemed like he'd had enough. As prosecutor Elizabeth Geddes broke down every instance of his alleged sexual abuse and argued that they reflected an organized criminal enterprise, not just serial offenses, Kelly repeatedly shook his head. At some points, he dropped his head into his clasped hands. He even scribbled notes. While not uncommon gestures for someone on trial, they were a marked departure from Kelly's behavior throughout the course of his sex-crimes trial, aside from the one day when he grooved to his music.
Geddes began her closing statement on Wednesday afternoon. It ended just before 12:30 Thursday. She argued that Kelly "used lies, manipulation, threats, and physical abuse to dominate his victims," and that "he used his money and public persona to hide his crimes in plain sight."
Geddes's lengthy closing statement needed to sum up six weeks of testimony and evidence, and demonstrate how that evidence proved that Kelly's alleged predatory behavior constituted part of an organized criminal enterprise. Prosecutors have maintained that Kelly and his close associates had a "common purpose of achieving the objectives of the enterprise." They promoted his music and brand while luring teen girls, teenage boys, young women, and young men into a sick world of illicit sexual encounters, prosecutors alleged.
Kelly is charged with one count of racketeering and eight counts of violating the Mann Act for allegedly transporting a teenage girl and a woman across state lines for illegal sexual activity. Kelly has maintained his innocence. In total, 11 accusers took the stand against Kelly during his trial. Six of these 11 were minors at the time of the alleged sexual abuse. Two were male. Kelly himself did not testify.
The indictment against Kelly lists six female victims — one being the late singer Aaliyah, whom Kelly allegedly illegally married in 1994, when she was 15 and he was 27. Three other accusers in this indictment were minors at the time of Kelly's alleged sexual abuse. In addition to Aaliyah, the charges against R. Kelly involve accusers Stephanie, Sonja, Jerhonda Pace, Jane, and Faith. Accusers who testified but weren't part of the charges were intended to show Kelly's alleged pattern of abuse.
"The defendant was more than just a part of his enterprise; he was the leader," Geddes said, later observing that "for many years what happened in the defendant's world stayed in the defendant's world, but no longer."
Geddes said that Kelly wouldn't have been able to commit these crimes without his close network of associates, who did everything from drive women and girls to him to pass out his phone number at concerts. "Some actively assisted," Geddes said of Kelly's inner circle. "Others turned a blind eye."
She described the situation as "a Robert Kelly–centric universe," where his "inner circle revolved around him."
Geddes wrapped up her closing on Thursday afternoon with a call to action for jurors. "It is time to hold the defendant responsible for the pain that he inflicted on each of his victims — Aaliyah, Stephanie, Sonja, Jerhonda, Jane, and Faith," Geddes said.
"It is now time for the defendant, Robert Kelly, to pay for his crimes," she said. "Convict him."
Jury deliberations officially began on Friday afternoon.
This post has been updated throughout.