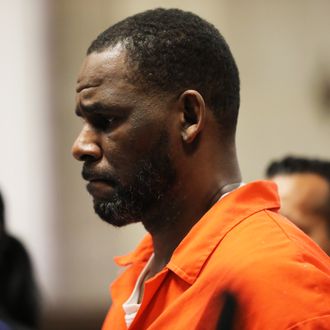 Kelly in 2019.
Photo: Getty Images
If you made it to the eighth track of Drake's new album Certified Lover Boy (congrats to you, that's a lot of work), and happened to peruse the details of that song, "TSU," you might've caught a couple big names, one less offensive than the other. First: Justin Timberlake. Then, two names under him on the list of credited songwriters, R. Kelly. That's Robert Kelly of both R&B and accused-predatory fame, the same R. Kelly currently on trial in Brooklyn federal court for racketeering and sex-crimes charges. In fact, hours after Certified Lover's Boy release, R. Kelly was back in court, wrapping up the third week of trial. So, how exactly did this songwriting credit happen? It's yet another classic case of song publishing rights; as Billboard notes, "TSU" samples/interpolates some of the orchestral bits from R. Kelly's 1998 single "Half on a Baby." And so rather than wind up in Olivia Rodrigo's current position, it appears Drake got ahead of divvying up songwriting royalties. (JT is credited because the song also uses NSYNC's version of Christopher Cross's "Sailing"; Timbaland is also credited.)
Following the trial on Friday, R. Kelly attorney Devereaux Cannick said of the credit: "It just speaks to his genius and the demand for his work. I mean, he's a literary genius, it doesn't surprise me. I don't think it's that much about the money, I think the public and other artists want his participation. I'm sure he's totally unaware of it because he's consumed right now but I will share with him."
Update, Tuesday, September 7, 10:30 a.m.: Certified Lover Boy producer and co-founder of OVO Noah "40" Shebib shed some light on the choice to credit R. Kelly in an Instagram comment underneath a post by Ravyn Wngz, an abolitionist and artist. "On a song called tsu at the beginning is a sample of OG Ron c talking. Behind that faintly which you can't even hear is a r Kelly song playing in the background," he wrote. "It has no significance no lyrics are present, r Kelly's voice isn't even present but if we wanted to use Ron c talking we were forced to license it. Doesn't sit well with me let me just say that." The comment section felt similarly, with many debating the complications of making art that supports Kelly financially during his sex-crimes trial, especially on a song about lusting after college-age women written by a 36-year-old. The title of the track itself, "TSU" (the acronym for Texas Southern University), comes from the OG Ron C sample featuring R. Kelly. "And I'm not here to defend drakes lyrics, but I thought I would clear up that there is no actual r Kelly present and it's a bit misleading to call him a co lyricist," Shebib continued. "It's kinda wild cause I was reading 'Baby Girl' by Kathy Iandoli and the recounts of some of that stuff is horrific and disgusting. Then I saw this post and just had to say something because to think we would stand beside that guy or write with him is just incredibly disgusting." (He later commented that he would be skipping the second half of Baby Girl: Better Known As Aaliyah due to the author's controversial relationship with Aaliyah's family.) In response to another commenter calling out Drake's own problematic history "befriending" young women, Shebib said, "I know that man and you can't tell me that. Please don't make a false compartive like that it's very hurtful and based off celebrity rumours and tabloids." Kelly's lawyers have already internalized the credit as approval of the disgraced singer, effectively normalizing his actions by focusing on his music. Apparently when Drake said Certified Lover Boy is a "combination of toxic masculinity and acceptance of truth," he meant it as a threat.
Reporting by Victoria Bekiempis.