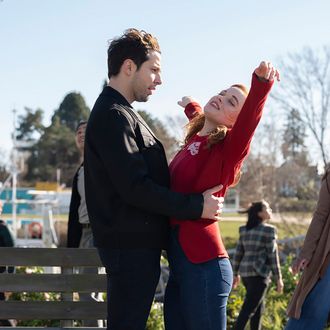 Roku and the fans getting carried with this news, manifesting a third season.
Photo: Michael Courtney/NBC
Merry Christmas to Emmys voters, blondes who just work better as gingers, and theater kids (non-derogatory). Zoey's Extraordinary Playlist is getting a follow-up film in a move that can only be described as a Christmas miracle. A holiday film based on the Emmy Award–winning musical comedy is set to debut on the Roku Channel later this year. Zoey's Extraordinary Christmas will star the show's original cast, led by Golden Globe nominee Jane Levy, Skylar "New Greg" Astin, Alex Newell, John Clarence Stewart, Andrew Leeds, Alice Lee, Michael Thomas Grant, Kapil Talwalkar, Mary Steenburgen, Peter Gallagher, and Broadway legend Bernadette Peters. In addition to the movie, both seasons of Zoey's Extraordinary Playlist will be available to stream on the Roku Channel for free beginning this fall. "I am so extremely grateful to The Roku Channel for helping us get Zoey to sing again," creator Austin Winsberg said in a statement. "I can't think of a more appropriate time to hear someone's heart song than the holidays. And Zoey's Extraordinary Christmas will be an opportunity to provide the fans and new viewers alike a chance to all tap their toes and get in the holiday mood. This show has always been about empathy, compassion and the triumph of the human spirit. The Roku Channel has sure lifted mine and I hope that our film can have the same effect on viewers everywhere." The series premiered on NBC in 2020 and, like most things 2020 touched, was canceled after its second season. The holiday special will be the first feature-length Roku Original, joining the stack of Quibi shows the streamer resurrected acquired in April. While the film doesn't guarantee a new season is coming, Zoey's Extraordinary Playlist will be back for Christmas (if only on Roku).