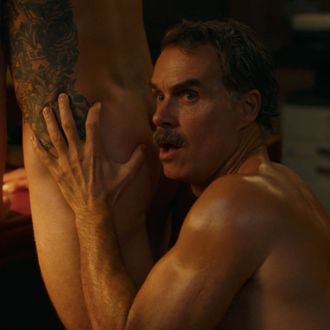 The internet has spoken, and the results are in: Here are the best meme, internet, and/or pop-culture costumes for the 2021 Halloween season. After we've been living online for who knows how long at this point, it only makes sense that this year's costume inspo has blossomed from internet memes, jokes, and beloved TikToks. The Twitter crowd is bringing viral moments from new movies like Zola and shows like The White Lotus along with throwbacks like a budget E.T. And we expect things to get even weirder this weekend. Feast your eyes upon a sample of Halloween-costume gems from the internet, and remember: Not all costumes are memes, but all memes are costumes.
Murray Bartlett on the Butt
First up, we have Murray Bartlett gently caressing the buttocks, an unforgettable callback to a scene in The White Lotus.
Apparently Kid
Apparently this meme will never die.
Ben Affleck and His Dunkin'
A power couple to rival Bennifer, tbh.
The Zola gang
Zola, Stefani, and Derrek. Need we say more?
Little Lad Inspo
He thinks Met Museum. The people think berries and cream.
Boban and Goldfish
Don't just go for the handful. Be the handful.
Walmart E.T.
E.T., phone home because you're bringing a twin back with you.
Sexy Patrick and Monocle SpongeBob
The legs. The tights. *Chef's kiss.*
Corporate needs you to find the difference between this picture and this picture. They're the same picture.
Bowen Yang's Titanic Iceberg
The iceberg may be cold but these costumes are on fire. We're quietly waiting for an Iceberg/Ocean Water couples costume.
I Think You Should Leave Insider Trading Hat
Seth Rogen and His Vase
Writer-performer Ele Woods even got the bumpiness right on the glaze. World famous potter Seth Rogen's glaze game is baffling and terrifying. He also makes movies.
Ok but do they have dice in their pockets? It's not illegal to ask that!