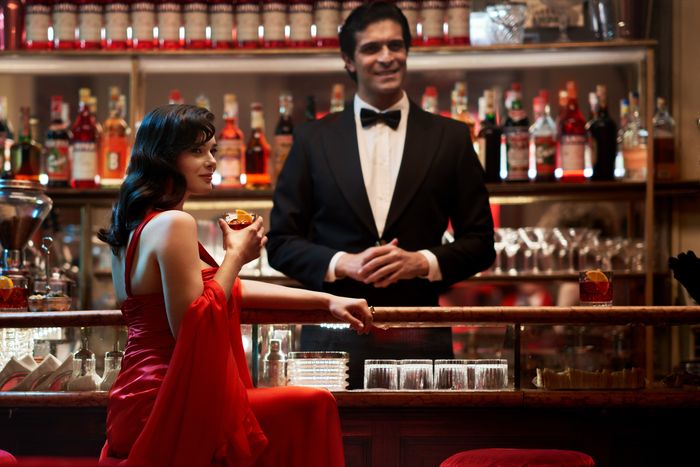 Photo: Courtesy of Campari
In the opening scene of Federico Fellini's seminal film 8 ½, audiences are welcomed into a nightmare. It's claustrophobic and anxious, lingering on blank, staring faces a moment too long for comfort as a protagonist struggles to escape the smoke slowly filling his car. He breaks free, finally, and takes flight — before being roped by some nefarious characters on the beach below.
Those opening three minutes are bizarre — it's a dream after all — but any director could throw a strange, stream-of-consciousness set-piece on screen and call it a film. What made Fellini's work so unique and vital was how he put those shots together: The lingering focus on strange faces, the single-shot pans that gave audiences a sense of breadth, the iconic image of a man's cuffed pant and loafers attached to a rope dangling high above a beach, as if he was a kite.
Fellini's genius lives in those innovative, unique shots. He was able to take an abstract concept about the creative industry and writer's block and turn it into a tumbling, beautiful film that oscillates between dreams, nightmares, and reality.
Genius isn't something easily replicated, but technology is moving towards a moment where, even if machines can't originate creativity, they can make for an ideal collaborator that can learn, adapt, and iterate on past works. Still, could artificial intelligence create another Fellini film? That's the question driving Campari's newest installment in its celebrated Red Diaries film series.
Campari wanted to investigate the intersection of technology and creativity, building on its 160 year history as a brand that pushes the boundaries of art, design, and imagination. The brand has forged deep relationships with forward-thinking artists like Italian futurist Fortunato Depero who designed their iconic Campari Soda bottles, and English abstract designer Mark McClure who designed an immersive installation inspired by the Negroni, a drink dyed ruby red by its key ingredient, Campari.
Building on that legacy of innovation, the legendary spirits company worked with cinema & AI experts — director Maximillian Niemann, Unit9's Marc D'Souza, and Marcus du Sautoy — to find out what lay at the nexus of AI and creativity. We sat down with all three to discuss how they "taught" an AI algorithm about Fellini, how AI and creativity are continuing to intertwine, and the algorithm-directed shot that took one of Fellini's collaborators by surprise.
How did the project with Campari Red Diaries come about?
Marc D'Souza: The creative seed for the project was born out of a conversation between Campari and Francesca Fellini, Federico's niece. They were talking about an initiative that could celebrate the coming together of Fellini and Campari. It was a reflection on the life of Fellini as an artist, his source of inspiration, and his evolution.
Maximillian Niemann: The idea was always to create the most Fellini-esque film we could make in collaboration with AI. It wasn't just "press a button and create a film from AI" but more a collaboration between human beings and a machine to understand new ways of filmmaking.
Marcus du Sautoy: I must say, when they came to me with the idea, I was incredibly skeptical. I thought they had bit off far too much here. Because in some ways, film, and especially Fellini, it's like total art. It's like opera. You're trying to do music and visual storytelling, and I was thinking, "My God, we're already having quite a lot of difficulty just taking machine learning and learning how to recreate a piece of art," so I thought this was almost impossible.
I mean, creative genius is supposed to be the sole domain of humans, so doubt about whether or not an AI could create something like a "new" Fellini work is understandable. How did you even begin the process?
Niemann: AI is everything, and AI is nothing (laughs), so you have to understand where you want to invest your time and efforts to understand what kind of AI might help you to create the most Fellini-esque film from the start. There's a lot of stuff out there, and not everything comes to a creative output or output at all.
D'Souza: The first stage was identifying the source material, which in its most obvious form was Fellini films. We broke them down in terms of individual frames and started cleaning that data up so that it became something that an algorithm could analyze and understand. Then we had to make sure the data on the other end made sense, like are there faces in the frame? Do those faces have expressions on them? Is the camera moving? Is the camera zooming? Things like that.
Then there were two other tools that we developed. The first one was a scriptwriting tool that would aid the process of writing a script in a Fellini-esque style. And that was trained on the transcripts of the movies using GPT- 2 [Generative Pre-trained Transformer] to speak a Fellini language and to use Fellini subject matter as its inspiration for suggestions.
Niemann: We transcribed Fellini's movies to have text copies and used machine learning to analyze them. Even if Fellini was a creative genius and his films are exceptional, he also had to follow the filmmaking rules. There's parts of filmmaking that you can find in every film, and you can split them apart to try to understand how a director like Fellini handled them. So what we did was put in the transcriptions that we had and let [the system] learn the language: The structure, the dialogue, and so on. So it basically thinks as Fellini would have thought.
D'Souza: It became a human and AI collaboration tool, which allowed us to ping-pong ideas and incrementally develop the script with the AI input. So the AI would come up with suggestions, and you could take the suggestion and incorporate it. It's like working in a room of writers.
What was the collaboration like between your team and Campari?
Neimann: They put trust in the art itself and less on the output. You know, the worst thing you can do when you go to an artist and them, "Paint me something. And it has to look like this, this, and that." That's how you destroy creativity, you know.
You have to trust the artist. You've got to because maybe you ask them to paint a beach and they turn up with a beach you've never seen before because it's their way of seeing a beach. And that freedom and trust is the most important thing, to feel like a valued partner in a collaboration like this.
Was there anything strange or unexpected that happened when you started feeding the algorithm those scripts? What were the suggestions like?
Du Sautoy: It was really weird: The AI engine suggested some huge close-up shots and the interesting thing is the human directors kind of massaged it a bit and made it look a little bit more friendly. When the directors showed that updated shot to the team, one of Fellini's collaborators said you should not have interfered with that because that first offering by the AI was much closer to what Fellini did.
D'Souza: I think that particular instance was interesting because it showed how filmmaking has changed and evolved over time, right? Something that would almost come instinctively to a modern-day filmmaker like Max was not part of the language of Fellini and he wouldn't have decided to do that. It was almost uncanny that this suggestion engine actually understood the subject matter in so much more depth than we did.
Du Sautoy: That's the exciting thing. Seeing if the AI can actually decode things that we don't really see ourselves yet.
Was there a point in production where you thought, "Oh wow, this is actually working?"
D'Souza: There was a distinct point, but it was after a significant amount of work had been done. After we started using the tool, the prediction model would suggest cameras, what type of shot, what the camera movement might be, how long that shot should be held, and therefore it allowed us to basically see the edit before we shot the edit. When we started testing the tool and it started suggesting things, there was this sort of pattern and sequence of shots and types of shots and rhythm, and that kind of feedback was when you started to realize, okay we're onto something here. That's when the penny dropped.
Du Sautoy: Unit9 was able to use their experience in gaming, which is very similar. You're producing artificial visual journeys — these kinds of "filmic" journeys — so they use a platform that they'd originally used for gaming but used it for shot sequences. They were actually able to pick up on things that are distinctively Fellini.
Each of these technologies — the human brain and AI — has its strengths and its weaknesses, which is the topic of my next book Thinking Better: The Art of a Shortcut. And I think the key is finding that sweet spot where we can combine our clever way of thinking which avoids having to navigate a huge mound of data, whilst AI can look deep into data and find things that we can't.
What sort of influence do you think AI will have on the film and creative industry generally?
Niemann: I think that there's a lot of stuff evolving around AI and it's becoming another tool in the filmmaker's belt. There's color grading with AI, there's this kind of script writing that we did. I think there's a lot of AI use around publishing and evaluating users' views and reviews.
But it's interesting because you can have a writers' room with only one person in front of the computer but the computer is also writing things. It might not always make full sentences and it might be crazy stuff, but it adds value in a different way because it thinks differently.
Du Sautoy: There's something called the Wundt Curve, which says that if you push something new too far, you actually get repelled by what you're being offered. That's what AI seems to be quite good at right now, just pushing the boundaries and learning where you are.
But I'm intrigued as to whether AI is going to pander too much to likes and dislikes. It may not be as creative as you might hope it to be because it's trying to satisfy an audience, and that may actually limit it. Maybe there's AI creativity going on that we're rejecting which later we might say, "Wow, that was ahead of its time. It really was seeing somewhere we could go but we just weren't ready for it."
What was it like working with Campari on the film?
D'Souza: If you go back in the history of Campari, as a brand, it's always encouraged experimentation in the arts and in design. To me, this project is staying true to Campari's DNA, to its nature.
If we rewind all the way to the 1920s and 1930s when the original Campari soda bottle was designed by Depero, he was a futurist artist and the brand gave him the task to design that iconic bottle that we're still using today. I think that's the demonstration of forward-thinking in the brand.
Du Sautoy: It's really exciting to see a company like Campari supporting young creatives. This was the opportunity to try something really dangerous, and I think that's a really brave move on their part.
I grew up in the '70s and I still remember the visual adverts Campari produced, so they've always had an interest in pushing the boundary of what you can do visually for their brand. But what's exciting is that they want to use that passion to go beyond just trying to get people to buy their drink and actually produce a good film.
I also think they've been very honest in saying, "No, we wanted to see how AI could be a tool in helping human creativity and push that." And I think that's very much to their credit.
This advertising content was produced in collaboration between Vox Creative and our sponsor, without involvement from Vox Media editorial staff.