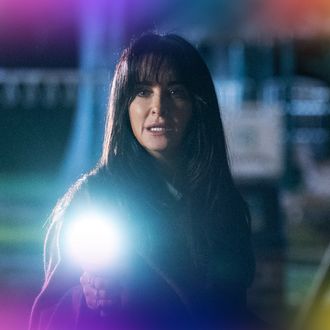 Photo-Illustration: Vulture; Photo by Universal Pictures
I'm not sure if you're aware, but we are currently living in the Rich-surgence or, to the more basic, the Kyle-aissance. It seems like suddenly Kyle Richards, the longest-serving cast member (and hardest-working producer) of RHOBH, is everywhere. My sisters in struggle over at the Cut did a huge and wonderful profile of her as did my sister wife Amy Kaufman over at the Los Angeles Times, both tied to her return to the Halloween franchise after nearly a lifetime away. Oh, and what about the movie's premiere, where Lisa Rinna came dressed as "the bunny"? It's Kyle Richards's world, and the rest of us are just trying to get a little bit of "Page Six" attention in it.
Because it is Kyle's moment, this newsletter focuses on the woman voted Housewife My Husband Wants to Be Friends With by Brian Moylan Magazine for seven years running. First there is a review of her role in Halloween Kills, and then there is a recap of parts one and two of the RHOBH reunion, which Kyle attends, but they're really more about Erika Jayne. Before any of that, though, let us review some of the non-Kyle-related news …
Not all the news, but all the news you actually care about.
SHE'S DISENGAGING: It looks like new mother and Vanderpump Rules star Lala Kent has called off her three-year engagement to Randall "King of the Geezer Teasers" Emmett. On Sunday, she deleted all the photos of the father of her 7-month-old from her Instagram and liked a post about him cheating on her while on a trip to Nashville. Videos of Randall hanging with two young ladies were circulating on social media, which prompted Lala to move into a hotel. "Randall always lives a double life," a source told "Page Six." "He lives the life of a husband or boyfriend, and then he lives the life of a serial partier and then goes on a bender." Wasn't it just this last episode of Pump Rules where she said she didn't expect Randall to change? Oh, how right she was!
ENGAGED 19 TIMES: With all of these engagements breaking up, Teresa Giudice is actually entering into one. People paid for, I mean, got the exclusive on Luis Ruelas popping the question on a beach in Greece. This is different from her first engagement to Joe Giudice, where he was on the beach covered in grease. There were candles, rose petals, a violinist, and a choreographed fireworks display as Luis "surprised" Teresa in front of a giant Marry Me sign. Well, considering there was a professional photo shoot as soon as she got that ring on her finger, I wouldn't be shocked if she knew this was all coming, at least a little bit.
LOVE TANKED: We all know that Vicki Gunvalson also broke up with her fiancé, Steve Lodge, but the details are coming into focus while also getting a bit more blurry. Yes, this story is like smoking some very good pot. When Tamra Judge posted to support her friend, Vicki filled in her followers about what really went down, at least according to her: "He used me, he lied to me, he's been dating a 36 year old and is not what he portrays himself to be. No Christian man would do what he's done," she wrote. "While I was out of town working on a biz trip, he took her to my condo in Mexico! He's been flaunting around my town in OC making out in public places. It's disgusting." Was the business trip when she was filming Real Housewives All Stars 2? Because as we discussed in the last newsletter, he supposedly broke up with her while she was at cursed landmark Blue Stone Manor. The exchange was captured by Comments by Bravo if you want to see more.
Steve, however, is painting a very different picture. He told "Page Six" that their relationship actually ended in December and that Vicki won't leave him alone. Since he thought they were done, I guess that means he wasn't cheating? He was even harsher when talking to Hollywood Life, accusing her of buying her own engagement ring for his proposal to her on RHOC and doing all of this "to get back on a show, any show." He told the website, "I'm not famous, nor do I want to be. I wanted my life back." I don't know, running to the press, running for governor — it seems like Mr. Lodge is doing a lot of running for someone who is not interested in being famous.
NICKI MINAJ'S COUSIN'S FRIENDS OF POTOMAC: The much-rumored Nicki Minaj reunion hosting stunt actually happened, as Andy Cohen confirmed on his Instagram. At the end of the reunion, he says he "surprised" the women and let Minaj go to town on them. Well, if we all knew about it, how much of a surprise was it? Initial press reports say that she came hard for Candiace Dillard, and to be fair, if I were in Andy or Nicki's shoes, I would have gone hard on the salad-tossing hothead myself. Nicki said in an Instagram Live video, "I normally know who I can be like that with, and I can tell they're tough enough to allow me to be tough on them. I went for the jugular with them." I would go for the jugular over their outfits, which are, ahem, very pink.
I can't say I'm not excited, but this comes at a hard time for Nicki as she's dealing with the blowback from tweeting about her cousin's friend's claim that he got inflated balls after receiving the COVID-19 vaccine. And just because she's on the RHOP reunion doesn't mean she finally got the vaccine: According to TMZ, the reunion was filmed in New Jersey, where all members only had to get a negative PCR test. Hmmm. Why not film in New York like they do many of the reunions? Maybe because of vaccine requirements?
FILE UNDER "DUH": The Sun is reporting that Lisa Vanderpump wants to be back on RHOBH after her shows Vanderpump Dogs, Overserved with Lisa Vanderpump, and Pooch Perfect all tanked in the ratings. Oh, and Vanderpump Rules is on its last legs as well. Only 627,000 people tuned in for the season-nine premiere, which is almost exactly half the 1.2 million who tuned in to the season-eight premiere. Their source said that Lisa would only come back for $2 million a season, which is just shy of the largest Housewives salary (which goes to Kandi Burruss, who makes a bit over that mark). There's no way she would ever get that, particularly because Erika's legal drama will continue to consume the show. How can she add $2 million in value? Lisa also apparently wanted to keep fired Pump Rules cast members Stassi Schroeder and Kristen Doute, but Bravo overruled her. I see them more likely to return than Lisa to RHOBH, TBH, LOL, SMIFFEE, LGBTQIA+, JKLMNOP.
RICH WOMEN DOING THINGS: Speaking of RHOBH casting, there are reports that season 12 of the show is being rushed into production to capitalize on Erika's continued legal drama. Usually contracts for the next season go out about two weeks after the reunion airs, so that seems right on track. Apparently the whole cast will be back, which considering the strength of this seaso, isn't a dumb move at all. Apparently production did ask Crystal Kung Minkoff to get a little bit more into the drama when her ugly pants aren't being insulted, and Us Weekly reports that Erika will be asking for a much bigger salary. Legal bills aren't cheap, hunty.
MEREDITH MARKS THE SPOT: Don't you dare disengage with this event at the upcoming Vulture Festival. Mother-son duo Meredith and Brooks Marks will be having a chat with a live audience in Los Angeles on Sunday, November 14. Maybe Meredith will tell us if she really did call the feds on Jen. Buy your tickets here.
HOUSEWIVES INSTITUTE SOCIAL PAGES:
· Jen Shah will have to update her LinkedIn profile to include strip-club party host. She's doing what's presumably a paid appearance at the Hustler Club in New York tonight, just months before her fraud trial. As I just said, them legal bills ain't cheap.
· We are sorry to report that Meghan King Edmonds can no longer be called MKE, PI, now that she married Cuffe Biden Owens in the first Housewives wedding ceremony attended by a sitting president. She will now be referred to as Meghan O'Toole King Edmonds Biden Owens III, PI.
· Save your spot on the Housewives Institute's upcoming Ultimate Girls Trip now. A deposit of zero dollars is required.
· Paris Hilton's Alice in Wonderland–themed engagement party at Kathy Hilton's house was attended by several RHOBH members including Garcelle Beauvais, Crystal Kung Minkoff, Dorit Kemsley, and, of course, Paris's aunt Kyle Richards. Wait, if RHOBH is already filming, will this be on the show?!
· Sutton Stracke is having a back-to-school sale at her boutique to pay for her enrollment in law school.
· A cordial welcome to the Institute for this "niece" of Jennie Nguyen who took to TikTok to say her aunt's storyline about having more kids was totally faked for the camera, among other dirt. We appreciate the announcement.
· An official Housewives Institute Golden Medal of Freedom was delivered to Patrick Sproull for his article in The Independent about the current state of Housewifery. This decision was not at all influenced by him including several choice quotes from the one and only Dame Brian Moylan in the article.
A
Review
of
Halloween
Kills,
But
Only
the
Kyle
Richards
Parts
We need to get this out of the way right at the top: I don't see how there could be a stunt in the movie Halloween Kills that caused Kyle Richards to "break her nose," leading to the nose job we saw her recovering from in the season-11 premiere. Yes, she attacks Michael Myers with a sack of bricks, but unless a chunk untangled itself from a pillowcase and smacked her in the face, I don't see what could have led to this excuse for more plastic surgery.
It must also be said that Kyle's character, Lindsey Wallace, is wearing the same bangs she had as a kid but also a brand new nose ring. My theory is that Kyle's nose broke itself out of sheer embarrassment. Either that or we will see the offending stunt in the upcoming Halloween Ends, the third movie in the trilogy, which comes out next year but was filmed in conjunction with Halloween Kills. Director David Gordon Green essentially confirmed as much when he told EW, "I'm not sure we've seen the last of Kyle Richards in our franchise."
That means (spoiler alert) Kyle — or I mean Lindsey – is one of few in the movie who survives her confrontation with Michael, possibly because she almost gets his mask off while he tries to strangle her. As for Lindsey, all we really know about her is that she survived the original Myers attack in the first film 43 years ago when he attacked her babysitter. Other than that, her character is a bit of a sketch. This movie seems more intent on grossing out the audience with unimaginative kills than developing any of its characters. Why would we even care if one of these goobers gets a knife in the armpit if we don't know anything about them? I'll tell you why. Because one of them is played by Kyle Richards.
Yes, Halloween Kills is not a good movie. It's not even so good, it's bad; it's just sort of hacky and inexplicably shoddy. The tone is all over the place, and it doesn't seem to know what it wants to accomplish. Is it silly? Is it gross? Is it scary? Does it love horror? Is it making fun of it? I don't know, and neither does the script. The one thing it does know is that it is mostly concerned with Michael plunging a shattered fluorescent light bulb through a nice lady's jugular.
As for Kyle, she's actually pretty good. It's easy to forget how good an actress she is until you think about how she's been acting innocent for the better part of a decade while also pulling all the strings right there on camera. She works way harder than Lisa Rinna — whom everyone accuses of running the show — but only gets a fraction of the credit/blame. Give this lady an Oscar, or at least a Cable Ace Award. Maybe free dinner at Carl's Jr.? Who knows what you should get for reality-TV excellence, but Kyle should win that.
Watching Kyle trying to save a bunch of kids on a playground when Michael attacks is great, but the whole time I didn't see Lindsey; I saw Kyle. It was funny thinking of her running through the suburban woods with a sack of bricks, so far from faddish exercise classes with the other rich ladies who do things. I don't think it can be blamed on Kyle or reality television, though. I don't think it's that we're too familiar with Kyle; I just think Lindsey is such a snot bubble of an idea of a character that we can't help but see the much more famous person behind her. Considering the only people in the surprisingly full theater who screamed when Kyle's name hit the screen in the opening credits were me, my husband, and my friend Will, that might not be a problem for everyone else. The rest of the audience must have just been wondering why this nice old lady has such an awful nose ring.
Erika
Jayne
Has
Her
Come-to-Andy
Moment
Recapping parts one and two of the four-part (!!) RHOBH reunion.
While watching the first two parts of the Real Housewives of Beverly Hills reunion, all I could think was, Why didn't they just do a sit-down with Erika? It's like when Luann de Lesseps kept her divorce from Tom from breaking until right after the reunion, and a furious Andy made her sit and atone in the backyard of her Sag Harbor house and tell us all about what really happened in her marriage. Like that, but with only Erika and Andy. Yes, fans were really excited for this reunion, but weren't they really just excited to hear Erika's side of the story/answer to fans' ire? Why do we need all of these other women around?
Erika really did deliver some truth, but before we get to that, we have to do my favorite part of reunion-recapping and go around the horn looking at everyone's outfits. And what a ragtag bunch it is. Usually there is a theme for the reunion, like the upcoming theme for Potomac is obviously "pinker than a post-pegging pucker." What was this theme? Retro prom embarrassment? Hamburglar realness? Bridesmaids of Frankenstein? I have no clue.
Let's start with Kyle, wearing one of the worst reunion abominations of all time. It starts at the top with the piecey updo that looks like a porcupine got stuck in a chocolate fountain. It's very late-'90s and not in a chic way. Her dress also has a boob buckle, as if they're going to tumble out and try to play tickle monster with the rest of the cast. Man, whoever is responsible for this should lose their job or their eyesight. Kathy Hilton, in red polka dots, looks like a middle-school production of A Streetcar Named Desire. Next to her is Sutton, whose blue dress that tucks in under one arm is low-key gorgeous and fits Sutton's body well, unlike 90 percent of her wardrobe. Rounding out this couch, Garcelle is wearing a silver-and-sheer number that was surely used for a Donna Summer album cover, and I love it. However, her matte-purple lip looks like she just bit off a Muppet's finger. (Did you know all Muppets have purple blood?)
Across from her is Crystal in a peak-shouldered Merlot number and, much like Crystal herself, it's elegant and understated and I can't say anything bad about it, but I would like a little bit more. I am just going to skip over Dorit, who took a break from emblazoning her body with the logos of global luxury brands for a spot of product placement. Lisa is wearing the hide of Skeletor's purple cat, Panthor, in that pointy-shouldered silhouette she loves so much, it has to be going out of style soon.
That brings us right back to Erika in a satiny bubble-gum-pink dress that is very flattering but doesn't quite cover her legs right when she's sitting down. The thing about this dress is that it is trying to say "innocence" even if that is not quite what her behavior is emitting. It's sort of like wrapping a sea urchin in Hello Kitty tissue paper. But it seems like most of the "You're a fucking cunt" screaming is going to be saved for parts three and four of the special. Especially in part two, she seemed to handle the grilling from Andy quite well. Her most salient point, which seemed to get the agreement of the women, was that she didn't stay with Tom for the money; she stayed with him for access to the money. If she handed over everything she made to him and only had two credit cards, once they were cut off, she was done. However, the money stuff did lead to one of the only two questions she didn't answer. She said she couldn't say how she got the money to leave Tom except that it was legal. She also couldn't say when she retained legal counsel, but other than that she took on every question unblinkingly.
That doesn't mean all the fans are going to like her answers. Honestly, I was convinced, but as the comments section has been telling me all season, I'm in the pocket of Big Erika because I'm waiting for the enormous check to write her next book or something. Whatever. You can either choose to believe her or choose not to. I am in the former camp and, whether or not she handled this all as gracefully as some would like, I do think she is right that she is taking a lot of heat for Tom Girardi's behavior. We all know the revelations that are going to make headlines, how Tom handled all the money, his affairs, how she thinks "his life is over," how he could tell the women stories but wouldn't remember their names. You watched it. You saw all that, too. I don't need to rehash it all for you.
There is one quote I would like to draw some attention to, however, and it's what she said when Andy asked if she would marry Tom again knowing all she knows now. "I'm at a place where I don't know who I was married to," she says. "There were good parts, and there were bad parts. I'm trying to figure out what the fuck happened, in the law firm and my personal life. There are moments I'm overwhelmed and sad and heartbroken and bewildered … I don't know what was real." The idea of reassessing 20 years of your life as a lie, a lie that hurt dozens of vulnerable people, is complex and fascinating. It contains multitudes of emotions and all of the messiness life has to offer. It's like the limo scene from season one that we got a little teaser of this episode, something so real it can't be contained by all of these dresses and glam squads and jewelry designers. That, right there, is why 15 years in, I still watch every episode of every Real Housewives show: for moments like these, stories like these. No matter what you think of Erika, we have to remember that the real moral messiness of these people is what got us hooked in the first place.
What other nonsense do we need to go over? I feel like Lisa is not at all sincere about being friends with Garcelle again and is really only doing it because she knows the show needs to move forward. During most of their exchange, she came off faker than most of Dorit's jewelry. Speaking of Dorit, we also dealt with how much she talks, which is a lot, and Kyle got in an excellent dig at the late, great Carlton Gebbia, who is surely going to put a curse on her so that she never has another bowel movement again.
Yes, there was lots of fun to be had, but this reunion seems to be breaking news and generating real pathos. It's the opposite of almost every other reunion, where everyone just digs in and the couches become something like trenches with the French and Germans hurling mustard gas back and forth until they achieve mutual destruction. Instead we got Kyle and Kathy hugging on the couch and crying about all the time they lost together. I was actually moved. I actually cried. I actually, for a second, didn't just want things to get back to Erika.
The Real Housewives of Potomac, Season six, episode 14: I have seen warmer-looking expressions at a funeral than the faces Robyn Dixon makes during this episode; she shows up to dinner in a getup that screams "soccer mom running errands on wash day."
The Real Housewives of Potomac, Season six, episode 15: Why do people from Maryland think their state flag needs to be on everything? It looks like a bad kindergarten art project, yet they will put it on everything. I promise you can keep your Maryland coffee mug at home.
The Real Housewives of Salt Lake City, season two, episode five: "In Brooks's corner, we've got Meredith lurking at the bar in a look that can only be described as "Joker stairs dance, now with 214 percent more boob!"
The Real Housewives of Salt Lake City, season two, episode six: Surprise! The double date is at the restaurant owned by the flaky caterers who — surprise! — immediately stop by the table with carnitas tacos and an alibi and — surprise! — they also stock a certain someone's tequila brand. (#CheersToVida #ad #sponsored.)
Vanderpump Rules, season nine, episode three: Ugh, do I have to be nice to Raquel, a TikTok sea chantey about lip liner?
Vanderpump Rules, season nine, episode four: Lisa is very empathetic. She says, "Katie sees Scheana and Lala and [dramatic pause as she looks over her shoulders before uttering the names] Stassi and Brittany all having babies at the same time." What? Do not bring up the names of the fallen.
Poor Whitney's freezing, exposed knees in these poor, exposed, um — pants, I guess we can call them?
Dean's
List
for
Best
Comment
of
the
Week
Highlighting the best insight from our lovely Institute members. This one is from last week's Potomac recap.
Inmuchkinland: Since when is a nonstarter singing career comparable to the strained but important relationship between an adult woman and her mom who battled addiction and is now trying to have a stable life? Candiace, you take one step forward and then about 50 steps back.
"Wear your seatbelt." — Mary Cosby after explaining how a parishioner recently fell 30 feet to her death in a car accident.