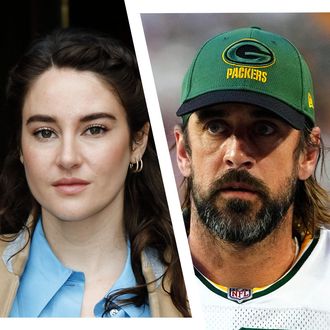 Photo-Illustration: Vulture; Photos by Shutterstock
Update, November 5 at 3:00 p.m.: Aaron Rodgers is just sticking his foot(ball) farther and farther in his mouth. Appearing on the Pat McAfee Show Friday, this man whose job description is literally "throw ball far" compared himself not getting vaccinated to Martin Luther King Jr. So, he's gone delusional delusional. "I realize I'm in the crosshairs of the woke mob right now, so before my final nail gets put in my cancel-culture casket, I'd like to set the record straight," Rodgers said in an absolute dog whistle of alliterative word soup. Far-right sites like the Daily Caller are already quoting this.
Rodgers, who alleged he has an allergy to an ingredient in Pfizer and Moderna vaccines, didn't exactly make things better. He admitted that he "consulted with a now good friend of mine, Joe Rogan," followed his own COVID-19 protocol, and that he's now going to have the "best immunity possible" because he's treating himself with — have you guessed where this sentence is going — ivermectin. *Sad trombone noise.* It's worth noting that he looked all stringy-haired and sickly while saying all of this.
Rodgers denied he was an "anti-vaxx flat-earther" while spouting anti-vaxx talking points. Don't act like you're better than Kyrie, Rodgers. You're right down there with him.
Original story follows.
Green Bay Packer, Jeopardy! enthusiast, and Disney adult Aaron Rodgers will be sitting out this Sunday's game against the Kansas City Chiefs because he has tested positive for COVID-19. According to the NFL, Rodgers had previously sought a COVID-19 vaccination exemption because he "received homeopathic treatment from his personal doctor to raise his antibody levels." He was denied this exemption because an infectious disease consult determined "that Rodgers's treatment did not provide any documented protection from the coronavirus." This is all a way of saying that yes, Rodgers appears to be unvaccinated.
In August, when Rodgers was asked at a press conference if he was vaccinated, his answer was that he is "immunized." He also appears to have been flying separately from the rest of the team, which is a requirement for unvaccinated NFL players. In April, Rodgers hosted Jeopardy! for two weeks. He also went with his fiancée Shailene Woodley to Disney World, and the next month, they visited Hawaii. Was Woodley also unvaxxed all this time? Was she going full Woodley-mode? On the one hand, Woodley is currently filming a series with a mandatory vaccination policy, albeit one with a range of exemption allowances. Representatives did not immediately respond to a request for comment. Also, in 2013, she told Flaunt magazine, "I make my own medicines; I don't get those from doctors." So.