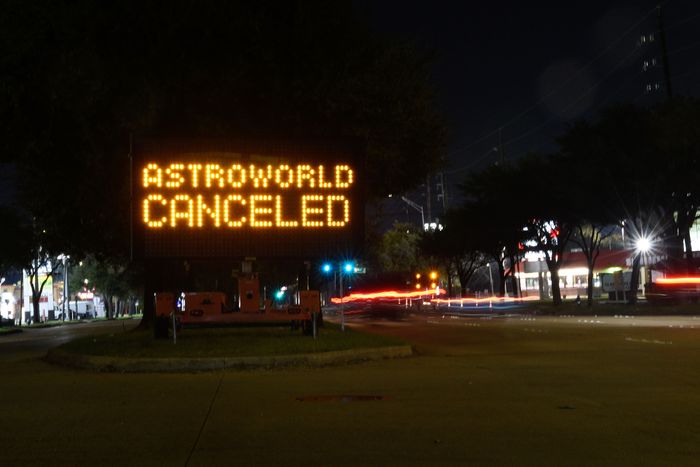 And the many questions that still remain.
Photo: Ken Murray/EPA-EFE/Shutterstock
Ten people were killed and hundreds injured at Travis Scott's Astroworld music festival in Houston, Texas, at NRG Park on Friday, November 5, after concertgoers surged toward the stage around 9:30 p.m. during the rapper's headlining set. The dead ranged in age from 14 to 27. Twenty-five people were hospitalized. Eight were confirmed dead on November 5. A ninth victim died on November 10, according to her family's attorney, after previously being declared brain-dead. The tenth victim, a 9-year-old who had been in a medically-induced coma, died November 14. Some people appear to have been trampled, authorities said. About 50,000 people were attending the show.
Houston officials have vowed to provide answers to how this tragic event unfolded. "This is a very, very active investigation, and we will probably be at it for quite some time to determine what exactly happened," Houston mayor Sylvester Turner said at a press briefing Saturday afternoon. Houston Police Department chief Troy Finner added, "This is now a criminal investigation that's going to involve our homicide division, as well as narcotics, and we're going to get down to the bottom of it."
Some are wondering whether this could have been prevented. Authorities have pointed to both the chaotic situation Friday and alleged safety issues at Scott's previous performances and prior issues at this venue and with the event's promoter. Here is what we know about the devastating Astroworld incident so far.
So what happened?
At this point, it's unclear if any single event triggered the chaos or if it was a combination of factors at the sold-out venue. Public-safety authorities' statements and witness accounts provide some information about what happened. "The crowd for whatever reason began to push and surge towards the front of the stage, which caused the people in the front to be compressed — they were unable to escape that situation," Houston fire chief Sam Peña told CNN.
Madeline Eskins, an ICU nurse who was at the festival, said the situation escalated as a countdown clock neared the moment when Scott would appear. She and her boyfriend arrived at the stage around 6:03 p.m. to land a spot near the front. About 30 minutes before Scott took the stage, the crowd got more and more packed. "All of a sudden, people come pressed up against each other, pushed forward and backward. As the timer got closer," Eskins told CNN, "it got worse and worse." Eskins added, "I had constant pressure on my chest … I was being squeezed … Right when he started performing his first song, I looked at my boyfriend and said, 'We have to get out of here.'"
"Once he started, all hell broke loose. All of what is to be 50,000 people ran to the front, compressing everyone together with the little air available," another concertgoer, Alexis Guavin, told CNN. "Luckily, I have mosh pit experience and am six feet tall so I could at least put my head up to breathe, but others [were] not so fortunate."
During a press conference Wednesday afternoon, Finner provided a few more details. He said that there were two mosh pits "directly in front of the stage."
Could people escape?
Some people in the audience said concertgoers couldn't get out of the packed crowd when things started to go awry. Eskins recalled that she and her boyfriend couldn't quickly leave the area. "I just remember looking up, passing out, and then I was in and out for a little while," she remarked. "I didn't see anything, but I could kind of feel what was going on. Someone pulled me over a fence, and then I passed out again."
According to the Associated Press, some concertgoers said that barricades near the stage, meant to divide different types of ticket holders, kept attendees from escaping. Billy Nasser, who was at the show, said there was an area formed by one of these stage barricades that was like a closet. Nasser reportedly said that people were thrown into the closetlike zone and that the door was closed. Joshua Robinson told the AP that the barricades created a space that was "just way too small and compact" for all the people there.
Authorities have claimed that the venue met inspectors' criteria for safe entry and exit. Peña claimed that the venue could have handled 200,000 people under city fire codes. Authorities limited that number to 50,000 for the performance. (According to reports, 100,000 tickets went on sale for this year's event; it's unclear how many people were at the venue at the time of the incident given that some non–ticket holders had breached barriers earlier in the day.) Officials said that safety precautions had been taken, claiming, "We had inspectors to ensure that the means of egress, the doors in and out of that venue, were maintained open and unobstructed." They also claimed, "These injuries did not occur as people would try to exit the venue. And that was evident by the fact that once the event was terminated, [it] was cleared out within the hour … What we're looking into is what caused the crowd surge."
Some videos appeared to show a person climbing onto a platform where a camera operator was filming (the event was livestreamed on Apple Music) and asking for the show to stop, yelling that people were dying. Some other people can be heard downplaying this attendee's pleas, saying that he should "calm down," according to the New York Times.
Other video appears to show attendees dancing on — and blocking — an ambulance that was trying to get into the crowd. Video also seems to show people getting on top of security vehicles. It does not seem like those fans knew what was going on or why the vehicles were trying to get into the crowd, according to the Daily Beast.
Who were the victims?
Authorities have identified all of the ten victims killed in the Astroworld tragedy. John Hilgert, 14, was a ninth-grader at Houston's Memorial High School, the local ABC affiliate reported. A 16-year-old victim, Brianna Rodriguez, was a junior at Houston's Heights High School. "Gone from our sights, but never from our hearts. It is with profound sadness we lay to rest our beloved Brianna Rodriguez. Brianna was one of the victims from the Astroworld event," her family said in a GoFundMe. "She was a beautiful vibrant 16-year-old high school junior at Heights HS in Houston TX. Dancing was her passion and now she's dancing her way to heaven's pearly gates. Anything to help the family will be greatly appreciated."
Axel Acosta, 21, had traveled from Washington State to Astroworld to see Scott perform, his father, Edgar Acosta, told ABC13. His family said he had been studying computer science at Western Washington University. Edgar Acosta said at a press conference Monday afternoon that he was "devastated" by the loss of his son. The family's attorney, Tony Buzbee, said that victims, including Axel, died from "compressive asphyxiation" — that is, they couldn't breathe because of all the weight on them. "This is exactly what happened to Axel," Buzbee said in a press conference. "Defendant's gross negligence created such significant pressure onto his body that he could not breath. The air was literally slowly squeezed out of him, sending his heart into cardiac arrest."
"When he collapsed, concertgoers trying to escape their own suffocation, caused by the crowd rush, trampled over his body like a piece of trash," stated Buzbee, who said he expects to file suit on behalf of about three dozen people in the coming days.
Danish Baig, 27, died while trying to protect his fiancée, who survived. "He was [an] innocent young soul who would always put others before him. He was a hardworking man who loved his family and took care of us. He was there in a heartbeat for anything. He always had a solution to everything," his brother, Basil Baig, told the station.
Rudy Peña, 23, was among the victims. "I am starting a go fund me for my youngest brother (Rodolfo Angel Peña)'s passing please donate out of heart anything is great," his sister, Guadalupe, wrote on a GoFundMe page. "We will gladly appreciate and accept your donation in his honor by heart, Thank You. Rest in Peace and in loving memory of Rudy Peña."
Franco Patiño, 21, was a student at the University of Dayton, studying mechanical engineering, the TV station said. "He was talking to everyone how excited he was to see, to be there, to go," said Julio Patiño, the victim's brother. "He was saving up money to go with his best friend Jacob." Jacob "Jake" E. Jurinek, 20, was studying art and media at Southern Illinois University. "We are all devastated and are left with a huge hole in our lives," his father, Ron Jurinek, reportedly said in a statement to ABC. "Right now, we ask for the time and space for our family to process this tragic news and begin to heal. We're comforted by the fact that the hundreds of people Jake touched over the years will carry a piece of his spirit with them."
The Houston Chronicle reported Monday that 23-year-old Madison Dubiski was among those killed at Astroworld. "She was super bright, uplifting, and just an all-around sweet girl," Lauren Vogler, Dubiski's former classmate, told the newspaper. "I cheered with her when we were younger, and she was always so encouraging. She was definitely the life of the party and loved by so many people."
Bharti Shahani, a 22-year-old who had been in critical condition for days after the festival, died on the evening of November 10, her family's attorney announced November 11. Shahani attended the festival with her sister and cousin, but became separated from them, her cousin Mohit Bellani told a local ABC affiliate. "Once one person fell, people started toppling like dominos," Bellani said. "It was like a sinkhole. People were falling on top of each other … There were like layers of bodies on the ground, like two people thick. We were fighting to come up to the top and breathe to stay alive." Shahani had multiple heart attacks during the crowd surge, and first responders later dropped her head while transporting her away, her family confirmed. Shahani was put on a ventilator after the festival, and her family previously said she had no brain activity. She was a senior at Texas A&M University, studying electronics systems engineering, and had recently secured an internship for next summer.
Ezra Blount, a 9-year-old who had been in a medically-induced coma since the festival, died after days on life support. Blount was a huge Travis Scott fan, according to his family. "He was so stoked," his father Treston Blount told ABC 13. "He was ready to go." Ezra was sitting on Treston's shoulders, near the back of the concert, when the crowd rushed the stage. According to Treston, he passed out and Ezra fell to the ground. "Ezra's death is absolutely heartbreaking," the family's attorney said in a statement. "We are committed to seeking answers and justice for the Blount family. But we stand in solidarity with the family, in grief, and in prayer." Blount's grandfather told Rolling Stone that he wants to see some accountability for the tragedy that befell his grandson. "For him to have the injuries he has, I can't help picturing in my mind what he had to go through to get those injuries," he said. "Someone should be held responsible."
The Hollywood Reporter reported on Thursday, December 16 that the cause of death for the 10 Astroworld victims was compression asphyxia.
Was there someone in the crowd injecting people with drugs?
It's very complicated. TMZ reported Saturday that "a source connected to Astroworld" told TMZ "someone in the crowd went crazy and began injecting people with some sort of drug." The Hollywood Reporter, citing two sources, said that "police were looking into a drug-spiking incident in an area of the festival where the chaos first began. The sources said it appeared to have been targeted at unknowing people, and that the crowd surge may have resulted from panic as attendees ran for safety." The police's initial statement on these claims was that cops had seen these reports and were "investigating" them.
At the press briefing, Finner addressed the claims directly, saying, "One of the narratives was that some individual was injecting other people with drugs." While it remains unclear if that is the case, authorities do have a report of a security officer who was "reaching over to restrain or grab a citizen and felt a prick in his neck." When the officer was examined, he went unconscious and medics "administered Narcan," Finner said. (Narcan is given to people suspected of undergoing an opioid overdose.) "He was revived and the medical staff did notice a prick that was similar to a prick that you would get if somebody is trying to inject [a person]," Finner stated.
Later at the press conference, authorities revealed that Narcan had been administered "several" times at the concert. Authorities did not provide an exact number of doses, specific times, nor the exact circumstances under which the doses were given. During a press conference Wednesday afternoon, Finner said that investigators tracked down this security guard and that he did not describe a drug injection. "We did locate this security guard," Finner said. "His story is not consistent with that. He says he was struck in his head. He went unconscious. He woke up in the security tent. He says that no one injected drugs in him. So, we want to clear that part up."
The fire department said 11 of the patients it took to the hospital were experiencing cardiac arrest; it's currently unclear what could have caused that. Some attendees have said the on-site medical staff were insufficient. Eskins recalled that she woke in an area, sharing a bottle of water with someone. She told CNN there was only one AED machine, which is used to aid people in cardiac arrest, and only one Ambu bag, which is used to give air to people who aren't breathing normally. She said there were "maybe" four medics and claimed that "one of them did not even know how to check for a pulse." "There was only four of them doing CPR" while there were "three to four people in cardiac arrest at one time and one AED machine," Eskins claimed.
Did the concert stop right away?
This is where the timeline becomes tricky to parse. Finner said the Police Department saw attendees "going down" at 9:30 p.m. Fire officials said they initiated a "mass-casualty incident" around 9:30 p.m. Finner said police officials immediately told concert organizers about the escalating problems. The concert was canceled 40 minutes later, following discussions between the Fire Department and venue officials, according to the AP.
Finner defended how much time it took for the event to be shuttered. "You cannot just close when you've got 50,000 — over 50,000 — individuals, okay?" Finner reportedly remarked. "We have to worry about rioting — riots — when you have a group that's that young." Authorities said there were around 528 Houston Police Department officers at the venue and 755 private security agents.
The Houston Chronicle's music critic, Joey Guerra, told CNN, "[Scott] did stop the show, I want to say, three or four times when he noticed people in distress." Guerra also said Scott performed for about an hour and 15 minutes before ending his show.
Scott seemed like he was aware that something was up with the crowd, but might not have known the extent of what was happening, attendee Nick Johnson told the AP. Several reports indicate that Scott stopped his show at least twice.
During one of those times, social-media video appears to show Scott stopping his show and asking for help for someone in the crowd, saying, "Security, somebody help real quick."
On Friday, November 12, Stephanie Rawlings-Blake, Scott's spokesperson, told CBS Mornings that the notion that he could have stopped the show is "ludicrous." "They have a 59-page operations plan, and it clearly says the only two people that are, have the authority to stop the concert were the executive producer and the concert producer," she said. "He was not responsible for this, but he wants to be responsible for the solution."
Rawlings-Blake claimed Scott didn't realize the festival had descended into a deadly tragedy and attended an after-party at Dave & Buster's, where he tried to "regroup." "They were trying to figure out what was going on. It was hours and hours after the concert when they actually found out the tragedy, how the tragedy unfolded," she told CBS. "And he has not stopped grieving for these families. He knows that he is who he is because of his fans. His love for his fans is so deep." Scott, she maintained, found out what happened from his own team.
Scott's lawyer, Ed McPherson, has said Astroworld organizers would have "absolutely" put an end to the show if police had asked them to. "What possible reason would we have for keeping it going? In fact, in 2019, I believe it was during Astroworld when it went past the curfew, like, five minutes, the police went and pulled the plug," the local ABC affiliate quoted McPherson as saying. "They certainly could have done that if they wanted to."
On Good Morning America, McPherson was asked about the length of time between the declaration of a mass-casualty incident and the stopping of the show. During a Friday-morning interview, he said the mass-casualty declaration "never got to Travis. That never got to Travis's crew. He's up there trying to perform. He does not have any ability to know what's going on down below."
Were there any signs of crowd problems prior to this incident?
Yes. Finner said he visited Travis Scott personally ahead of his performance on Friday, expressing concerns about the crowd. "I expressed my concerns regarding public safety and that in my 31 years of law enforcement experience I have never seen a time with more challenges facing citizens of all ages to include a global pandemic and social tension throughout the nation," he said in part of a statement on Monday. "I asked Travis Scott and his team to work with HPD for all events over the weekend and to be mindful of his social-media messaging on any unscheduled events."
Mycah Hatfield, a local ABC reporter, said that "as we were arriving to the Astroworld Festival at NRG Park right at 2:00, a stampede burst through the gates. Hundreds of people destroyed the VIP security entrance, bypassing the checkpoint. People were trampled. Some were detained."
Amy Harris, a freelance photographer with the AP, remembered an "aggressive" crowd environment throughout the day. She said that atmosphere stemmed from how concertgoers were acting — pushing and hurrying toward stage barricades and closed-off VIP areas. "It was definitely the most chaotic festival environment that I've been in," Harris said. "I felt uneasy all day."
And on October 24, just over a week before Astroworld, prior to a Playboi Carti concert at the same venue, NRG Park, the Atlanta rapper's fans knocked down metal detectors and shifted metal barricades outside the venue. The concert organizers canceled this show because of the bedlam, Rolling Stone said.
Has anything dangerous ever happened at Scott's other shows?
Repeatedly so. In 2017, Scott encouraged a concertgoer at his Terminal 5 show in New York City to jump off a second-floor balcony, remarking, "I see you, but are you gonna do it?" At that same show, fan Kyle Green was paralyzed after being pushed off a third-floor balcony, Rolling Stone reported. In 2019, during the second Astroworld festival, hundreds of people rushed metal barricades to break into the event. Three people were hospitalized "with minor leg injuries from trampling," Rolling Stone noted. The Police Department first described the event as insufficiently staffed, tweeting that "promoters did not plan sufficiently for the large crowds," according to the local ABC affiliate. The Police Department deleted that tweet. It then posted a far rosier depiction of events, claiming it was "successfully working together" with organizers.
In 2015, Chicago police arrested Scott at Lollapalooza after he allegedly urged fans to climb over security barriers and come onstage, Rolling Stone reported. Scott pleaded guilty to disorderly conduct in 2018 for an incident at a Rogers, Arkansas, concert the year prior; local police said Scott "encouraged people to rush the stage" (per Billboard). Hip-Hop Lately also reported that Scott has deleted a tweet from May in which he seemed to support sneaking "wild" fans into his shows.
Live Nation, which produced Astroworld, has also been subjected to scrutiny for alleged safety problems, the Houston Chronicle reported. Over a three-year period from 2016 to 2019, Live Nation Entertainment and Live Nation Worldwide were "cited for ten OSHA violations and was fined for serious violations, including problems with a ladder, rope, and scaffolding that caused a fall at a theater in Connecticut in 2016," the newspaper stated. Officials found "minor violations" at an event venue in Mountain View, California, in 2017, and while conducting an inspection in Washington State in 2019. A non-union staff member was taken to the hospital for cuts early September 27, 2018, "when he was struck by a six-foot steel post that fell in a staging area at another California event." The promoter was handed a $10,000 fine for that incident, per the newspaper. Live Nation faced a civil suit after a concert attendee alleged she fractured her leg while in a packed crowd at an outdoor Gwen Stefani show in summer 2016.
In an interview with the local ABC station, McPherson addressed some of these prior incidents, saying, "I think if you talk to Travis, he'd say there were times in his life as a young artist where he did things that he didn't realize how much impact he has from the stage."
"I think he's matured. The power he has from the stage … he knows he can't do things he's done in the past … I've seen the footage of this. I didn't see anything out of the ordinary in terms of what Travis was saying. Any performer wants the crowd charged up, wants them engaged in the show. I didn't see anything that went beyond that," McPherson said.
Can Travis Scott face legal action for what happened?
Scott is already in hot water when it comes to civil litigation. Some concertgoers have hired attorneys to represent them in lawsuits against Scott, Live Nation, and others associated with producing the show. Attendee Manuel Souza, who's represented by firm Kherkher Garcia, LLP, is filing a petition that calls the tragedy "predictable and preventable."
"Tragically, due to Defendants' motivation for profit at the expense of concertgoers' health and safety, and due to their encouragement of violence, at least 8 people lost their lives and scores of others were injured at what was supposed to be a night of fun," Souza's petition says. He claims to have "suffered serious bodily injuries when the uncontrolled crowd at the concert knocked him to the ground and trampled him."
Ryan S. MacLeod, partner at Kherkher Garcia, LLP, said in a statement to Vulture, "As proud residents of Houston, we are sickened by the devastating tragedy that took place on Friday night. Travis Scott has a history of inciting violence and creating dangerous conditions for concertgoers. In fact, he tweeted that he would let the wild ones in after the show sold out. He and those who promoted and supported this concert must take responsibility for their heinous actions. We intend to hold them fully accountable by showing that this behavior will not be tolerated in our great city."
Another concertgoer, Kristian Paredes, is suing Scott, Drake (who performed at the show during Scott's set), and Live Nation. After Scott's show started shortly after 9 p.m., Paredes "felt an immediate push." Paredes, who is represented by the law offices of Thomas J. Henry, claims in the suit: "The crowd became chaotic and a stampede began leaving eight dead and dozens including Kristian Paredes severely injured. Many begged security guards hired by LIVE NATION ENTERTAINMENT for help, but were ignored."
Has Scott said anything?
Scott tweeted Saturday afternoon, "I'm absolutely devastated by what took place last night. My prayers go out to the families and all those impacted by what happened at Astroworld Festival." Scott also said, "Houston PD has my total support as they continue to look into the tragic loss of life."
Festival organizers earlier tweeted, "Our hearts are with the Astroworld Festival Family Tonight — especially those we lost and their loved ones."
Scott later posted an Instagram video on Saturday night, responding to criticism that he didn't stop the show amid the chaos, claiming that he wasn't aware of "the severity of the situation." "Anytime I could make out, you know, anything that's going on, you know, I stop the show and, you know, help them get the help they need," Scott claimed. Scott added that he's cooperating with authorities to "try to get to the bottom of this." Scott also said, "I'm honestly just devastated, and I could never imagine anything like this happening."
Kylie Jenner, Scott's girlfriend, also posted on Instagram in response to criticism that she kept posting on social media while the incident took place. (Jenner attended Scott's show with their 3-year-old daughter, Stormi; the couple are currently expecting their second child.) Jenner claimed that neither she nor Scott knew that people were dying or suffering injuries during his concert and learned of the deaths only after the show.
"Travis and I are broken and devastated," she wrote. "I want to make it clear we weren't aware of any fatalities until the news came out after the show and in no world would have continued filming or performing."
On Thursday, McPherson told the local ABC affiliate that Scott was so distraught he "hasn't left the house."
This post has been updated with new information and will continue to be updated throughout.