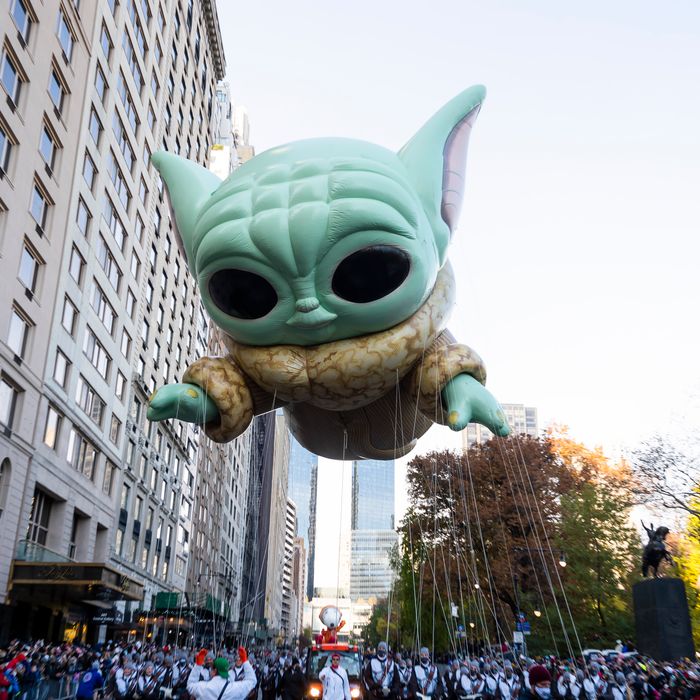 Photo: TheStewartofNY/Getty Images
There are plenty of things that people are thankful for this holiday season. Friends, family, and of course, Cousin Greg. The Succession actor Nicholas Braun started off the holiday by asking fans to comment "gobble, gobble," while "Thanksgiving Grandma" Wanda Dench reunited with Jamal Hinton for the sixth year in a row to celebrate turkey day. From heartfelt holiday traditions to parade enthusiasm, we're rounding up the best Thanksgiving celebrations and moments.
Stanley Tucci and Co. (the Co. is John Krasinski)
A Thanksgiving reminder from Taste author Stanley Tucci: John Krasinski and Stanley Tucci are related. (Tucci is married to Emily Blunt's sister, Catherine, while Emily is married to Krasinski.) Tucci hopes that this reminder has been a soothing salve to any holiday anxieties.
"Thanksgiving Grandma" Wanda Dench and Jamal Hinton
Who knew one accidentally text message would lead to a heartfelt Thanksgiving tradition. In 2016, Wanda Dench accidentally texted Jamal Hinton and invited him over for Thanksgiving. When he told her he wasn't her grandma and asked if he could still get a plate, she replied as all grandmas do, "Of course you can… That's what grandma's do feed every one." This will be the sixth year they'll be reuniting for the holidays. Dench's husband Lonnie unfortunately passed away due to COVID complications in 2020 however Wanda and Jamal continue to honor him during their yearly dinners.
Nicholas Braun
How fast can we type, "Gobble, gobble." NYC's hottest bachelor Nicholas Braun posted on Tik Tok that he was disappointed he did not receive a "gobble gobble" text message from friends and family this year.
Al Roker and Grogu
Upon seeing The Child in his full parade float form during the Macy's Thanksgiving Day Parade, Al Roker screamed, "Baby Yoda!" like a child opening gifts on Christmas morning.
Friends Cast
It's… giving! Friends-giving! The Friends cast has been yassifed for the holidays, and they're serving, even though Joey doesn't share food.
Weird Al Yankovic
Weird Al Yankovic sits on his computer as Grogu (Baby Yoda) floats on by during the Macy's Thanksgiving Parade.
Chris Fleming
Comedian Chris Fleming celebrated alongside the traditional Thanksgiving shark.
Trixie Mattel
Trixie Mattel invited fans to photoshop "whatever you want" on the TV and the internet accepted the offer.
Kim Petras and Her Coconuts
Global pop sensation Kim Petras and her coconuts sang "I Don't Want It At All" during the Macy's Thanksgiving Day Parade.
Chrissy Teigen
Chrissy Teigen is thankful for her sobriety. She explained that without shots of tequila, she was able to "enjoy everyone enjoying dinner" for the first time.
Chrishell Stause and Jason Oppenheim
The Selling Sunset couple put the giving in Thanksgiving by volunteering at a charity that provided meals for people in need.