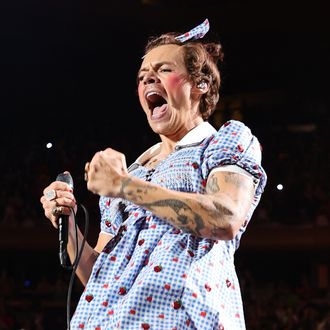 Harry Styles as Dorothy from The Wizard of Oz
Photo: Theo Wargo/Getty Images for HS
Celebrities had 365 days to come up with new Halloween costumes, and as evidenced this past weekend, musicians may have won spooky season. Harry Styles kicked off his Harryween Love On Tour concert dressed as Dorothy from The Wizard of Oz, Toto included. Lizzo showed up to Spotify's Halloween party as Grogu, better known to the internet as Baby Yoda from The Mandalorian. Other artists started early this year, like Doja Cat, who celebrated her 26th birthday with a Halloween costume party. She showed up as Princess Kida from Atlantis: The Lost Empire, while guests Billie Eilish, Winnie Harlow, Normani, and Jack Harlow embodied a lobster, a siren, a goldfish, and a great white shark, respectively. Now, Machine Gun Kelly and Megan Fox are competing with Kourtney and Travis for the best couple's costume. Drake also threw himself a costume party for his 35th birthday (… Scorpios) wearing a cowboy getup. Not a single celeb was brave enough to go as a Tim Robinson sketch. On the flip side, regular people continue to kill it dressing up as celebrities. Ahead, more celebrity Halloween costumes to shock and bewilder you below, including Megan Thee Stallion, Halle Bailey, and Steve Buscemi.
Jonah Hill As *sigh* … a Minion
Jonah Hill, his GF Sarah Brady, and their dog were all really serving "most popular costume of 2015" with this one. Even their dog is yawning!
Coco Jones As the Dangerously in Love album cover
Also known as the album where Beyoncé was obsessed with astrology before the rest of us.
Halle Bailey As 2008 Janet Jackson
And she captioned it "happy halleween." Legend.
Kylie Jenner, Travis Scott, and Stormi Webster As a Black Cat, Michael Myers, and a Mermaid
We love when a family costume doesn't even try to cohere. Let everyone do what they want.
Blake Lively As "Wrapped in Sequined Fabric and Wearing a Wig"
Blake Lively showed up to Amber Tamblyn's house and didn't even have a real costume thrown together.
Neil Patrick Harris Did That Thing He Always Does
Neil Patrick Harris and his husband, David Burtka, always do a themed photo shoot with their twins for Halloween. This year, the group went as different horror villains: Norman Bates, Jack Torrance, Chucky, and Regan.
Steve Buscemi As His Own Meme
How do you do?
Cardi B and Kulture As the Daughters of the Witches They Couldn't Burn
Dressed by drag-fave designer Garo Sparo.
Shea Coulee As BBL Bigfoot
Paying homage to @bigfoot_bae.
Megan Stalter Telling You About It, Stud
Oh, Sandy!
Sarah Michelle Gellar and Freddie Prinze Jr. Dancing Dirty
R.I.P. Patrick Swayze.
Rihanna As That One Pic of Gunna
We love when she trolls.
Chrissy Teigen As a Basket Case
That's a lot of potassium.
The Pitch Perfect Cast As "We Hope They're Not Making Another One of These"
Featuring Rebel Wilson as Squid Game, Anna Kendrick as a half-ass devil, and Brittany Snow as … a white woman?
Rachel Bloom and Her Husband Doing Gender-Swapped Jurassic Park
They tore.
Madonna As Generally Scary
Spooky ooky.
Anne Hathaway As Quirky 🤪
She's a "major party animal."
Chelsea Peretti and Nick Kroll As a Poorly-Cropped Post
Chelsea Peretti, pushing the boundaries of what an Instagram post can be. An artist.
Harry Styles As Dorothy From The Wizard of Oz
Harryween kicked off Saturday night as Styles wore a blue plaid dress with sparkly red shoes for his Madison Square Garden concert.
Ciara As the Queen of Tejano
Ciara practiced her Spanish and paid tribute to Selena Quintanilla by covering the late singer's 1994 hit "Bidi Bidi Bom Bom." Feliz Halloween!
Saweetie As a Catwoman-Approved Catwoman
The rapper posted a video of her prowling down a rooftop dressed as the DC superhero. When Halle Berry, the original Catwoman, showed up for an intense staredown, Saweetie explained that she was "just trying to get out here and get these coins." Hey, we talk a lot about letting the cat out of the bag. Sometimes the cat just wants to chase that bag.
Lee Yoo-mi As Our Favorite Doll
The Squid Game actress opted to portray her murderous costar, who true fans know as Chantal.
Lizzo Also Goes Full Murder Doll
Not content to do just one super au courant costume, Lizzo became Chantal for an October 30 performance.
Chlöe As the Baddest Fish
The "Have Mercy" singer gave us the ultimate animated throwback with the extremely in-demand Lola from 2004's Shark Tales. She did Angelina proud.
Heidi Klum As a Superzombie
The supermodel even made a seven-minute short film to go with her bloody costume.
Doja Cat As the Birthday Girl
Doja Cat came to her own party as Princess Kida from Disney's Atlantis: The Lost Empire. No Milo Thatch necessary.
Travis Barker and Kourtney Kardashian As One of the Most Famous Tragedies of Domestic Violence
The newly engaged Kourtney Kardashian and Travis Barker were inspired by another infamous rock couple: Sid and Nancy. Sid Vicious, bassist for the Sex Pistols, was charged with the murder of his girlfriend Nancy Spungen in 1978. He died of an overdose the next year while out on bail. Perhaps the creepiest costume of them all?
Stephanie Beatriz and Brad Hoss As Kourtney Kardashian and Travis Barker
It's hard to tell who's the real Kravis, but regardless, Beatriz and Hoss nailed it as the PDA-loving couple.
Megan Thee Stallion As Gottmik a Hell Priestess
This year, Megan Thee Stallion teased her Hottieween party with a killer Pinhead costume from the 1987 horror Hellraiser. According to her stylist, Zerina Akers, the Hell Priestess look is inspired by Drag Race season 13 star Gottmik.
Drake As His Culture of the Week
Drake threw himself a "Chico Amante" (Lover Boy)–themed, Narcos-inspired party and dressed up to match. But let's be real, wearing cultures as costumes is an everyday thing for him.
Hayley Kiyoko As Player 067 From Squid Game
Hayley Kiyoko had to be early with this one. She posted her Squid Game costume with an official review: "Thanks for convincing me to watch, it was worth getting through the blood and I'm absolutely obsessed."
Justin and Hailey Bieber As MerFolk
TBH, the guests at Doja Cat's party showed up more on theme than they do at the Met Gala.
Winnie Harlow As a Siren (the Other Kind)
Winnie also supplied us with photos of Teyana Taylor's shark getup, Billie Eilish in a lobster onesie, and Jack Harlow passing a suit off as a shark costume.
Normani As Nemo's Girlfriend
If this is her party look, we're not ready for Normani's actual Halloween costume.
Rachel Zegler As Envy Adams
While we're waiting for Zegler to cover "Black Sheep," she rocked it as Scott Pilgrim's ex without missing a beat. And also without blinking.
Kendall Jenner As the Corpse Bride
Jenner's Halloween posts have us turning our heads, mostly because we're struggling to figure out the strange camera angles.
Laci Mosley As Isis From Bring It On
I said: Brr, it's cold in here, there must be some Clovers in the atmosphere! Mosley broke it down as a Clover cheerleader.
Pearl Thusi As Queen Akasha
Thusi just gave us our new phone backgrounds as Aaliyah's character in Queen of the Damned.
Lizzo As Baby Yoda
We expected nothing less from Lizzo. Covered in green body paint and with a drink in hand, she belted out a song at a Spotify Halloween party and dipped out.
Hailey Bieber As Britney Spears
Mrs. Bieber dressed up in not one, not two, not three, but four different costumes to celebrate Britney Spears.
Beba Rexha As Anna Nicole Smith
This costume brings up many questions, but the main one is: Whose grandfather is this? Did Rexha have a casting call for J. Howard Marshall II? Why wasn't he tagged in the Instagram post? Despite our heads spinning, Rexha got all the small details of the iconic photo right, down to the wall decorations in the background.
Kaavia James Union Wade As Adele
Gabrielle Union-Wade and Dwyane Wade's daughter Kaavia posed for the camera as Adele. Family friend and actress Nicole Lyn and basketball player Chad Easterling's son Crosby dressed up as Rich Paul and joined Kaavia for a very cute photoshoot.
Janelle Monáe As the Grinch
Monáe wasted no time getting into the holiday spirit!
Ariana Grande As the Creature From the Black Lagoon
Ariana Grande and her husband, Dalton Gomez, made waves in their nautical couple's costume. Grande was the star of her own film in the movie poster art, and her private Instagram beau played a supporting, unnamed character.
Adam Rippon As Nicki Minaj's Cousin's Friend
We weren't sure whether to put this entry in our celeb roundup or our meme costume free-for-all, but let's give props to Rippon for buying the Minaj tapestry for full effect.
Conan Gray and Olivia Rodrigo As Wimpy Kid's Bro and Elvira Montana
Everyone's favorite power couple: a prankster drummer and a drug moll.
Cardi B As Morticia Addams
Mysterious AND spooky?? In this economy? Cardi B played one half of the goth community's favorite power couple. The only thing that would have made it better is if Kulture had been Cleopatra the man-eating plant. The Addams Family streams 24/7 on PlutoTV, btw.
Nina Dobrev, Shaun White, and Adam Devine As The Queen's Gambit
Do not understand this throuple, but good for them!
Willow Smith As Tyler Durden
I am Jack's judicious application of boob tape. Willow Smith will not rest until all of 1999 is cannibalized for her consumption — which is, to be quite frank, a vibe.