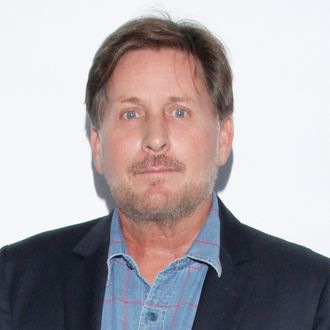 Photo: Jeremy Chan/Getty Images
Update, November 8, 4 p.m.: Emilio Estevez has responded to Deadline's previous report and addressed his departure from the second season of The Mighty Ducks: Game Changers. In a statement to Deadline, he said the exit was due to "a myriad of creative differences," rather than a stance against vaccines. "I am not anti-vaxx. Full stop," he said. "I take this pandemic very seriously, and I am often teased about my continued following of the safety protocols and my abundance of caution." The actor went on to reveal that he contracted COVID-19 in March 2020, shortly after filming the Mighty Ducks pilot, and went on to suffer from "long haul syndrome" through fall of that year.
When the Disney+ show resumed production in August 2020, he said he "reluctantly soldiered on" despite safety concerns. According to Estevez, his former reps warned him about legal jeopardy if he did not report to work. He said he did not share his diagnosis at the time because he wanted to preserve show morale. "In retrospect, I wrongly chose to protect the show over being transparent about having contracted COVID-19," he said. "I may have provided another public example to wit, how we are all vulnerable to this deadly disease." After affirming that he is "anti-bully" rather than anti-vaxx, Estevez noted that his departure is due to "a myriad of creative differences" and he will miss the Ducks cast and crew. "It was an honor and a thrill to be able to return as the iconic and beloved character, Gordon Bombay, a character which has been a celebrated benchmark in my 40-year career," he said.
Original story follows.
He's ducked out on the Ducks. Deadline reports that Emilio Estevez will not be reprising his role as former Ducks coach Gordon Bombay for the second season of Disney+'s hockey show The Mighty Ducks: Game Changers. Sources told Deadline that Estevez was not willing to provide proof of compliance with the show's COVID-19 policies, which include a mandatory vaccination requirement for all actors. Reportedly, creative differences may have also played a role. (Neither Disney nor Estevez have commented on the exit.) The actor was also an executive producer on the show.
In the first season of The Mighty Ducks, which is a follow-up to the '90s film franchise, Bombay is recruited to help an underdog team of young hockey players formed by a mother-son duo (Gilmore Girls' Lauren Graham and Good Boys' Brady Noon). The show was renewed for another installment back in August, with production planned to start in early 2022. Graham and Noon are still set to return to star for season two, alongside Maxwell Simkins, Swayam Bhatia, Luke Islam, Kiefer O'Reilly, Taegen Burns, Bella Higginbotham, and DJ Watts. All that's missing is the Ice Palace owner. Good luck, Ducks!