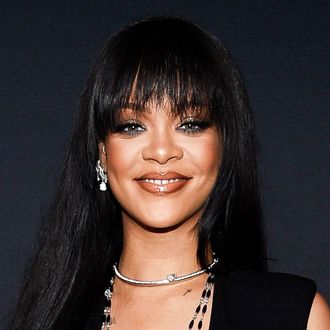 Photo: Evan Agostini/Invision/AP/Shutterstock
Update, 12:30 p.m.: That's the Right Excellent Robyn Rihanna Fenty to you. More details have emerged regarding Rihanna's official new title in her home country, where she has been named a national hero. Her excellency's message in her first address with the new title? "The people, man. Y'all are the true heroes of Barbados, and I take y'all with me wherever I go," Rihanna said as she accepted the honor. "I'm so proud to be a Bajan. I'm going to be a Bajan till the day I die. This is still the only place I've ever called home." Hear, hear!
Original story follows:
Hey, Mr. DJ, can you turn this news up? The Caribbean country of Barbados became a republic on November 29, severing its ties to Queen Elizabeth II and the Crown. More important, at the same ceremony, the country named Rihanna a national hero — which doesn't quite mean she's the new queen, but it doesn't not mean that, either. Rihanna was born in Barbados and has been proud of her heritage throughout her career; recently, at the beginning of the coronavirus pandemic, she donated $700,000 in ventilators to the country. "May you continue to shine like a diamond and bring honor to your nation by your works, by your actions," Prime Minister Mia Mottley told Rihanna during the ceremony, in which she became just the second woman and the 11th person total to be named a Barbadian national hero. Maybe her new title will provide some inspiration for new music, now?