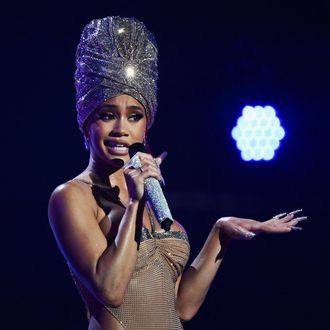 The original Icy Grl.
Photo: Attila Kisbenedek/AFP via Getty Images
McDonald's muse Saweetie is in her element on new solo single "Icy Chain." It arrives a day ahead of her debut on Saturday Night Live with host Simu Liu of Shang-Chi. The extremely twerkable track relies on Saweetie being in the fro-zone — rapping for most of the just-under-two-minute song. "Twerk that ass for a icy chain," the chorus repeats, hyponitizing casual listeners into "icy grls." Only Mariah Carey is more on-brand this time of year. Saweetie's warming fans up for her debut album, Pretty Bitch Music, now arriving in 2022 with tracks like "Tap In," "Back to the Streets" with Jhené Aiko, "Best Friend" featuring Doja Cat, and "Fast (Motion)." Meanwhile, she's collaborating with Halle Berry on the soundtrack for actress's directorial debut, Bruised. Saweetie offers up a brand-new song, "Attitude," along with the H.E.R., City Girls, Flo Milli, Cardi B, and more on the first-ever all-female hip-hop soundtrack. She also contributed "Get It Girl" to Issa Rae's Insecure season-five soundtrack. Saweetie is set to perform "Icy Chain" on SNL this weekend, hopefully ringing in Icy Grl Winter with a performance that'll go viral for the right reasons.