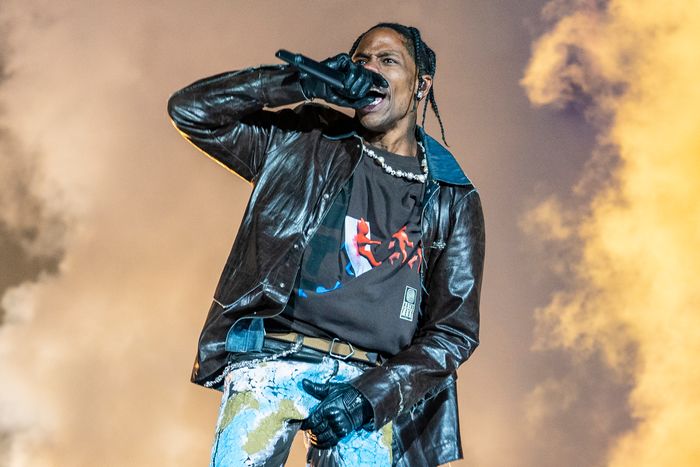 Travis Scott performs at Astroworld 2021.
Photo: Erika Goldring/WireImage
Ten people have died and numerous others were hospitalized as a result of injuries sustained at Travis Scott's Astroworld music festival in Houston Friday night. The youngest person who died was 9 years old. The tragedy unfolded around 9 p.m. Friday when attendees pushed toward the stage during the rapper's headlining set. People were trampled, officials said.
"This is now a criminal investigation that's going to involve our homicide division as well as narcotics, and we're going to get down to the bottom of it," Houston police chief Troy Finner said at a press conference Saturday afternoon.
The Houston Fire Department initiated a "mass-casualty incident" at about 9:30 p.m., and authorities transported 25 people to the hospital. The fire department transported 12 of those patients and said 11 of them underwent CPR en route to the hospital. Eight fatalities were confirmed immediately after the event, the department said.
Thirteen of the people taken to the hospital remain there; four have since been discharged. Five of the people hospitalized were under the age of 18, Houston mayor Sylvester Turner said at a press conference Saturday. A ninth victim died Thursday, her family's attorney announced, after she had been declared brain dead from her injuries. A tenth victim died Sunday, according to the victim's family.
Turner said the victims who died ranged in age from 9 to 27. One was 9, one was 14 14, one was 16, two were 21, one was 22, two were 23, one was 27, and one's age remains unknown. Zero people were reported missing, he said.
The causes of the fatalities remains unclear and "are still under investigation by the medical examiner's office," a spokesperson for the fire department said.
About 50,000 attendees were at the outdoor music festival Friday. At a press conference Saturday morning, Houston fire chief Sam Peña said, "We had scores of individuals that were injured."
"There's lots of speculation going on right now," said Houston Fire Department spokesperson Abby Cortez. "The whole incident is under investigation."
Asked about reports that someone in the crowd had injected concertgoers with drugs, a Houston Police Department spokesperson told Vulture officials they were "investigating" the claims.
"One of the narratives was that some individual was injecting other people with drugs," Finner said at a press briefing Saturday. The police had a report of a security officer who was "reaching over to restrain or grab a citizen and felt a prick in his neck," he said.
When the officer was examined, he fell unconscious, and medics "administered Narcan," Finner said. Narcan is administered to people suspected of undergoing an opioid overdose.
"He was revived, and the medical staff did notice a prick that was similar to a prick that you would get if somebody is trying to inject" someone, he said.
"The other thing that's very important," Finner said, is "there were some individuals that were trampled."
Finner said 25 arrests were made Friday, 23 of which were for trespassing
At one point, Scott stopped the show and asked for assistance for an attendee, saying, "Security, somebody help real quick," the Associated Press reported.
Amy Harris, a freelance photographer for the AP, recalled an "aggressive" crowd during the day with attendees shoving and rushing toward stage barricades and closed-off VIP areas.
"It was definitely the most chaotic festival environment that I've been in," Harris told the AP. "I felt uneasy all day."
Houston Chronicle music critic Joey Guerra told CNN, "I've never seen a show result in anything like this."
"You see things like that a lot — people being carried out because of exhaustion or dehydration or things like that," Guerra told the news network. Scott "did stop the show, I want to say, three or four times when he noticed people in distress."
Guerra said Scott performed for around 75 minutes before stopping the set.
Madeline Eskins, an ICU nurse who attended the festival, told CNN she was so overwhelmed by the crush of people she fell unconscious.
"I passed out because people were pushing up against me so much that I couldn't breathe," she said in an interview Saturday morning. Eskins said she and her boyfriend got to the stage around 6:30 p.m to get a spot up front. A countdown clock appeared on a screen 30 minutes before Scott took the stage, and as time went on, Eskins said it got more and more crowded.
"All of a sudden, people come pressed up against each other pushed forward and backward." As the timer got closer, she said, "it got worse and worse."
"I had constant pressure on my chest," Eskins recalled. "I was being squeezed."
"Right when he started performing his first song, I looked at my boyfriend and said, 'We have to get out of here.'" But they were unable to leave the area.
"I just remember looking up, passing out, and then I was in and out for a little while," she recalled. "I didn't see anything, but I could kind of feel what was going on."
"Someone pulled me over a fence, and then I passed out again," she said.
Eskins woke up in a different area and shared a water bottle with someone. When asked about the medical resources on the ground at that point, she said there was only one AED machine, used to help people in cardiac arrest, and one Ambu bag, used to provide air to people who are having difficulty breathing. (Eskins's description was of the resources in place on the concert grounds, not those provided by first responders.)
There were "maybe" four medics, Eskins said. "One of them did not even know how to check for a pulse."
"There was only four of them doing CPR," she said, and there were "three to four people in cardiac arrest at one time and one AED machine."
Eskins, who said she has gone to other heavily attended concerts before, said this one was different.
"It was way more crowded," she said. "I don't know what happened."
"I've always been toward the front, and yes, it is tight — but I've never been feeling like I was going to pass out."
"If my boyfriend had not gotten me out of there, I think that I would have been part of the statistic," she said, referring to the deaths.
Earlier Friday, there appeared to be at least one chaotic incident related to crowd control. Local ABC reporter Mycah Hatfield said on Twitter, "As we were arriving to the Astroworld Festival at NRG Park right at 2:00, a stampede burst through the gates. Hundreds of people destroyed the VIP security entrance, bypassing the checkpoint. People were trampled. Some were detained."
Live Nation, which produced the festival, has been the subject of scrutiny for alleged safety and antitrust violations before, the Chronicle reports. Between 2016 and 2019, Live Nation Entertainment and Live Nation Worldwide "were cited for 10 OSHA violations and fined for serious violations, including problems with a ladder, rope and scaffolding that caused a fall at a theater in Connecticut in 2016," the newspaper said.
Authorities discovered "minor violations" at a venue in Mountain View, California, in 2017 and during an inspection in Washington State in 2019. In a September 2018 incident, a nonunion staffer was hospitalized for cuts after "he was struck by a 6-foot steel post that fell in in a staging area at another California event." The promotor was hit with a $10,000 fine, according to the Chronicle.
Live Nation was sued when a concertgoer said she broke her leg during a crush of people at an outdoor Gwen Stefani show in July 2016. Citing news reports, the Chronicle noted Live Nation was under scrutiny from the Justice Department "for antitrust violation regarding online sales in the wake of its 2010 merger with Ticketmaster, the largest ticket sales company."
Scott addressed the situation in a tweet Saturday afternoon. "I'm absolutely devastated by what took place last night," he said. "My prayers go out to the families and all those impacted by what happened at Astroworld Festival."
"Houston PD has my total support as they continue to look into the tragic loss of life."
In an interview with the New York Times, Turner, the Houston mayor, claimed Astroworld had "more security over there than we had at the World Series games."
Turner said the festival occurred on county property and security was put together by the city of Houston. The police department sent hundreds of officers "in addition to what I'm told were 240 or 250 nonpolice security that were there," he claimed.
Turner told the Times he wouldn't make any judgements about security procedures yet. "I'm going to hold any sort of conclusion pending a thorough review and investigation," he said. He said it would be premature to determine whether any of the fatalities were due to drugs.
"We do know that there were several cases of cardiac arrest. What was the cause of that?" Turner remarked.
"I don't even want to go to drug overdoses," he said. "We are looking at all potential causes of this incident or what caused the cardiac arrest. We're not taking anything off the table."
The mayor's office tweeted Saturday, "The city of Houston extends our condolences to the loved ones of 8 people killed & several injured at #ASTROWORLDFest. Organizers held the event to bring people together for music, but it sadly ended in tragedy. Thanks to police, fire & other agencies that responded to assist."
"What happened at Astroworld Festival last night was tragic, & our hearts are with those who lost their lives & those who were injured," Texas governor Greg Abbott tweeted Saturday. "Thank you to the first responders & good Samaritans who were on site & immediately tended to those who were injured in the crowd."
The festival's organizers tweeted: "Our hearts are with the Astroworld Festival family tonight — especially those we lost and their loved ones." The remainder of the festival was canceled.
Authorities set up a reunification center so families can find information about any relatives who remain missing.
This post has been updated throughout.