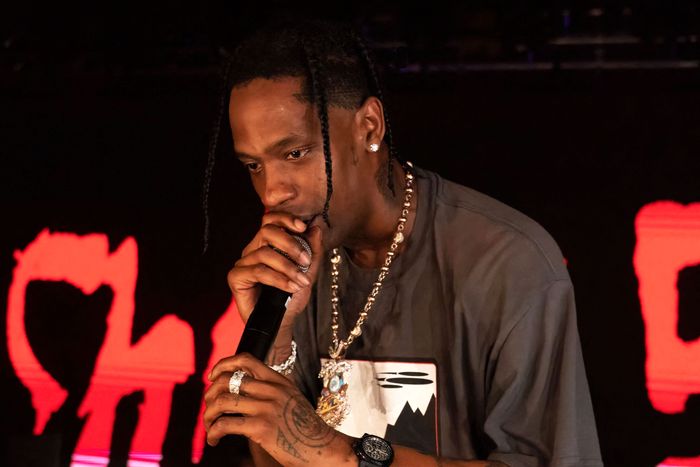 Photo: Suzanne Cordeiro/AFP via Getty Images
Travis Scott posted a response to the Astroworld tragedy to Twitter, which killed eight people and injured many others during his set on Friday night. Scott reportedly stopped the show multiple times during his set to draw attention to audience members who needed medical attention. Vulture confirmed from officials that one of the youngest people hospitalized was 10 years old and that officials are investigating claims made from various news outlets.
Scott posted on Twitter:
I'm absolutely devastated by what took place last night. My prayers go out to the families and all those impacted by what happened at Astroworld Festival.




Houston PD has my total support as they continue to look into the tragic loss of life.




I am committed to working together with the Houston community to heal and support the families in need. Thank you to Houston PD, Fire Department, and NRG Park for their immediate response and support. 




Love You All.



Earlier Saturday morning, Astroworld posted a statement on Instagram stating that the festival was canceled as they are focused on working with local officials.
Apple Music, who live streamed the concert on Friday night, published a statement to Twitter.
Update, November 7 at 10:00 am: Scott further responded to the tragedy in an emotional Instagram video on Saturday night, addressing criticism that he refused to stop the show after the deadly crowd crush and claiming that he wasn't aware of "the severity of the situation." "Anytime I could make out, you know, anything that's going on, you know, I stop the show and, you know, help them get the help they need," he said. He added that he's working with authorities to "try to get to the bottom of this." Scott continued, "I'm honestly just devastated, and I could never imagine anything like this happening."
Following Scott's video, Kylie Jenner, Scott's girlfriend, issued a statement on her Instagram Stories Saturday night. Jenner, in direct response to criticism that she continued posting to social media as the tragedy unfolded, also claims that neither she nor Scott were aware of the deaths or injuries during the show. "Travis and I are broken and devastated," Jenner wrote. "I want to make it clear we weren't aware of any fatalities until the news came out after the show and in no world would have continued filming or performing." Jenner attended the concert with her daughter Stormi, and is currently pregnant with the couple's second child.
Update, November 7 at 1:00 p.m.: Roddy Ricch, who also performed at Astroworld, announced that he would be donating his festival earnings to the families of those impacted by the tragedy. "I'll b donating my net compensation to the families of this incident," he wrote on his Instagram Story. At least eight people died at Friday's event.
Update, November 9 at 1:00 a.m.: Drake, who made a surprise appearance at Astroworld, has addressed the tragedy in an Instagram post. "My heart is broken for the families and friends of those who lost their lives and for anyone who is suffering," he wrote. "I will continue to pray for all of them, and will be of service in any way I can." The rapper has also removed a previous post that included photos from his performance with Scott at the festival.