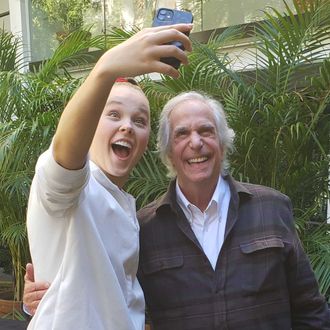 JoJo Siwa selfies with Henry Winkler at Vulture Festival 2021
Photo: Vulture
After a brief (virtual) hiatus, Vulture Festival landed on Hollywood Roosevelt once again for the fourth year. This year, the festival attracted leading actors, directors, dancers, reality stars, and a dog named Bosch. Attendees piled into the exclusive events hosted by Vulture editors, writers, and a few special guests (Hi, Carrie Brownstein!). Champagne was sipped, exclusive clips were debuted, and the rest, well, you had to be there.
Ahead, the highlights from Vulture Fest, featuring best behind-the-scenes photos, videos, and fan-favorite moments.
Saturday
➽The weekend began with the morning selfie seen 'round the world: Ahead of their events, Henry Winkler and JoJo Siwa crossed paths to take a selfie and record a video for Winkler's grandkids.
➽The final six Dancing With the Stars semi-finalist couples (excluding Suni Lee, who had class) arrived to give some DWTS gossip and teach TikTok dances. Every duo completed the assignment, but Iman Shumpert, alongside his partner, Danielle Karagach, was the standout star. The NBA athlete has gotten further in the competition series than other NBA player in the past, and he didn't let the crowd forget it. He also doesn't take any smack talk from other athletes, despite being called "twinkletoes."
➽Panel host and Vulture writer Justin Curto sums up the main takeaway from the event.
➽On the other side of the festival, Henry Winkler was leading an acting class that I heard be described as "magical." One of the lucky actors to receive some of Winkler's sparkle was Caroline Keeler, who described the veteran actor as "a blessing of a human."
➽In between events, attendees stopped by The Price Is Right to spin the game show's signature wheel.
➽The Cowboy Bebop panel featured a brand-new clip from the highly anticipated new Netflix series, out November 19, but most importantly it featured John Cho in denim.
➽On the roof, attendees lined up to meet C'mon C'mon's Mike Mills, Woody Nelson, and Vulture critic Angelica Bastien post-panel.
➽Jeff Goldblum's fringe made an appearance alongside Carrie Brownstein at the Jeff Goldblum's World panel. Also, legos.
➽Simon Rex and a new Scary Movie, when?
➽Saturday evening, Vulture hosted a tipsy, rowdy, and emotional Insecure pre-union panel. Fans learned that Yvonne Orji gets no say in Molly's script and behavior, the show was always going to be five seasons, and that if we ever see an "Insecure" "movie," then Issa is seriously "down bad."
➽Elle Fanning describing Gillian Anderson during her The Great panel: Mommy, sorry. Mommy. Sorry — Mommy.
➽Vulture hosted the all-female lead cast — all ten talented women — of Showtime's Yellowjackets while premiering the first episode. Check out our review of the first episode here.
➽The final season of Search Party is, unfortunately, inevitable. Luckily, the cast graced Vulture with a full hellish debrief ahead of the premiere, January 7.
Sunday
➽The second day of Vulture Festival started with some breaking news from Bosch: the show's spinoff series, headed to IMDb TV, will be called — drumroll, please — Bosch: Legacy. The news was announced by the show's star Titus Welliver, with an assist from Bosch, the dog.
➽Ahead of the season 4 premiere, The Marvelous Mrs. Maisel's Tony Shalhoub and Marin Hinkle stopped by the festival to share a few dips onstage.

➽Class is in session: Spencer director Pablo Larrain walked a group of cinephiles through a few of his most formative movies, ranging from Back to the Future to A Woman Under the Influence. He also revealed that Spencer was almost a comedy.
➽The crowd was fully engaged for Meredith and Brooks Marks. Presents were wrapped. Tea was spilled.
➽ Danielle Perez, Jamel Johnson, Robin Tran, Rachel Sennott, and Nori Reed joined Joel Kim Booster to perform under some palm trees.
➽Behold: Seth Rogen's pottery. He doesn't know why everyone is so obsessed with it.
➽Seth Rogen and Jesse David Fox's holiday spectacular conversation was full of celebrity crashers — one more vocally than the other two. David Krumholtz, one of Rogen's best friends and star of The Santa Clause, stopped by to heckle Rogen, who was there to promote his new HBOMax series, Santa Inc.. Later in the conversation, Jaden and Willow Smith joined just in time to hear Rogen coincidentally recount a story about their dad, Will Smith. After the panel, the Smiths and Rogen met up for an unexpected photo opp. A Christmas miracle?
➽After airing the season six finale of Queen Sugar, the show's stars talked about the how to better nurture success in Hollywood talent. Star Kofi Siriboe's thoughtful and thought-provoking response earned a sea of applause.