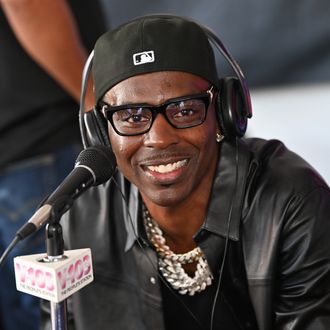 Young Dolph, legally Adolph Robert Thornton Jr.
Photo: Prince Williams/Wireimage
Memphis law-enforcement sources confirmed the death of rapper Young Dolph on Wednesday, November 17. Legal name Adolph Robert Thornton Jr., the 36-year-old father was shot and killed outside a bakery he frequented. The internet flooded with reactions to the heartbreaking news as friends and fans went online to share their tributes to the late rapper. His collaborator and cousin, Key Glock, deactivated social-media accounts as the news spread. Dolph's 2020 album Rich Slave, which features Key Glock, peaked at No. 4 on the Billboard charts. Dolph was known not only for his music but for his generosity. In 2018, the rapper gave $20,000 to two college students who were fired from their jobs for playing his music while at work. During the holidays in Memphis, he's known to donate turkeys to families in need.
On November 17, Dolph's longtime partner, Mia Jaye, spoke out about his death on Instagram Stories. Jaye posted a video of Dolph with their daughter with the text, "Question is … How am I going to tell my babies that daddy is never coming home?" She followed this with the words, "God give me strength … Adolph I love you with all my heart and soul," and "Thank you to everyone for all of your prayers, love, support, calls, messages … I may not see them all but when my eyes are not full of tears, I catch a few … Nonetheless, all the genuine positive vibes, energy and prayers are welcome … because Lord knows I need them …" Jaye also shared a GoFundMe for the bakery that Dolph had been visiting before his fatal shooting. Jaye uses her Instagram account to promote a campaign called "Black Men Deserve to Grow Old," advocating against violent, fatal crime.
Megan Thee Stallion, Chance the Rapper, JPEGMafia, Zack Fox, Gucci Mane, and more also paid their respects to Young Dolph by remembering his talent, kindness, and legacy. Read their social media tributes below.
This post has been updated throughout.