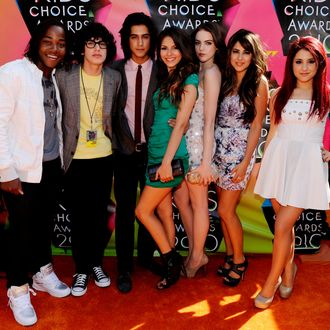 Photo: Larry Busacca/KCA2010/Getty Images for KCA/2010 Getty Images
Adam McKay needs to make a visit to Hollywood Arts ASAP! McKay revealed that he didn't know that Ariana Grande, aka Cat Valentine herself, could improvise in Netflix's YouTube series Seriously Funny Film School with Adam McKay. Her character Cat Valentine mainly took improvisational classes at Hollywood Arts High School with Mr. Sitowitz. Of course, she's a yes and-ing improv star! Does the quote, "One time, I ate a hamburger and then like an hour later I started sneezing, but I don't think it had anything to do with the hamburger" mean nothing to him?!
When talking about Grande in his new film Don't Look Up, McKay shared that Grande's best improv was when she first sang the song "Just Look Up." "She's the one who added all that stuff about 'we're all gonna die', 'turn off that shitbox news'. That was her riffing on the first scratch track of the melody line. The second I heard it, I was like, 'Oh, that's going in the movie,'" said McKay on working with Grande.  Grande also gushed about working with McKay, calling him "one of [her] comedy heroes." If McKay wants to begin his Victorious journey, may I suggest this 5.5 hours long deep dive into the Nick series?