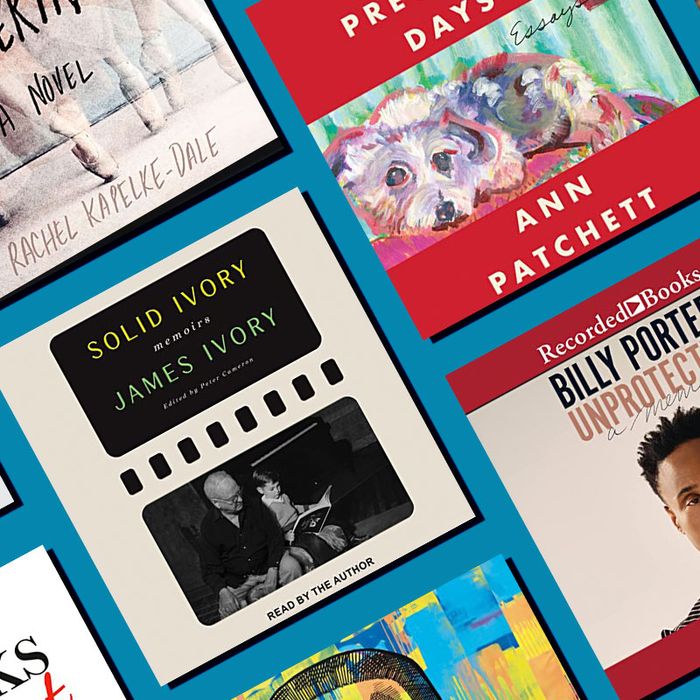 Photo-Illustration: Vulture; Photos by Publishers
The audiobook category is expanding every day, and we certainly can't listen to everything. The goal of this monthly column is to steer you toward audiobooks that we hope will provide the best experiences, pop-culture value, and something to talk about at your cocktail party.
Read by: the author
Length: 12 hours, 22 minutes
Speed I listened: 2x
This memoir from the Emmy-winning star of Pose is tough-talking, even excoriating, and you feel it in Porter's blistering narration. I wouldn't even really call this narration. It's more like a full-on performance. Some line readings I particularly appreciated include: "Can Rosie O'Donnell even sing?" said by Porter about auditions for a revival of Grease starring the former TV host. "Put your 50-year-old fucking pants on," he tells himself as motivation. "The smoke up my ass is giving me IBS," he says when he feels too much flattery is being thrown his way. Porter is clearly a tough customer, and following his own path brought many ups and downs. But there's a lot to glean here about how important it is to trust your instincts.
Read by: the author
Length: 9 hours, 50 minutes
Speed I listened: 2x
I'm not even sure what compelled me to listen to this television actress's memoir. We were a Falcon Crest and Dallas family, not a Cagney and Lacey one. But once I started, I couldn't stop. Besides random facts like that the chopped salad at the Polo Lounge in Beverly Hills is named after her grandfather, being in Gless's company is often as riveting as spending time with Billy Porter. That's part of the fun of a celebrity memoir — when it just goes there with no filter and pretension. And Gless is a brassy dame. (One chapter here is called "America's Sweetheart: Not Me.") She endows every alcohol escapade and every Hollywood anecdote with so much emotion. I especially dug the story about a fake fight she staged at one of her own parties with the late Lynn Redgrave to amuse her guests. That doesn't happen enough at Hollywood get-togethers these days.
Read by: the author
Length: 11 hours, 13 minutes
Speed I listened: 1.9x
Ann Patchett is an amazing literary best-selling novelist (Commonwealth, Bel Canto). She owns a bookstore called Parnassus in Nashville. She's friendly with Tom Hanks (who read the audio of her last book, The Dutch House). After listening to this new collection of her essays, I would also like Patchett to make a meditation app. There's something so dreamy, kind, and soothing about her voice. Listening to it, you feel safe and at home, whether she's talking about how much she loves Snoopy or how acquaintances think it's odd she doesn't want children. The main event here is the title essay, about Patchett's adventures with Hanks's longtime, cancer-stricken assistant Sooki during the pandemic. Reading it is special enough. Listening to Patchett read it is magic. (I sobbed.)
Read by: Ell Potter
Length: 13 hours, 21 minutes
Speed I listened: 2x
This thriller is set amongst the ballerinas and artistic staff of a corps de ballet in France. You don't get the milieu of contemporary Paris in a lot in thrillers these days. What you do get a lot of in thrillers these days is Me Too plots, which this book also has. What I most enjoyed here was Potter's narration. Her British accent adds even more sophistication to this creepy, insular ballet world. It manages to make the book both forlorn and chilling, and potentially even more interesting than it actually is.
Read by: Will Smith
Length: 16 hours, 16 minutes
Speed I listened: 2x
I'm mostly curious if Will outsells Matthew McConaughey's Greenlights, which spent close to a year on the New York Times' Best Sellers List. They're both amalgams of memoir and self-help. McConaughey speaks in terms of "red lights" and "green lights" guiding him through life. Smith uses buildings as a metaphor. An opportunity is just "another brick waiting to be laid." I was intimidated by the length of this audiobook, and its familiar start in Smith's rough childhood is a bit rocky. But Smith got his hooks into me once he started singing from the musical Purlie. The way he describes his calculations to become the biggest movie star in the world are fascinating, too. Is it refreshing or existentially debilitating to know that Smith has pretty much everything he could want but still isn't totally fulfilled? You decide.
Read by: the author
Length: 15 hours
Speed I listened: 1.6x
It's one thing that Ivory, a producer, director, and screenwriter involved with such uptight award bait as Howard's End and Remains of the Day, writes so much about his active sex life over the last eight decades in the diaries that populate this memoir. It's another thing to hear Ivory narrate his exploits so un-self-consciously. Ivory describes the various male members (i.e., penises) in this book with such casual nonchalance for a nonagenarian I almost wish he taught a master class in how to speak frankly about intimate things without giggling and turning crimson. Maybe it can be a B-side of the meditation app Patchett will hopefully someday develop, but Ivory is 93, so they ought to hop to it. Ivory's tale of making Call Me by Your Name with Luca Guadagnino is especially juicy, from the nugget that Shia LaBeouf was originally cast in the Armie Hammer part to how Guadagnino iced Ivory out of his life.
Read by: Amy McFadden, Ralph Lister, Robert Petkoff
Length: 43 hours, 37 minutes
Speed I listened: 2.2x
I don't quite believe I spent 43 hours —okay, at double the speed, closer to 24 hours — listening to this oral history of HBO, but I can't say I didn't enjoy it. A lot of the juice here is about past HBO executives (Carolyn Strauss, Michael Lombardo, Richard Plepler, Sheila Nevins) that on the page would likely be hard to follow. I don't know if I missed some of the nuance of their feuds in the audio because it's sometimes even harder to decipher who's on first and when. The "as told to" format with only three narrators didn't bother me, though, except when one of the readers drops into a British accent as "Ricky Gervais." It's great to play in the background so you can tune in and out when something gets especially spicy.
Read by: the author
Length: 15 minutes
Speed I listened: 1.45x
I often listen to a track by David Gandelman on Insight Timer to help fall asleep at night. He's just the right combo of goofy dad jokes and comforting. I may start alternating with this strange and short audiobook. Pera, a boyish comedian, simulates a palliative 15 minutes in the bathroom. It's somehow funny, inspiring, helpful, and true. "One thing that helps me calm down is to repeat the word 'Hawaii' over and over," narrates Pera, who says "Hawaii" in all sorts of different permutations. "You could say 'Tampa, Tampa,' but it's not the same." I don't think I've gotten better advice all month.
Read by: the author
Length: 15 hours, 6 minutes
Speed I listened: 2.2x
Listening to his spry narration, it's hard to believe that Brooks is 95 years old. 95! It's possible that he seemed younger to me because I doubled the speed of his audiobook. Still, talking for 15 hours is a lot for anyone, let alone a 95-year-old. In a lot of celebrity memoirs these days, actors fully re-create the speeches they already gave when they win awards. Porter, for example, reenacts acceptance speeches from the Tonys and the Emmys. I find it a little canned. Brooks takes things a step further and re-creates comedy schtick, songs from The Producers, full scenes from Blazing Saddles. Could I have done without some of them? Yes! But he's Mel Brooks, he's 95, and I'd completely forgotten about Daphne Zuniga and the 1987 movie Spaceballs. Also: Brooks's 40 years with Anne Bancroft has always spelled real Hollywood romance for me — I know, I'm a meshugganah — and getting to hear him speak about their opposites-attract relationship is especially affecting.