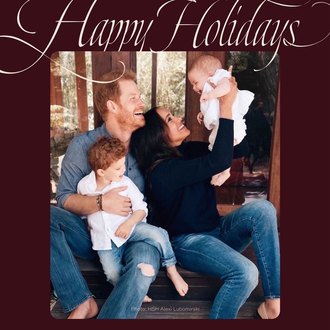 Harry and Meghan released their first-ever picture of daughter Lilibet in their family Christmas card.
Photo: archewell_hm/Instagram
'Twas the night before Christmas, when all through the 'gram,
The celebs were all posting, decked out in full glam;
The captions were penned by PR teams with care
In hopes that some sponsor cash soon would be there;
The children were wrangled to pose in their jammies
For curated visions of rich happy families;
We shook from our mid-winter's scroll with a startle
When a new post was posted — from Harry! And Markle!
We gasped at the sight and we shook at the thrill of it
For there was the first pic of new baby Lilibet!
This year has been fucked, but celebs are consistent
They've all kept on posting (with help from assistants);
So here's a quick list of their holiday toasting
Happy Christmas to all, and to all happy posting!
Harry and Meghan:
William and Kate:
Mariah Carey:
Gwen Stefani:
Heather Rae Young and Tarek El Moussa:
Lizzo:
Billie Eilish:
Olivia Rodrigo:
Courtney Love (and a picture of Madonna):
Victoria Justice:
Tracee Ellis Ross:
Rihanna:
Nicki Minaj:
Chlöe Bailey:
Halle Bailey:
Millie Bobby Brown and new bf(?), Bon Jovi's kid:
Colton Underwood:
Meghan Trainor:
Taylor (and Tay) Lautner:
Halle Berry and Van Hunt:
Jamie Dornan:
Taraji P. Henson:
Chris Hemsworth:
Janelle Monáe:
Dua Lipa:
Elliot Page:
Sofía Vergara:
Miley Cyrus:
Jennifer Lopez:
Reese Witherspoon:
Britney Spears and Sam Asghari:
Victoria Beckham:
Kerry Washington:
Lily Collins:
Jennifer Garner:
Kate Hudson:
Cardi B:
Kendall Jenner:
Nick Jonas, Priyanka Chopra, and their Dogs of Many Sizes: