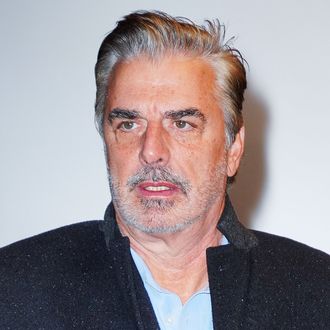 Update, Thursday, December 23, at 3:55 p.m.: Another woman has come forward accusing Chris Noth of sexual assault. Singer-songwriter Lisa Gentile held a press conference on Thursday with her attorney Gloria Allred, during which she alleged that the actor "forcibly" groped her, exposed himself to her, and forced physical contact in her apartment in 2002. Gentile claims that when she pushed him away and yelled "no," Noth "became extremely angry and started screaming and calling me a tease and a bitch." According to her account of the events, Noth called her the next day and threatened to ruin her career if she spoke out about the incident.
People reports that Allred then addressed Noth's And Just Like That … co-stars Sarah Jessica Parker, Kristin Davis, and Cynthia Nixon, saying, "Lisa and I appreciate their words of support for the previous accusers of Chris Noth and now we urge Sarah, Cynthia and Kristin to take action to speak out in support of the Adult Survivors Act as Lisa and I are doing today," referring to an act that would allow assault survivors to pursue legal action after the statute of limitation had passed.
Update, Friday, December 17, at 11:30 p.m.: A third woman has come forward to The Daily Beast to allege that she was sexually assaulted by Chris Noth. The woman claims that Noth sexually assaulted her in the office of a New York restaurant where she worked as a hostess and lounge singer in 2010. At the time, she was 18 and he was 55. Like the other women who have come forward with allegations against the actor, she gave specific, graphic details in her recounting. Noth's publicist told the Daily Beast that the actor "denies this as ever happening and has no idea who this woman is." The actor was dropped by his talent agency today, with a spokesperson for A3 Artists Agency telling Deadline, simply, "Chris Noth is no longer a client."
Update, Friday, December 17, at 11:00 a.m.: Actress Zoe Lister-Jones added her voice to the women coming forward with allegations against Chris Noth. In an Instagram post shared Thursday, the now-39-year-old said when she was in her twenties she saw Noth drunk on the set of Law & Order and, that same year, "consistently" behaving inappropriately towards a female promoter at a New York City nightclub he owned. "During my interrogation scene he had a 22 oz. of beer under the table that he would drink in between takes," she alleged. "In one take he got close to me, sniffed my neck, and whispered, 'You smell good.' I didn't say anything. My friend at the club never said anything. It's so rare that we do." Representatives for Noth did not immediately respond to a request for comment. "Chris Noth capitalized on the fantasy that women believed Mr. Big represented," Lister-Jones added, finishing, "Fuck Mr. Big."
Original story follows.
Two women have come forward to The Hollywood Reporter alleging that they were sexually assaulted by actor Chris Noth over a decade apart. Noth recently revived his role as Mr. Big in And Just Like That …, HBO Max's Sex and the City revival. One woman claims that she was working an entry-level entertainment job in Los Angeles in 2004 when Noth, who got in touch with her via her boss, sexually assaulted her in his L.A. apartment. The other woman claims that she was working as a server in New York in 2015 when she was sexually assaulted by Noth in his New York apartment. Both alleged victims give graphic, specific details in their recounting to THR. Noth gave a statement to both THR and Vulture calling the accusations "categorically false" and claiming that the "encounters were consensual." "It's difficult not to question the timing of these stories coming out," he added, referring to his character's controversial death in the newly released revival. However, following the reports and after just four days, Peloton has wiped the And Just Like That … redemption ad starring Noth and narrated by Ryan Reynolds from their social media accounts. "We were unaware of these allegations when we featured Chris Noth in our response to HBO's reboot," a spokesperson for Peloton told Vulture in a statement. "As we seek to learn more, we have stopped promoting this video and archived related social posts."