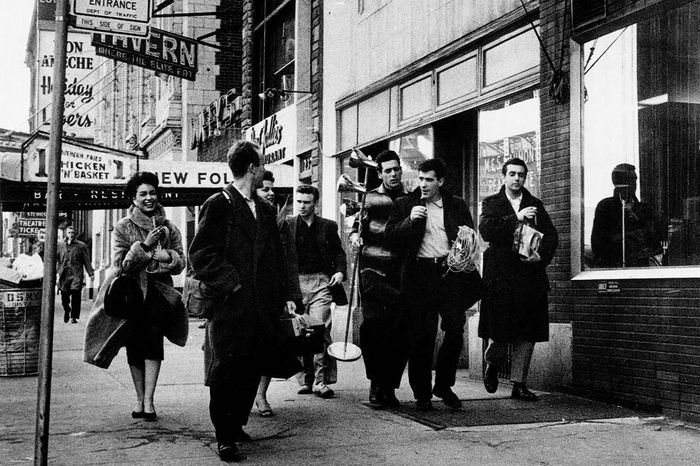 Photo: Lion International Films
Ask a director behind one of your favorite New York movies about what inspired their cinematic portrait of the city and they'll inevitably talk about another New York movie. Adam McKay will go on about a Martin Scorsese film, Radha Blank will pay tribute to John Cassavetes, Mario Van Peebles will celebrate Spike Lee. Some directors really grew up alongside Manhattan maniacs, and others just grew up watching them on a screen; either way, they're part of a tradition of movie-making that stretches back decades. Here are 11 directors paying tribute to the art of the NYC film.
Alex
Ross
Perry
(Listen
Up,
Philip;
Golden
Exit)
on
Welfare
There's this type of person in my world — you see him in the front row of a movie at MoMA with Strand bags at his feet, piled full of God knows what. That kind of Manhattan eccentric who's wearing a blazer but looks like he hasn't taken a shower in two months. That's a very New York kind of person, and Fred Wiseman always — but most overtly to me in Welfare — captures that Manhattan maniac. Watching that movie, you see people who somehow can remain afloat without having what you or I might think of as the wherewithal to actually succeed at living in New York. You see this guy giving this long-winded rant about woe-is-me, "How can the system work this way? I've tried everything — I've looked for jobs, I've done this and done that," and then the camera slowly pans and reveals this other woman sitting next to him at the welfare office just looking so claustrophobic about this raving lunatic sitting next to her. To me, that's the subway every day, and he captures it in that movie: the way that desperation of people is bubbling to the surface.
Welfare is available to watch on Kanopy.
Adam
McKay
(The
Big
Short)
on
After
Hours
After Hours came out when I was a junior in high school, and it couldn't have done a better job portraying New York as this mysterious cultural Wild West of strange characters and sub-scenes where you could sit in a diner and read a book and have an encounter with this kind of quirky, beautiful woman. I grew up around Philly, and I was just dying to get to New York from that age on. The scene I loved was the second scene in the diner, when Rosanna Arquette tells Griffin Dunne the "Surrender, Dorothy" story. They directly talk about how the world is different when the sun goes down in New York. The other scene I love is the punk-rock club, which is just pure chaos. It was like, What's the music? Who are these people? The guy tries to shave his head. You're like, I've never heard of a club like that. The whole thing looked just as exciting as anything I could imagine.
After Hours is available to rent on Amazon Prime Video, Apple TV, Google Play, YouTube, and Vudu.
Fernando
Frias
de
la
Parra
(I'm
No
Longer
Here)
on
My
Dinner
With
Andre
My Dinner With Andre is a film about New York, but it's only in one restaurant. One of the characters says to the other one, "New York is like a prison in which the inmates are the same as the guards." You get trapped protecting that essence of New York, but time keeps passing and there's a new generation and a new thing. Some people talk about the New York attitude, and of course it's hard to be surprised when you go into the subway and you see, say, a baby giraffe. And it'll be like, "Oh, did you hear about the baby giraffe in the subway?," and someone's like, "Yeah." We are all used to this level of shock and discrepancy or cultural clash. But in New York, you need to keep being an outsider and sometimes, when you see somebody dancing on the street, to take the time to learn who they are and what they've done.
My Dinner With Andre is available to stream on HBO Max and to rent on Amazon Prime Video and Apple TV.
Peter
Ramsey
(Spider-man:
Into
the
Spider-Verse) on The
Sweet
Smell
of
Success
The Sweet Smell of Success captures my fantasy of the classic New York more than anything else: the attitude, the edge, the darkness, the sharp attitude, the wit that I associate with New York. I first encountered it in the early nineties, when a friend quoted some lines from it. The instant I saw it, I was like, how did I get along without this movie in my life before? I think it was one of the few movies at the time that really went out on the streets of New York to shoot. And you can feel it. All the club interiors, the way the camera moves and just the rhythm of that film. It's got a life that feels like it flows from inside to out on the streets, the same kind of a slightly restless energy. And the dialogue. You can quote that stuff until the end of the world. It's so snappy and mean.
The Sweet Smell of Success is available to rent on Apple TV, Amazon Prime Video, and Vudu.
Radha
Blank
(The
Forty-Year-Old
Version)
on
Shadows
When I was making the movie, a lot of people initially discouraged me from shooting on 35-mm. film. But I was trying to make a film in the spirit of the filmmakers who inspired me: Sidney Lumet, Robert Townsend, Hal Ashby, Kathleen Collins, John Cassavetes. In Shadows, Cassavetes was shooting out on the street, in black-and-white, with a heavy camera. It's so raw you can just taste the city. When I first saw it, I knew it was a narrative, but so much of it had the urgency of a documentary. That's what I wanted the camera in The Forty-Year-Old Version to feel like: someone peering over his shoulder, eavesdropping on a conversation. So it isn't so much about setting up this beautiful shot — it's a lot of raw handheld-camera movement. Sometimes people are walking on one another's lines, but that's what happens in real life. Shadows is considered a little problematic because Cassavetes cast two people who were not Black as Black characters. But the fact that this was Cassavetes's first work, and that he was able to capture what felt like authentic voices, I was so inspired by that. I saw myself in this film, but I also saw the journey of these three different New Yorkers within the same family, all trying to figure out who the hell they are. So there's a crisis of identity that you don't generally see — especially for the Black character, since we're usually there to help solve other people's problems.
Shadows is available to stream on HBO Max and to stream on Amazon Prime Video, Apple TV, and Vudu.
Andrew
Rossi
(Eat
This
New
York,
Page
One)
on
The
French
Connection
There's that scene where Gene Hackman is waiting on the street, and you see in the window in the restaurant, and it's like a ten-course meal — it's like the early days of Per Se or something: The waiters are wearing tuxedo jackets, and the silver is glistening, and it's candlelight. It's kind of a torture to Gene Hackman to wait outside drinking his deli coffee. There's just something really cinematic and abbreviated about expressing where people occupy different stations in the class hierarchy. That's kind of an element of New York: You can look into a window and see a totally different world, and you're so separated from it.
The French Connection is available to rent on Amazon Prime Video, Apple TV, Google Play, YouTube, and Vudu.
Ryan
Fleck
and
Anna
Boden
(Half
Nelson)
on
Do
the
Right
Thing
and
Raising
Victor
Vargas
RF: My favorite all-time movie is also a New York movie, which is Do the Right Thing. That just captures that Brooklyn neighborhood so well, and it's not about shooting big Brooklyn landmarks, it's just about capturing a very specific pocket of the city and the way the people talk and the way the people walk. Do the Right Thing had a lot of swagger, and Half Nelson is very, very low-key. You'd think there aren't really parallels. But we took those moments with all the kids talking to the camera throughout the movie — that's straight out of Spike Lee's playbook.
AB: Another movie that also kind of has an interesting influence on Half Nelson: Pete Sollett made a short film called Five Feet High and Rising that turned into Raising Victor Vargas. We saw that before we made Half Nelson, and it was a little bit of an inspiration to turn Half Nelson into a short because Sollett had taken a short into a feature film. It also explores kids living in this New York community in a really observational, fun way. It takes the personalities of the actual kids who are living in those neighborhoods and weaves them into characters' stories in a way that was meaningful to us. We showed that short to our young nonactor kids right before we shot our film, just to kind of show them what sort of artsy, weird movie we were all gonna be making together.
Do the Right Thing is available to stream on Netflix and Tubi and to rent on Amazon Prime Video, Apple TV, YouTube, and Google Play.
Raising Victor Vargas is available to stream on Netflix, Vudu, Pluto TV, Amazon Prime Video, and Tubi and to rent on Apple TV.
Daisy
Von
Scherler
Mayer
(Party
Girl,
The
Guru)
on
The
Brother
From
Another
Planet
There's that incredible sequence when they're walking through Harlem at night and the Rastafarian is introducing him to this world, and it's like we're getting to see this world as if we were aliens, and how crazy it is. I love that. I would actually cite that movie as an inspiration, in a way, for The Guru. That movie is just one of the first kind of cool New York movies for my generation, my age, where you feel like you were really seeing a version of the city you hadn't seen before.
The Brother From Another Planet is available to stream on PlutoTV, SlingTV, Tubi, and Amazon Prime Video and to rent on Apple TV.
Crystal
Moselle
(Wolfpack,
Skatekitchen)
on
Midnight
Cowboy
Camille's character in Skatekitchen, she comes to New York for the first time, and I was thinking of Midnight Cowboy, how he comes to New York for the first time. We see it through his eyes, what he expects and what the reality is. There's something really precious about the way he explores New York and the crowds of people just being like, "You don't belong." As a stranger, walking into New York feels like that at first and then all of the sudden, you're just absorbed into the crowds and you're on the same time. We're all in this time warp in New York. We all kind of cruise around and do our thing, move past each other. It's a great rhythm that it has.
Midnight Cowboy is available to stream on Hulu, Fubu, Showtime, SlingTV, and Amazon Prime Video and to rent on Google Play.
Mario
Van
Peebles
(New
Jack
City)
on
She's
Gotta
Have
It
With She's Gotta Have It, Spike Lee hands you a bottle of wine that turns out to be a Molotov cocktail: It starts out as this yummy flavorful red and then it blows up. If you had paid attention to She's Gotta Have It, you would not have been surprised by the '92 uprisings, where people had just had enough. And in Do the Right Thing, you saw the steam coming out of the pot. You'd go, Okay, I understand what's going on now: Some people are not getting the trickle-down of the trickle-down justice. Trickle-down economics is not working; Reaganomics is not working. And if you watch New Jack City, there's a scene where Wesley says, "With this Reaganomics, people are miserable, and we're going to make a profit out of them and sell them these drugs."
She's Gotta Have It is available to stream on Netflix.
Ahmir
"Questlove"
Thompson
(Summer
of
Soul)
on
Mo'
Better
Blues
The Roots got our thing together in 1991, when we started busking on street corners, playing for change. Club owners would say, "Come and play my nightclub," so we would get home every night at one or two in the morning, and we'd watch the same movies every time: Cape Fear or Mo' Better Blues. Back then, I was living my father's dreams, and my father wanted me to be a serious jazz musician. I thought Mo' Better Blues was going to be my life: I was going to dress in Italian suits, date artistic women, practice five to ten hours a day, compose at three o'clock in the morning at my piano. There's a moment that happens at the end of the film in which he has to leave everything behind. And that just haunted me, because I thought: This is the path I'm going in life. But in the end, my Juilliard audition led right to the exact opposite of what my father wanted me to do.
Mo' Better Blues is available to Tubi, Vudu, YouTube, Amazon Prime Video, Apple TV, and Google Play.