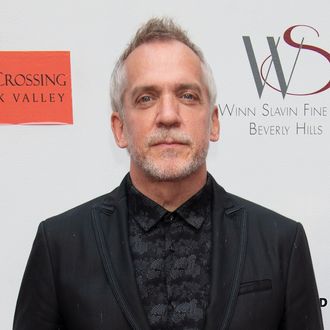 Photo: Michael Bezjian/Getty Images for Winn Slavin Fine Ar
Jean-Marc Vallée — the Canadian filmmaker, writer, director, and producer behind such works as Dallas Buyers Club and Big Little Lies — has died. He was 58. Deadline is reporting that Vallée died suddenly in his cabin outside Quebec City on December 26. Vallée began his career directing music videos. In the '90s, he expanded working into feature films in Quebec. His debut film, Black List (Liste Noire), was nominated for nine Genie Awards. His next film, C.R.A.Z.Y., won five Genies — including Best Picture, Best Screenplay, and Best Director. His 2013 film Dallas Buyers Club earned acting Oscars for Matthew McConaughey and Jared Leto. Vallée began collaborating with Reese Witherspoon with 2014's Wild. He would move into television with HBO's Big Little Lies, on which he and Witherspoon served as producers along with Nicole Kidman and others. His next HBO series, Sharp Objects, won Vallée a DGA Award and the Primetime Emmy Award for Outstanding Directing.
"Jean-Marc stood for creativity, authenticity, and trying things differently," Vallée's producing partner Nathan Ross said in a statement. "He was a true artist and a generous, loving guy. Everyone who worked with him couldn't help but see the talent and vision he possessed. The maestro will sorely be missed but it comforts knowing his beautiful style and impactful work he shared with the world will live on."
Shailene Woodley remembered her Big Little Lies director in a series of posts to her Instagram story. "i am in shock," she wrote. "complete and utter shock. my fucking god death is the worst. but i guess somehow i know you will turn it into a grand adventure … one for the books. one i cant wait to read & to watch when my times comes. it doesn't make sense though dude. it doesn't make sense. maybe when we wake up tomorrow you'll be there laughing saying it was just a satirical short film you made. that it's not real."
Reese Witherspoon also shared her thoughts, tweeting, "My heart is broken. My friend. I love you."
On Instagram, Laura Dern memorialized Vallée as one of the world's "great and purest artists and dreamers."
Matthew McConaughey praised his Dallas Buyers Club director on Twitter as a "true receiver," adding that he saw love in many different aspects of life.
Jared Leto also reacted to the news, tweeting that the director was a "filmmaking force and a true artist who changed my life."
A statement posted to Big Little Lies actor Iain Armitage's Instagram noted that Vallée "set a high bar" as Armitage's first director. "He instantly commanded respect, but he backed it up with kindness," the tribute said. "We adored him."
Cheryl Strayed, the author of the book that Wild was based on, wrote on Instagram that her heart was broken by Vallée's sudden passing. "He will forever be in my heart," she said.
Tanya Lapointe also passed on a message from her husband and fellow filmmaker, Denis Villeneuve. "How must I forget these lonesome tears in my eyes?" he wrote in French. "As you told me before: go out there and shine, crazy diamond! I love you, my friend."
This post has been updated throughout.